News archive

please click here to go back to News Of The World

Saturday, June 29th 2002

Buckingham Palace CD & Video out now
(source: Brian May World)

The CD and DVD with "Queen" live at the Buckingham Palace is out now in the shops.
The DVD covers the whole concert (3 hours in 16:9 widescreen presentation) whereas the CD just covers the highlights of the show.
The CD is really in a great sound quality so I can really recommend it to you.

CD-tracklist:

1. God Save The Queen - Brian May feat Roger Taylor & Ray Cooper*
2. You Can't Hurry Love - Phil Collins
3. Dancing in The Street - Atomic Kitten
4. Goldfinger - Shirley Bassey
5. Everything I Do (I Do It For You) - Bryan Adams
6. You Can Leave Your Hat On - Tom Jones feat Blue & Keith Airley
7. Radio Ga Ga - Queen*
8. We Will Rock You - Queen, The London Cast Of The Musical We Will Rock You*
9. We Are The Champions - Queen & Will Young, The London Cast Of The Musical We Will Rock You*
10. Why - Annie Lennox
11. Move It - Cliff Richard feat S Club 7 & Brian May*
12. Paranoid - Ozzy Osbourne feat Tony Lommi
13. I Want Love - Elton John
14. God Only Knows - Brian Wilson feat The Corrs
15. Good Vibrations - Brian Wilson feat Emma Bunton & Atomic Kitten
16. Layla - Eric Clapton
17. Gimme Some Lovin' - Steve Winwood
18. With a Little Help From My Friends - Joe Cocker feat Steve Winwood & Brian May*
19. Handbags & Gladrags - Rod Stewart feat J'anna Jacoby
20. All You Need Is Love - Various Artists*
21. Hey Jude - Paul McCartney feat Various Artists*

*with Brian May performing on the tracks

Both, CD and DVD, can also be ordered online like e.g. at www.amazon.co.uk

"Queen+" guest will also perform live this Summer at London´s Hyde Park at the Party in the Park festival. The set-list of Brian&Roger should be about the same to the Buckingham palace concert.
---
Monday, June 3rd 2002
Concert update
(source: Brian May World)
I hope you´re all enjoying the live concert as much as I do.
Brian´s live performance of "God save the queen" on the roof of the Buckingham Palace was truly an opening, which can´t be beaten by anyone. How terrific!
And Queen´s set of "Radio Ga Ga" (sung by Roger), "We will rock you" (sung by Brian), "We are the champions" and "Bohemian
Rhapsody" (sung by the We will rock you Musical cast) was truly brilliant!! On the drums by the way: Phil Collins!
An additional extra was that Brian was the lead guitarist during perfromances of other artists as Cliff Richard or Joe Cocker!
Other artists: Eric Clapton, Paul McCartney, Rod Stewart, Joe Cocker, Tom Jones, The Corrs, Annie Lennox, Ozzy Osbourne, The Kinks, The Beach Boys and many many more!
What a night! I hope this performance will be released on DVD soon.
By the way, 12000 lucky people watched the concert live in the garden of London´s Buckingham Palace - half a million of people watched it outside Buckingham Palace at a giant video screen and millions of people watched it worldwide on TV.
I hope you have taped it on video! The best festival since Live Aid - for sure!
---
Sunday, May 26th 2002
Brian and Roger ("Queen") live in London with live TV coverage - June 3rd, 2002
(source: BBC/ brianmayworld.com)
Guitarist Brian May will open the Queen's Jubilee concert by playing the National Anthem on the roof of Buckingham Palace. Fellow members of the band Queen, along with singer Phil Collins and a full orchestra will then join in from a plastic stage in the palace gardens below. The roof-top vantage point was chosen to provide a dramatic start to the open-air concert, which takes place on 3 June.
The event will be screened live by the BBC and broadcast around the world.
In Germany for example RTL 2 will cover the whole show live in their programme.
Organisers of the £4m extravaganza had been searching for an unusual way of performing God Save the Queen. "We wanted to make it spectacular," a Jubilee spokesman said. "This achieves that aim."
When Queen's performance is finished, comedian Lenny Henry will introduce Latino singer Ricky Martin, who will entertain the crowds with his number one hit Livin' La Vida Loca. In addition to celebrating the Queen's 50 years of rule, the concert also salutes the life of the late George Harrison. Sir Paul McCartney and guitarist Eric Clapton will perform Harrison's Here Comes the Sun.
The Queen wants the Jubilee concert to appeal to all ages. Other performers on the bill include Ozzy Osbourne, Canadian singer Brian Adams and Pop Idol winner Will Young. "Trying to appeal to all ages is the basic thing behind it all," the spokesman said. "This is a celebration for everybody." The concert's grand finale will be a rendition of the Beatles' All You Need Is Love, led by Sir Paul McCartney.
Brian and Roger will play live together and will perform the following songs:
Radio Ga Ga, Bohemian Rhapsody, We Will Rock You and We are the Champions.
Starting time for "Queen"´s live appearance is 20:30h (London time).
---
Tuesday, April 30th 2002
Brian and Roger ("Queen") live in Amsterdam
(source: brianmayworld.com)
Brian and Roger played a short live concert today - a unique show on Holland's National Queensday.
Many other bands also played at the same stage troughout the whole day.
Queen's performance took place at the Museumplein in Amsterdam at 15:00h.
Guest drummer was Eric Singer, guest backing vocalists were the Fabba Girls Susie Webb and Zoe Nicholas. Spike Edney was the guest keyboarder.
During this free open air show they perfomed a short 45-minute set, with the follwoing songs:
Radio Ga Ga
Tie Your Mother Down
Another One Bites The Dust
Under Pressure
Hammer To Fall
The Show Must Go On
No One But You
We Will Rock You
We Are The Champions
---
Sunday, Februray 10th 2002
Brian records with Foo Fighters
(source: Queen fan club)
Brian has recently recorded some material with the Foo Fighters for their forthcoming album. He says:
"Yes, I put a few brush strokes on two tracks for the forthcoming Foos Album, in beautiful Conway Studios in L.A.
I'm not sure if they want me to divulge the titles - but one track is very aggressively rhythmic, and I contributed some "Get Down Make Love" - type guiar as well as some soloing.
(The old machine which I invented and had custom -made for doing the solo on GD ML live in Queen shows is still around - but the vintage harmoniser which it controlled has disappeared, so I can't use it any
For this session we improvised with more modern equipment to get a similar effect - in fact slightly different - so it was inspiring and seems to work well with the track.
Of course it was all experimental and I did it purely because it was fun to work with my great pals - the whole group was there plus Gus, their excellent tour Manager.
They can use it if in the cold light of day the group (or Dave!) think it works!
The other track is totally unusual - a kind of narrative ballad - very daring in its simplicity - I contributed some Queen II lush harmony guitar sound figures.
Taylor and Dave are familiar with everything Queen ever did - and as soon as I turned the AC 30 up full, wound off the treble, and fed my guitar into it with all pickups in phase, feeding back, sustaining like a cello, Taylor said - "Ha ! the White Queen sound!!!" He was spot on of course - haven't used that sound in probably 15 years.....
We had fun ! And the gardens of this particular studio are beautiful - very inspiring - an OASIS ! And the sun shone warmly, and I didn't want to come home to cold depressing England!
---
Thursday, January 24th 2002
We will rock you musical - details
(source: queenonline/www.brianmayworld.com)
Spike Edney, Jamie Moses and Neil Murray (all members of the Brian May Band) are providing the music for the musical.
The musical will open on May 14th at London´s West End (Dominion Theatre). It is the same venue as Freddie´s appearance in the gala show of the "Time" musical back into the 80s.
The public sale will start on February 1st.
---
Saturday, January 5th 2002
Extract transcription from Total Guitar, January 2002 – Featuring Brian May; interviewed by Scott Rowley
(source: Total Guitar)
"So, you're from Total Air Guitar are you?" Brian May has lost it. Months of thinking about the wonderful world of air guitar has finally got to him. As you may already be aware, the former Queen guitarist is the man behind The Best Air Guitar Album In The World...Ever!, a double-CD collection of top riffs and widdlesome solos designed to get you out yer seat, hands tickling an imaginary fretboard before you can say 'Hi Ho Silver Lining'.
But hang on: isn't this air guitar malarkey taking the piss out of our great guitar heroes? "Well, I think imitation is the sincerest form of flattery", says Brian.
"But I also think it [air guitar] is something more basic that that, I've had lots of time to think about it during the last few months, and I think it's a basic primal need.
I don't think people even choose to do it, it just creeps up on them and they have to do it."
I suppose you quite often find yourself describing a riff to someone and your hands are doing the talking... "That's right. I don't think any of us could actually give it up any more than we could stop breathing, really."
Inspired by an internet poll where people voted for their fave air guitar tracks and Queen were number one with Bohemian Rhapsody, May's guitar tech, Pete Malandrond, remarked that the selection would make for a great album, "I thought, 'Well, yeah'. And the strange thing was that if we were going to make the best air guitar album in the world ever, it would mean putting together the finest guitar music ever made."
Getting technical help from World Air Guitar Champion Zac Monro, Brian also used his personal contacts to get some artists that don't normally allow their music to be used on compilations: he might've missed out on AC/DC and the Sex Pistols, but Jimi Hendrix and Metallica are a nice consolation.
So what were the criteria for a song to qualify? "The number one criterion was that if you hear the song you have to jump up and do something," explains Brian. "Preferably in the first 10 seconds. But not necessarily: there are some creepers in there. With Freebird you have to kinda wait for your moment and then you're up there. The second criterion in my mind was that it would be nice if these moments were getting through to people on the other level of being the greatest moments in the creation of guitar riffs. The two are actually linked, because those great moments when someone discovers a great new riff are very akin to the moment where you feel you have to jump up and air guitar to that riff. There is a kind of direct link between the riff player and the air guitarist, I feel."
transcribed by Susannah.Davy
-thanks a lot!-
---
Wednesday, January 2nd 2002
Brian back in the studio
(source: Queenonline)
Brian May is going back into the studio in the New Year with popular composer Michael Kamen to contibute to the Official Winter Olympics 2002 theme tune.
The 2002 Winter Olympics run between Febuary 8th and 24th in Salt Lake, USA.
---
Sunday, November 25th 2001
Brian and Roger live - November 24th, 2001 - London
(source:brianmayworld.com)
Brian and Roger went on stage yesterday and performed a couple of songs live together with the SAS Band.
They perfomed the following songs:
"Radio Ga Ga" (vocals by Roger)
"Since you've been gone" (Brian)
"Tie your mother down" (Brian)
"Strange Frontier" (Roger)
"Under Pressure" (Roger & Treana Morris)
"No one but you" (Brian and Roger - 1st time live together)
A report of the show can be found here
---
Thursday, October 11th 2001
Brian May talks...(Cambridge Union, October 9th)
(source: Edward Haworth)
a report by Edward Haworth:
I was lucky enough to attend a talk that Brian May gave at the Cambridge Union earlier tonight (October 9th, 2001). It was a great priviledge to finally 'meet' the man himself. And whilst it makes me feel vaguely like a spy typing this, he said some things I am sure you are all itnerested in.
He opened his talk with a speech against the bombing of Afghanistan and played Bob Dylan's "With God on Our Side" on acoustic - a great song and very played. I was suprised by how political he could be, on this issue and on animal rights he put forward a very persuasive, non dogmatic and understated argument.
He closed by playing "We Will Rock You" on his red special and the Deacy amp (!), which we got to isnpect (and even touch) later. He mentioned that he came to Cambridge for an interview in his time and talked briefly about his life (mostly academic) before Queen.
The rest oif his talk was given to questions. The songs he are most proud of are "Too much love..." (the playing of which at the tribute concert is his fondest live performance) and "We will rock you" and his favourite album is "Queen 2" (and although he criticised The Works and Hot Space he said he basically stood by them). On the subject of albumst he wished people had the chance to listen to the studio albums rather then the greatest hits releases. The song he would like most of all to have written is Lennon's "Jealous Guy". He refused to go into much detail when asked about the biggest bender Queen went on, but mentioned female mud wrestlers and the infamous New Orleans party. He defended John against someoneone who asked if he had any real input into the band "he wrote our best selling single..." (another one bites..). He mentioned Freddie many times, and how he still misses him, but he said he was finally comfortable talking
about him again - mostly.
In terms of the future he said he planned to record another solo album "when he had something to say again". The Queen musical (no longer directly about them) and a rock show/planetarium opening in Munich are projects he is very pumped about. Also he mentioned the entire "Night at the opera" album is being remixed into Dolby 5.1 (presumably DVD audio) by the original producer - the first time he said anyone has been allowed to mess with the original recording of BohRap. This sounds fantastic and will be first heard at the Munich planetarium opening. He spoke very enthusiastically about his positive relationship with Roger, he said they ahd hoped to do more work with Robbie Williams, but was dissapointed that this no longer looked likely. Unfortunately he said both Roger and himself have very little contact with John anymore, who had moved on. When I asked him later if he thought Queen would ever work together on new material he said he thought it was very unlikely - that that moment had passed and that future collaboration between Roger and himself would carry on with the musical and other projects as the closest thing to any new Queen work. When I asked him if then Smile would ever reform he just laughed.
Hopefully some of the above will be interesting - it was a fantastic evening - the man is amazing, the most unlikely rock star ever.

---
Thursday, October 11th 2001
Queen DVD releases
(source: Queenonline.com)
Various plans are afoot for the release of Queen DVD's for next year. The first of these will be the release of the Freddie Mercury tribute concert on DVD with special backstage footage and rehearsal footage, scheduled for April 2002.
---
Thursday, September 27th 2001
More details about Brian and Roger in Germany - December 2001
(source: Munich Planetarium/brianmayworld.com)
I haved been told that the lasershow will last for about 60 minutes. The biggest Queen hits will be featured in this multimedia show.
There will be many surprises and even world-premieres!
Right now Brian May has been contacted by the producer of the planetarium.
Brian is responsible for the track-list of the Queen-songs and for the show itself.
Brian May:
"In my opinion the planetarium in Munich does not just have the most beautiful firmamnet but also the most creative potential.
Because astonomy was always my hobby and because I studied astrophysics I think the idea of creating a show with Queen music in a planetarium is stunning.
Music, video and picture archives of Queen will be used for the multimedia show. The exclusive show will be presented on the 20 meter high dome in 360°.
The premiere will be in December 2001 - and the show will be performed daily.
brianmayworld.com will keep you updated about further details (how to obtain tickets, etc...)
---
Wednesday, September 26th 2001
Brian and Roger in Germany in December 2001
(source: Queenonline.com)
Brian and Roger will be special guests in Munich this December. The planetarium in Munich will have a Queen lasershow on its programme in December and Brian and Roger are supposed to be special guests. More news on that as soon as we get them.
---
Saturday, September 22th 2001
Details about the "Highlander" DVD re-release
(source: Queen Zone.com/Michael Allred)
In an on-line chat with Home Theater Forum on 9/18, Anchor Bay Entertainent talked about their upcoming 2 DVD set of "Highlander".
First, they expect the DVD will be released in Spring 2002. So far the only announcement for features include THX, DTS 6.1, Dolby EX.
Of great interest is that they confirmed they will be looking into adding Queen music videos to the DVD which would most likely be "Princes of the Universe"
and "A Kind of Magic".
---
Saturday, September 22th 2001
Brian May interview and new CD in magazine
(source: Official International Queen Fan Club)

Brian has done an interview for Guitarist Magazine, the issue is due out on October 4th 2001. Included with the magazine will be a CD of Brian trying out one of the new Burns/BM guitars - approx 10mins of discussion and playing. Brian has also put together a guest editorial piece for the same issue.
---
Saturday, September 15th 2001
Details about the "We will rock you" DVD re-issue
(source: pioneer-ent.com)
DVD Boasts New High Definition Film Transfer From Original Negative, THX Certification, Audio Commentary, Photo Gallery And More Available
On October 2.
LONG BEACH, CA - Touted as one of the most popular and influential rock bands in the world, Queen releases their greatest performances on DVD and VHS in Queen We Will Rock You on October 2 from Pioneer Entertainment. Boasting a newly restored film transfer, the DVD and VHS feature 22 hit songs, including "We Will Rock You," "Somebody To Love," "Under Pressure," "Bohemian Rhapsody," and "We Are The Champions," among others. Formed in 1972, Queen has retained a fanatical following around the world. Led by the theatrical lead singer, Freddie Mercury, Queen also consisted of Brian May on guitar, Roger Taylor on drums and John Deacon on bass. Since the 1970's, Queen has recorded over 19 albums and has played together for over 20 years. Queen hits "We Will Rock You" and "We Are The Champions" have become recognizable international anthems for all sports events. On November 24, 1991, Freddie Mercury died of AIDS. This year Queen was inducted into the Rock and Roll Hall of Fame.
Digitally re-mastered with THX certification, the Queen We Will Rock You DVD will be anamorphic and contain a photo gallery, discography, motion menus and an audio commentary by producer and director Saul Swimmer. In addition, the DVD features a trivia game, band biography and timeline, new packaging and Easter Eggs. The Queen We Will Rock You DVD is available in Dolby DTS Digital Surround for $29.98 and in Dolby Digital 5.1 for $24.98."
---
Saturday, September 15th 2001
Details about the Queen musical
(source: playbill.com)
Actor Sam Kane has revealed details of the hotly anticipated Queen musical, following his audition for the show.
In a recent interview with Teletext, the news and information service, actor Sam Kane revealed details of We Will Rock You, expected at the West End's
Dominion Theatre next year (www.brianmayworld.com: it should open around May 2002).
Sam Kane auditioned for a part in the new show and revealed, "It's all the musicfrom Queen and set in the future: good versus evil. It sounds like it's going to be
sensational. The only analogy I can draw is Mamma Mia!. They've got their storyline but used the songs from ABBA, not a story about ABBA. This is
similar, very dramatic."
Apparently the character he auditioned for is sidekick to a wicked queen. Kane says, "They've got an evil queen who hates rock music. And the queen's
sidekick has got to go around and do the queen's work by banishing rock music and anyone who listens to it or plays it, but he secretly loves it
himself and has quite a nasty streak in him and is setting the whole thing up, so he can take over and rule the world himself. He's a devilish, bad, nasty character, so
it's great."
Sam Kane is probably most recognizable from his role as 'Peter Phelan,' the philandering hairdresser in Brookside, in which he featured over two
years. Most recently he made a return to musicals, heading the cast of Carousel alongside Darren Day in the National tour.
Kane further revealed that rehearsals for We Will Rock You are scheduled for February 2002, with an expected opening date in May. The musical has
been written by Ben Elton and will be directed by Christopher Renshaw, who most recently directed The King and I, with choreography by Arlene Phillips.
---
Thursday, August 16th 2001
Queen concert postponed
(source: Official Queen Fan Club Website)
The Queen concert in New York (VH1 Storytellers) has been postponed until later in the year.
More information will follow as soon as I get them.
---
Wednesday, July 26th 2001
Full Queen concert live in New York
(source: Official Queen Fan Club Website)
the following was posted today and is straight from the Official Queen Fan Club website:
As it's now "public knowledge":
Queen are joining forces with Foo Fighters dave Grohl and Taylor Hawkins to host the Storytellers live gig on September 9th at the Hammerstein Ballroom in New York. It will be for an audience of approximately 1500. At present I have no idea of how or when tickets will be available. It could be "invite only", they could be on sale, they could be free on a first come first served basis, once I find out I will let you know. I have requested an amount of tickets for UK and European fans who might want to attend, but haven't been given any indication of whether we will get them yet. There will be about five guest vocalists, including Dave and Taylor, but the others as yet unconfirmed. The show will be filmed by VH1 and aired across North America, it will also eventually be available on DVD worldwide.
---
Wednesday, July 18th 2001
New "We will rock you" DVD release
(source: www.amazon.com)
On 18th September Queen´s live concert in Montreal from 1981 will be re-released on DVD.
A Dolby Digital 5.1 and a DTS version will be released.
Features: Audio commentray with the band and a discography.
---
Monday, June 25th 2001
Brian May on new Robbie Williams single
(source: EMI Germany/Martin Weinberger at the Brian May list)
According to EMI Germany Brian May is featured on Robbie´s new single "Eternity"
EMI Germany sent out a promotional 5"CD with an insert which says: "You can hear Brian May as guest guitarist".
'Eternity' hit the radio stations last week, and will be released on July 9th. Written with Guy Chambers, 'Eternity' is a beautiful, stripped-
down ballad, which many have referred to as the new 'Angels'.
Released as a double-A-side with 'The Road To Mandalay', taken from the album 'Sing When You're Winning', along with the B-side 'Toxic'.
The Official Queen Fan Club confirmed the news:
"Apparently this is true, but it's not completely obvious I am told - as the mix doesn't do the guitar justice!"
---
Monday, June 4th 2001
Brian May live in concert - July 7th 2001
(source: www.brianmayworld.com + Montreux Jazz Festival)
Brian May will be a special guest at the famous Montreux Jazz Festival 2001 in Switzerland.
On July 7th 2001 he will play together with famous artists as Robert Plant, Jimmy Page or Bill Wyman´s Rhythm Kings.
As a tribute to Sun Records many famous faces will be in the line-up of this brilliant concert:
Bill Wyman's Rhythm Kings
Bill Wyman, Georgie Fame, Albert Lee, Martin Taylor, Mike Sanchez, Beverly Skeete, Terry Taylor, Graham Broad
Billy Lee Riley
Little Milton
Sonny Burgess
Accompanied by Chris Spedding & The House Rockers
Special Guests: Robert Plant, Jimmy Page and Brian May
Brian´s appearance has been confirmed officially!
These artists will perform the music of Elvis Presley, Carl Perkins, Jerry Lee Lewis, Roy Orbison, Johnny Cash and other pioneers from the Sun stable.
As far as I know the concert will be filmed and will be shown on TV in December 2001.
There are a few tickets left for this special concert, so if you don´t hesitate you can order your tickets directly here.
The festival is well known for high-class artists.
This year artists are Gary Moore, Bob Dylan, Beck, Neil Young, BB King, Van Morrison, Alanis Morissette, Patti Smith, Sting, Jeff Beck and many more.
---
Tuesday, May 1st 2001
News about the video-clip for "We are the champions" and further plans for Robbie and Queen
(source: Los Angeles Times Calendar Sunday 29 Apr 01)

The British singer stands in for Freddie Mercury for a video of "We Are the Champions," and a tour is under discussion
Robbie Williams was Queen for a Day recently on a Universal Studios sound stage. Uh, make that a *member* of the band Queen for a day.
And the English pop phenom may well be spending more days with Queen. Discussions have taken place about his singing for a tour, while several other projects are also in the planning stages for what in the next year or two could be the first ongoing activity for the band since the 1991 AIDS-related death of singer and showman Freddie Mercury.
For this occasion at Universal, Brian May and Roger Taylor, founding members of Queen, asked Williams to take Mercury's slot for a video of "We Are The Champions," a Queen classic that's being used in the jousting movie "A Knight's Tale." And with May and Taylor unable to participate in the video due to logistics, it was all the hammy Williams' show as director Evan Bernard pieced together the staging and surroundings of a rock concert set in medieval times - think "Monty Python and the Holy Grail" meets "This Is Spinal Tap."
"I never said we were better than the king," Williams said, John Lennon-like, in answer to a question posed in a press conference scene staged for the video. "I merely said we were more popular."
But for all the silliness, there's serious business at hand for Queen, with "We Are The Champions," "We Will Rock You" and "Another One Bites The Dust" among the highest-profile classic-rock songs, a continual prescence not just on radio but also in movies, commercials and at sports events. At the center of the new activity is a proposed concert tour with Williams joining guitarist May and bassist Taylor (sic), a venture rumored but denied several months ago.
"They actually wanted to do shows in the States and Japan (this year)," Williams said in between video takes. "They came to a couple of shows of mine last year and chatted with me about it, which was amazing. But it would entail an awful lot of stuff. I need some time off first."
May, speaking by phone from his home in England, confirmed that the gears are turning on several Queen projects, including the tour, a VH1 special and even the possibility of new music. There's also a long-discussed musical using Queen songs in development, with tentative plans to open in London in Spring 2002.
"This (song for the movie) is a new step, really," May said, noting that Queen drummer John Deacon (sic) has opted to stay on the sidelines at this point. "We haven't let anyone else sing the songs with us, but we think Robbie's pretty special. We've had various informal discussions about doing more, with the upshot being that we'll go slowly."
The proposed VH1 special would be similar to a recent Doors show that featured guest singers in place of the late Jim Morrison. Among those expected to be part of Queen's show are Williams and Foo Fighters leader Dave Grohl, who joined May and Taylor for a rousing "Tie Your Mother Down" at the recent Rock and Roll Hall of Fame induction.
For Williams, the gig could prove the door to recognition in the U.S. In the U.K., Europe and Asia, the singer is one of the biggest pop stars of recent years. Over here, though, he's still largely unknown.
For May, just talking about doing these projects is a personal breakthrough.
"All of this wouldn't have happened a year ago, mostly because of me," May says. "I've been concerned about being Brian May and not Queen. It was something I had to get over - part of the grieving process. I felt it was painful to operate under the Queen banner. But it's easy to operate with Roger now."

---
Saturday, April 14th 2001
New song by Queen on Linda McCartney compiliation
(source: QMS)
Queen, Madonna, Britney Spears, Lenny Kravitz, Art Garfunkel, possibly 3/4 of The Beatles and The Corrs are among stars recording
Beatles songs for an album tribute to Linda McCartney.
Members of Queen are expected to perform Paul's solo track Souvenir.
The double CD is expected to raise millions for the charity Women And Cancer. Linda died from the disease in 1998.
The response from the big stars has been amazing. About 12 tracks are in the bag.
Madonna is still making up her mind over which song to cover while The Corrs are recording The Long And Winding Road.
The project is likely to be backed up by a TV special. Live concerts on both sides of the Atlantic are also a possibility when the album is released next year.
---
Thursday, April 12th 2001
New Queen/Robbie Williams single and video-clip release planned
(source: Official International Queen Fan Club/JenX)
Apparently the film, A Knights Tale, is due out in the USA on May 11th. They will be filming a video for the track (which was by the way recorded at AIR Studios here in London, not Roger's Mill as I reported) in a couple of weeks time which will be shown in America prior to the release of he film.
Champions will be released to RADIO in the USA at the beginning of MAY and will be released as a single there by Sony Records on Columbia (no date yet).
There will also be a soundtrack album for the film which will also contain Queen's original version of We Will Rock You. There are apparently NO plans to release this as a single outside of America.
---
Monday, April 9th 2001
Robbie Williams and Queen HAVE recorded together!
(source: Official International Queen Fan Club/JenX)
The rumour is true...!!
For once it seems the newspapers have got a fact right (well almost....). Queen and Robbie Williams HAVE recorded a song together.
They have done a version of We Are The Champions, recorded at Roger's Mill studios.
The song will feature in the forthcoming film "A Knights Tale", which will also feature Queen's own version of We Will Rock You (both tracks seem odd choices for a film based in Mediaeval times!). And before you ask and email and drive me bananas... John didn't take part in the recording.
It will appear on the soundtrack for A Knight's Tale, but will not be released as a single.
A Knight's Tale will be released in the USA on 11 May, starring Heath Ledger as a medieval peasant who takes over a knight's identity and takes up jousting.
You can view the film trailer on:
http://www.aknightstale.com/videos/secret_lo_clip.mov
Do you like the collaboration between Queen and Robbie Williams? Let us know YOUR opinion
---
Thursday, April 5th 2001
Travis to cover a Queen song
(source: Queenzone/Gordon Feather)
Travis have covered "KILLER QUEEN" for their forthcoming single.
The track will be released as B side to the single "SING" for release on 28th May 2001
---
Tuesday, April 3rd 2001
new Red Special copy and Brian May Signature AC30 in production
(source: Official International Queen Fan Club)
A couple of snippets that might be of interest to guitarists.... a Red Special copy is in production (well, the prototypes are being made now for Brian's approval) by Burns. It will retail for about £500 and should be available soon (ish...!). Also, VOX are going to make a Brian May Signature AC30, which will be available next year, and they will also make a replica of the famous "Deaky Amp" Brian still uses which was made by John many many years ago! More news when we have it.
---
Tuesday, March 20th 2001
Rock´n Roll Hall of Fame - short report with photos and a link to a real video file of the ceremony
(source: The Associated Press)
NEW YORK (AP) - The hobbled Michael Jackson and a sweetly nostalgic Paul Simon made their second entrances into the Rock and Roll Hall of Fame on
Monday, joined by fellow inductees Aerosmith, Queen and Steely Dan.
Queen, whose lead singer Freddie Mercury died of AIDS in 1991, performed ``We Will Rock You'' as a trio and invited Foo Fighter Dave Grohl to sing an
incendiary version of ``Tie Your Mother Down.'' It opened a ceremony that started an hour late.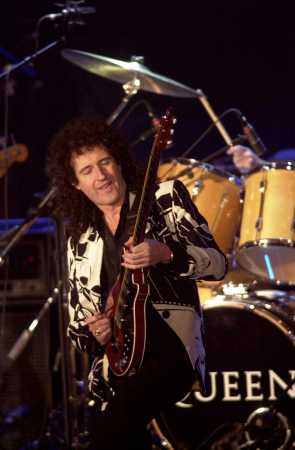 photo (c) by AP Photo/Kathy Willens


Mercury's mother, Jer Bulsara, accepted her late son's trophy.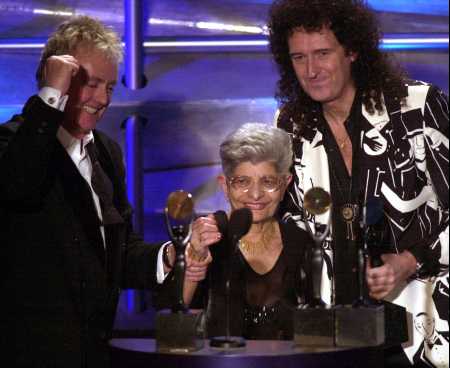 photo (c) by AP Photo/Kathy Willens

The ceremony, at the Waldorf-Astoria Hotel, was being taped for telecast Wednesday on VH1. The names of honorees are on exhibit at the Rock and Roll
Hall of Fame Museum in Cleveland.

a real video file with Queen at the Rock´n Roll Hall of Fame can be found at the website of BBC Online:
http://news.bbc.co.uk/olmedia/1230000/video/_1230954_queen07_brook_vi.ram

---
Sunday, March 18th 2001
new Brian May interview about a possible Queen re-union
(source:Sonic Net)
Surviving Queen Members Mulling Reunion, Guitarist May Says
Glam rockers, to enter Rock Hall on Monday, have talked to Robbie Williams, but are loath to replace late singer Freddie Mercury.
Queen, who will be inducted into the Rock and Roll Hall of Fame on Monday, haven't commanded many headlines since the death of singer Freddie Mercury.
But the prospect of the surviving members — guitarist Brian May, bassist John Deacon and drummer Roger Taylor — reuniting has landed them in gossip columns recently. For a while, a tour this year has been rumored, with British pop singer Robbie Williams taking over Mercury's role on vocals. It seems to make a weird sort of sense: Williams landed a British hit with "Let Me Entertain You," a sentiment the flamboyant Mercury certainly lived by.
"If ... we could make good music, and some of those Queen songs could be aired in a situation where you're still growing, then I would welcome that." — Brian May
"The absolute truth of the matter is, we talk about this kind of stuff all the time," May said about the Williams rumors, as well as speculation about landing George Michael or Elton John as an ad hoc singer.
"We've had a couple of talks with Robbie, and we know him really well, and we like him. But it hasn't gone any further than that at the moment. We all need to do a bit of thinking before a decision like that would be made."
While May clearly is itching to play Queen songs again, he's loath to tour with Deacon and Taylor sans Mercury.
"I always thought that I don't want to replace Freddie," he said. "That's out of the question. But if ... we could make good music, and some of those Queen songs could be aired in a situation where you're still growing, then I would welcome that. It would be nice to be out there and play to people again. I miss that ... a lot."
It's been a few years since May's most recent solo album, 1998's Another World, but last year he popped up on other people's records twice. He played on Black Sabbath guitarist Tony Iommi's star-studded solo debut, Iommi. Queen fans will remember that May and Iommi have worked together before; the Sabbath riff-lord was in the backing band at the Freddie Mercury tribute concert in 1992, and they both played on a cover of Deep Purple's "Smoke on the Water" in 1989.
"You meet a lot of acquaintances in the music industry, but very few true friends," May said. "Tony is a true friend, a great guy."
May also played on another, slightly more bizarre, track in 2000: the Foo Fighters' cover of Pink Floyd's "Have a Cigar." Foo frontman Dave Grohl played drums on the track, and drummer Taylor Hawkins, a friend of May for years, took the mic. (It's available on the MI:2 soundtrack). "I think you naturally gravitate to people who you respect and like," May said of the Foos. "I admire their stuff very much."
We may hear more May this year; he spent some time in the studio with Axl Rose, laying down solos for the long-awaited Guns 'N Roses album.
"It sounds great, and Axl sounds wonderful," May said, noting that his contributions are not guaranteed to make that album, to be titled Chinese Democracy.
Also last year, May marked two milestones: He got married, and soon after, he received word that Queen — a band that was on the receiving end of several critical slams in its day — would be inducted into the Rock and Roll Hall of Fame. The ceremony takes place Monday.
"It feels excellent, everyone's been congratulating me," May said. "[But between the marriage and the Hall of Fame], I've been confused as to what people are congratulating me for!"
Some rock and roll legends have been less than enthusiastic about the Hall of Fame. Black Sabbath leader Ozzy Osbourne has been downright disdainful, and Queen's "Under Pressure" duet partner, David Bowie, didn't even bother to attend his induction. But May — who will attend the March 19 induction ceremony with the rest of the surviving members of his band — couldn't be happier.
"I know I'm gonna be happy to get this award," May said, adding, "I'm gonna be happy to perform at the ceremony." That is sure to excite Queen fans, who will have the opportunity to watch an edited version of the induction ceremony on VH1 at 9 p.m. ET on Wednesday.
While May lamented that his friend Iommi won't be getting in the Hall — "I would think that because of [Sabbath's] huge influence, they would have to be inducted!" — he looks forward to seeing his old pals in Aerosmith, who will be getting in that night, and he's hoping for a jam session: "I think we should get together with Aerosmith."
Still, he said he feels a tinge of jealousy that, while Aerosmith will be celebrating their induction at the same time they're plugging a brand-new album, Queen's recording days are over. But with the surviving Queen members mulling some sort of semi-reunion, May hopes to add an epilogue to the grand story that was Queen.
"For a while I used to say, 'OK, I don't want to be a part of Queen anymore, I want to be myself.' I was a bit vociferous about it for a while. And I think that I had to do that as part of my growth. And as part of my grieving about Freddie.
"Now, I think we've all grown up," he continued, "and we realize, 'OK, Queen is with us forever.' And it's fitting that it should be, because we worked a large percentage of our lives to make that thing. So I feel comfortable with looking at Queen things, and being part of what we made all those years."

---
Friday, March 16th 2001
More information about Queen at the Hall Of Fame
(source:BBC Online)
British rock group Queen have described their induction into the Rock and Roll Hall of Fame - which takes place next week - as a "high honour".
Guitarist Brian May told BBC News Online that he was "very, very happy" at the award, which is given to artists who have had a
"significant impact" on rock 'n' roll.
The ceremony comes 10 years after the death of lead singer Freddie Mercury. Asked what he though Mercury would make of the accolade, May
said: "Freddie would go, 'Oh wonderful.'"
The remaining members of Queen - Brian May, Roger Taylor and John Deacon - will perform their anthem We Will Rock You at the annual
ceremony, which takes place at New York's Waldorf Astoria Hotel. They will also perform a song with Aerosmith.
---
Wednesday, March 8th 2001
Queen musical will reach the stage late 2001/early 2002
(source: dotmusic)
The remaining members of rock legends Queen are writing a musical with comedian, playwright and novelist Ben Elton.
Queen's guitarist Brian May has revealed that they've been contributing to the stage spectacular for the last four years and hopes that it will be put into production by the end of the year.
He told a London radio station recently: "The rumour is that we're doing a musical, which is true. Ben Elton has written us a fantastic script."
It was originally planned to be biographical and tell the story of one of the biggest bands to come out of the UK in the late 1970s and the tragic loss of their lead singer, Freddie Mercury, to an AIDS related illness in 1991.
May commented: "We've actually been working on this damn musical for about four years and been through various ideas, some of which were biographical, which in the end we didn't want to do.
"But now Ben came up with this great idea, so we've been workshopping it privately and possibly by the end of this year or the beginning of next year we hope it'll be on in the West End.
Despite his excitement about the project neither May, nor the other remaining members of Queen - Roger Taylor and John Deacon - will in the performance.
May explained: "Young people will be in it. There'll be a lot of Queen songs with some new ideas in there."
Elton had already scored a successful musical, having collaborated with Andrew Lloyd Webber on 'The Beautiful Game'.
May's interview on Capital Gold is scheduled for broadcast on March 15th.
---
Wednesday, March 8th 2001
Queen live on stage in New York - with guest artists
(source: Official International Queen Fan Club magazine, issue: spring 2001)
Queen will also be working with VH1 to make one of their excellent "Story Tellers" series. VH1 have done these with Sting, Eric Clapton and Bowie amongst others, and the idea is that the artists talk about their songs, how they were written, why, what they mean, etc, and then perform them.
It will be recorded live in front of an invited audience in New York in the Spring.
The show will be broadcatsed by VH1 but will also be released as an album and DVD in the Autumn in conjunction with Hollywood Records, VH1 and Queen Productions as a tribute to coincide with the 10th anniversary of Freddie´s death.

---
Sunday, March 4th 2001
New Queen tribute plans for November 2001/ Queen at Hall of Fame with John Deacon
(source: MayBe website/"Sponici" newspaper (Japan))

Article from of "Sponici" - Japanese Tabloid - 1st March 2001
Contributors: Ayumi and Maki
"Queen has resurrected after 10 years!"
The huge rock band Queen, that the late Freddie Mercury was in, who passed away because of AIDS in 1991, will revive after 10 years. Queen will be inducted to the Rock'n Roll Hall Of Fame as the first inductee in the 21st century. And the THREE members will attend to the ceremony on 19th March in New York.
This year is the 10th anniversary of Freddie's death and they start as Queen for the day, 24th Nov. They will resurrect taking advantage of the induction for The Rock'n Roll Of Fame though they looked to break up after Freddie's death.
According to the information that has come to TOSHIBA EMI, some tribute plans are going on for the 10th anniversary. And lead plan is that Roger Taylor, Brian May and John Deacon will take some vocalists as substitute for Freddie and release an album as "the 21st century type Queen". The plan looks to be making steady progress.
There are some names as the candidate for substitute and George Michael is one of them who is ex-Wham. He has been discussed also several years ago, but that came to nothing because of his trouble between the record company and him. Japanese EMI stuffs said, "There is a plan that the member will take plural vocalists for one album. But in any case, they will be able to release the NEW sound as the New Century type Queen for the memorial day of Freddie."
(an omission of a middle of part about the recent reputations in Japan)
The whole three members will attend the ceremony on March 19th at the Waldorf Astoria Hotel in New York. And after that the five letters, "QUEEN" will be inscribed and kept forever in The Rock And Roll Hall Of Fame museum in Cleveland, Ohio.
---
Thursday, March 1st 2001
The SAS Band live in Germany (with musicians of the Brian May Band)
(source: SAS Band Official site/www.brianmayworld.com)
The SAS Band will play their first public gig in Germany!
There will be an open air concert in Bielstein (close to Cologne) on June 22nd, 2001 (Friday).
The tickets cost DM 48 and can be ordered here:
http://www.kulturkreis-wiehl.de
The following artists are supposed to perform:
Spike Edney, Jamie Moses, Susie Webb, Zoe Nicholas (all from the Brian May Band!),
Steve Stroud, John Marter, Fish, Chris Thompson, Tony Hadley, Paul Young , Leo Sayer and Roger Chapman.
Possibly also Ian Anderson from Jethro Tull..
So I´m sure it will be a wonderful night and it´s a great chance to see all these brilliant musicians playing together for the first time in Germany.
See you there! :-)
---
Thursday, March 1st 2001
Brian on new Fish album
(source: "Fishheads"/Andy McIntosh)
On the album front things are going extremely well and I can now confirm that both Steve Lukather (Toto) and Brian May (Queen) have agreed to
contribute solos on "3D". The idea is to thread 3 different solos throughout the track with Wes being the other axeman. Brian and Steve
are being sent the material on disc and will record their parts in Los Angeles and London before sending them back to us here at the studio to mix.
This also means that on the bonus disc I will have the option to deliver a couple of versions of "3D" with different mixes of the main solos. More
details of the contributions will be put on the Fellini Days site. We are also bringing in some backing vocalists who you may recognise.
Elliot is working out the session times this week and I'll put this in the Fellini diaries.
---
Sunday, February 18th 2001
Robbie Williams honours Brian May and Queen
(source: www.brianmayworld.com)
Robbie Williams honours Queen in his new live-shows.
Yesterday I saw him playing live in Hamburg and the song, which was played right before the beginning of the show was
"Fat bottomed girls" (written by Brian May).
The whole audience clapped their hands to the song or sang the lyrics and the atmosphere was wonderful!
During this song Robbie Williams is announced - and after the end of the song he enters the stage.
Robbie Williams is a big Queen fan and has reported once that he would love to cover "Death on two legs" one time.
Lately there were many rumours if he would perhaps work together with the "surviving members" of Queen..
---
Monday, February 12th 2001
Brian´s favourite songs
(source: Official International Queen Fan Club)
Brian was "DJ for a day" on the BBC Worldservice a week or so ago,
and whilst we don't have a transcript of everything he said, his top ten music choices were as follows:
1) My Generation - The Who
2) I Wanna Hold Your Hand - The Beatles
3) Kashmir - Led Zeppelin
4) More Than A Feeling - Boston
5) Gypsy Eyes - Jimi Hendrix
6) Best of Both Worlds - Van Halen
7) We Will Rock You - Queen
8) Maybe Baby - Buddy Holly
9) Since You Been Gone - Rainbow
10) Sweet Child of Mine - Guns and Roses
---
Thusrday, December 14th 2000
Brian´s reaction on the Rock´n Roll Hall of Fame Induction and the rumours about Robbie Williams
(source: www.launch.com)
(12/13/00, 4 p.m. ET) - Queen was one of the bands selected for induction into the Rock And Roll Hall Of Fame on Tuesday (December 12). The band was chosen in its second year of eligibility. LAUNCH asked Queen guitarist Brian May about his reaction to being among this year's inductees, who will be feted on March 19 in New York.
"I'm just very, very happy to hear [it]," he said. "When I looked at the list of the other guys who are being inducted, I felt very good. Seeing Michael Jackson in there and seeing Aerosmith in there-- my old buddies. I'm very, very happy to be included in the same bag as them--just happy overall."
One of the traditions of the hall's induction ceremonies is the performance and jam session. Asked who would be capable of filling the shoes of histrionic late vocalist Freddie Mercury for the event, May told LAUNCH, "Well, I guess there's various thoughts. It'd be nice to get up there and team up with Aerosmith-- that's one thought that I had. It's something which has never happened. That would be a good thought. Further than that, we have been talking about various other things. There has been lots of rumors around," he added, laughing, "but I'm not going to confirm any of those rumors."
Those rumors include Queen's playing a few dates with British pop star Robbie Williams fronting the band. Although he didn't deny that rumor, he did come down on the British media for spreading the slew of recent Queen gossip in the U.K. press. "I mean, the English press got ahold of some stuff, but they got hold of it through some rumor monger at a record company. So it's...They don't care. They'll print anything in England. I don't quite know what it's like in the States, but over here they'd rather print lies than truth, really."
Rumors abound that new Rock And Roll Hall Of Fame inductee Queen will perform dates with U.K. pop singer Robbie Williams on vocals. Queen guitarist Brian May revealed to LAUNCH that there have been talks with Williams, but it's definitely not a done deal.
"Well, I'll be honest with you," May said. "We've been talking to Robbie and we've been playing around with Robbie, and we like him. And we've pushed various ideas around, but nothing has been decided yet, so if you see anything in the press, it's somebody jumping the gun. I think he's a great entertainer, and one of the few, I suppose, one of the few entertainers with a capital 'E' that I've seen emerge out of England in recent years. They're very few, very hard to find."
May added, "We don't have any plans to do anything at this moment."

---
Wednesday, December 13th 2000
Queen in the Rock´n Roll Hall of Fame
(source: Rock´n Roll Hall of Fame webpage)
Tuesday, December 12, 2000, New York, NY -- The Rock and Roll Hall of Fame Inductees for the Sixteenth Annual Induction Ceremony were announced today at VH1 by Jann Wenner, Editor and publisher of Rolling Stone magazine. Here, in alphabetical order, are the Inductees for 2001:
Aerosmith, the original five bad boys from Boston -- Steven Tyler, Joe Perry, Brad Whitford, Tom Hamilton, Joey Kramer -- epitomize American blues-rooted style rock and roll and continue, after three decades, to rock our world;
Solomon Burke who is known for having one of the greatest voices in the history of soul, gospel, R&B, and even country, and has influenced a vast array of artists;
The Flamingos, Chicago's pioneering doo-wop aggregation -- Nathaniel Nelson, John Carter, Terry Johnson, Tommy Hunt, Ezekiel Carey, Paul Wilson, Jacob Carey and Sollie McElroy -- gave us the trend-setting classic hit "Golden Teardrops," and their soulful rendition of the pop standard, "I Only Have Eyes For You";
Michael Jackson, who by age five was the designated lead singer of the Rock and Roll Hall of Fame Inductees the Jackson 5, and only a few years later, launched a record breaking trend-setting solo career that included the world's biggest selling album, Thriller, which spent 37 weeks at #1 and sold more than 25-times platinum in the U.S. alone. There is no question that for the generation who came of age in the '80s, Michael epotimizes what rock is about;
Queen, in the golden era of glam-rock and gorgeously hyper-produces theartical extravaganzas that defined one branch of '70s rock, no group came close in either concept or execution to Queen -- Freddie Mercury, Brian May, Roger Taylor and John Deacon;
Paul Simon, already an Inductee as one half of the duo Simon & Garfunkel, Simon launched his solo career three decades ago. From the release of the watershed album Graceland to his work for film and even Broadway, Paul Simon is one of rock's true visionaries;
Steely Dan, no rock group before or since has applied more intellectual calisthenics to their wordplay, more bebop and swing jazz formalism to their charts, or more audiophile precision to their sonics. Fervently embraced by art-rock, conservatory, jazz fusion and engineering aficionados alike, Stelly Dan -- Walter Becker and Donald Fagen -- hold a very unique spot in the history of rock and roll;
At 17 years old, Ritchie Valens, less than seven months after the release of his first single, "Come One Let's Go" and exactly 26 days after "La Bamba" hit the pop charts, was killed in a plane crash on February 3, 1959, along with 22-year old Buddy Holly and 28-year old J.P. Richardson ("The Big Bopper"). Forty years after "the day the music died," the echo of Valens' contribution to rock reverberates with an intensity that dares us to remember just how much "the Little Richard of San Fernando" gave to his fans and fellow musicians around the world; (...)
Non-Performers: Chris Blackwell
Side-Men: James Burton, Johnnie Johnson
The Sixteenth Annual Induction Ceremony will be held on Monday, March 19th at the Waldorf Astoria Hotel in New York City. For the fifth year in a row, VH1 will exclusively air the ceremony; this year's telecast will take place on Wednesday, March 21st at 9:00p.m.
Artists become eligible for induction 25 years after the release of their first record. Criteria considered includes the influence and significance of the artist's contribution to the development and perpetuation of rock and roll. Similar criteria is used for the "Non Performer" and "Side-men" category, whos career must have commenced at least 25 years prior to induction. Those eligible for the "Non Performer" category include songwriters, producers, disc jockeys, record company executives (who are mainly related to A&R), recording engineers, managers, journalists and other industry professionals.
The Foundation's nominating commitee, composed of rock and roll historians, selects nominees each year in the "artist" category. Ballots are then sent to an international voting body of about 1,000 rock experts. (...)
---
Monday, December 4th 2000
London´s busses with Freddie Mercury/Queen photo
(source: David Bowie net)
Since some days the famous red double-decker busses of London feature a picture of Queen and Freddie Mercury.
The reason? A new advertsing campaign!
London´s pop radio station Capital Gold has chosen some other artits, too, to present optically the unique playlist of the station.
The other artists, which are featured are:
David Bowie, Jimi Hendrix, The Beatles, Tina Turner, Abba, Elton John, Stevie Wonder, Sting and Blondie.
---
Monday, November 20th 2000
Confirmed! Brian has married Anita
(source: The Official International Queen Fan Club)
The biggest news is, of course, the fact that Brian and Anita got married on Saturday (18th)!!
After 12 years together they finally tied the knot at Richmond Registry office. The bride
wore a red outfit and Brian a grey linen suit with a red waistcoat and red buttonhole (and yes, he wore clogs!).
Roger Taylor was best man, and Anita was given away by her brother in law Michael O'Niell.
Brians children Jimmy, Louisa and Emily attended, along with Anitas Mum, her sister Gill and
about 20 close friends (sadly John Deacon didn't attend).
The reception was held in a restaurant in Kensington High Street that Brian loves and has frequented for many years. It is
not true that they signed a magazine deal, as quoted in one newspaper - and they're not honeymooning on some far flung
Caribbean beach, they're in romantic Italy!
Brian and Anita have specifically requested that you don't buy them a wedding present!
(and what on earth would you buy the couple who have everything?!) Brian has said that if you really
would like to give them something, then you might make a
donation on their behalf to either the British Bone Marrow
Donor Appeal, or the Mercury Phoenix Trust
add your personal message to Anita and Brian right here
---
Saturday, November 11th 2000
Highlander DVD (region 2) - new release date
(source: Brian May World - The May-keteers Homepage)
Due to difficulties in the production the release date of the re-mastered Highlander DVD will be now March 2001.
---
Wednesday, November 8th 2000
Brian´s letter to the Queen Fan Club members (29/09/2000)
(source: Official International Queen Fan Club Magazine Autumn 2000)
Hey Folks....!
Hope you´re all doing well out there.
I´m amazed how much has been going on in the Queen Camp, if you know what I mean, lately.
The collaboration with 5ive gave us a #1 hit (thanks to you folks), which certainly felt good, and, for me, gave an opportunity to play for young folks again on a grand scale, which I really enjoyed - Roger too, I think.
The Bejart Ballet made it to the UK and, finally triumphed- I was very happy to be there (and meet some of you) and very moved. We have been plotting "things" with a Mr Ben Elton (oops, was that a secret?!) and we´ve been looking seriously at making an appearance (maybe with...someone...) at Rock in Rio. At the time of writing we´re still unsure, but certain signs look encouraging. Oh, this sounds very cloak-and-dagger, don´t it? Oh well...next thing is we have to get Deacy out there with us at some point, though he´s preferring home life at the moment.
My Furia soundtrack CD is out in France, and hopefully soon in the UK, and I´ve been looking at a couple of other film projects in addition to my (secret!) Red Indian project.
More soon!!
Love, Brian
Take out there! xxx
---
Sunday, October 29th 2000
Highlander release on DVD (region 2) - with many extras
(source: Brian May World - The May-keteers Homepage)
I´ve been reliably informed that "Highlander" will be finally released on DVD (region 2).
It will be out in December 2000.
The picture will be 1.85:1 (anamorph), the languages on the DVD will be in German/English/Spanish/Italian.
The movie will be issued in Dolby Surround (running time:155 minutes).
There will be many extras as lots of subtitles, an interview with Christopher Lambert and much more on the disc.
It´s likely that the "Princes of the Universe" videoclip by Queen will make it debut on DVD.
Let´s hope that there will be also just a musical score with the Queen music on the DVD plus the directory commentary.
I´ll keep you updated about this, so check this space!
---
Friday, October 6th 2000
title for Brian´s song on the soundtrack now known
(source: Official International Queen Fan Club)
Brian recently recorded a song at the legendary Abbey Road Studios which will feature on an album tribute to Sun Records. He played and sang on an obscure song called "I Don't Want Nobody (Teasing Round With Me)"
---
Thursday, October 5th 2000
Brian on new soundtrack album together with Aerosmith, McCartney and others!
(source: Mayniacs bulletin board/Brian May World bulletin board)
HOLLYWOOD (Variety) - Musical legends including Paul McCartney, Bob Dylan, the Who and Elton John will put on their
blue suede shoes for a 50th anniversary film and soundtrack tribute to pioneering rock 'n' roll label Sun Records.
Other stars include Jimmy Page, Robert Plant, Brian May, Jeff Beck, Chrissie Hynde, Rod Stewart, Van Morrison, Mark
Knopfler, Bryan Ferry, Aerosmith, Live, Third Eye Blind, Chris Isaak and Ben Folds Five as well as France's Johnny Hallyday
and Italy's Zucchero. Brian Setzer and Kid Rock are also slated to contribute to the soundtrack.
These artists will perform the music of Elvis Presley, Carl Perkins, Jerry Lee Lewis, Roy Orbison, Johnny Cash and other
pioneers from the Sun stable.
PBS will broadcast a two-hour tribute in December 2001 as part of Thirteen/WNET New York's "American Masters" series.
Atlantic Records co-founder Ahmet Ertegun will produce the soundtrack album, which will be released through Warner Music
Group's London-Sire label.
Likely highlights of the special include McCartney singing "That's All Right," recorded by Presley at one of his earliest Sun
sessions in 1954, with the former Beatle backed by guitarist Scotty Moore and drummer D.J. Fontana, who played behind Elvis in that session nearly 50 years ago.
Sam Phillips launched the Memphis-based company in February 1952, drawing on the gospel, blues and country styles that
permeated the area.
---
Sunday, October 1st 2000
Brian and Roger attending the Queen ballet
(source:Queenzone)
The Bejart Ballet, inspired by the life of Freddie Mercury and featuring music by Queen has been proclaimed a huge hit.
Brian and Roger attended the performance and made their way onto the stage at the end to a raptuous applause.
The Ballet has proved so popular that extra shows have been added.
---
Thursday, September 28th 2000
details about Tony Iommi´s solo-album with Brian on two tracks
(source: electric basement/JenX)
The full track listing for the debut solo album from TONY IOMMI is as follows:
'Laughing Man (In The Devil Mask)' featuring Henry Rollins
'Meat' featuring Skin (Skunk Anansie)
'Goodbye Lament' featuring Dave Grohl (Foo Fighters)/Brian May
'Time Is Mine' featuring Phil Anselmo (Pantera)
'Patterns' featuring Serj Tankian (System Of A Down)
'Black Oblivion' featuring Billy Corgan (Smashing Pumpkins)
'Flame On' featuring Ian Astbury (The Cult)/Brian May
'Just Say No!' featuring Peter Steele (Type O Negative)
'Who's Fooling Who' featuring Ozzy Osbourne
'Into The Night' featuring Billy Idol
---
Wednesday, September 27th 2000
Brian and Macy Gray news
(source:Steve Hawkins/Queenzone)
Reports are circulating that the oft-touted coupling of Brian May and Macy Gray will happen in the not-too-distant future.
I read in our local paper,that Brian and Macy`s duet will go ahead as planned and will be an acoustic based rock song.
Something surely to look forward too.
The song is bound to become a huge hit for both the aforementioned artists.Lets hope it gets another number 1!!!!!!
---
Wednesday, September 20th 2000
Brian and the charity
(source: Click2music/Brian´s office/Maybe)
Several English musicians will work one day in one of the record stores from Tower Records. Reason: raising money for charity. From every person bying something they will ask 6 pounds. The Musicians would like to support The Future Forest Appeal, an organisation who wants to plant trees by the side of 'freeways'.
Brian was approached by the Future Forests charity to do some p.r. with Five (when the single was due for release) at Tower Records. Unfortunately Five were touring so nothing ever came of it. However, Brian was very impressed with the charity's concept of 'carbon neutrality' (for all the bad stuff a company emits, it is calculated how many trees should be planted to compensate), Tower Records are to subscribe to this charity.
However to cut a long story short, Brian has not been approached since that time, but it's possible his name has been included as a potential collaborator due to his previous interest, but at present there are no plans for such an appearance.
Hope that helps - it's definitely a cause to be aware of and hopefully one which more companies will subscribe to!
---
Monday, September 18th 2000
Queen- Platinum Collection
(source: Gaffa magazine, Denmark/Queenzone)
A Danish Magazine, 'Gaffa' has announced a new Queen release. According to the magazine, 'The Platinum Collection' will be released on 30 October, 2000. This may be Greatest Hits 1, 2 and 3 packaged together.
---
Friday, September 15th 2000
Brian and Roger live in London together with Five
(source: Official International Queen Fan Club)
It has just been confirmed that QUEEN and FIVE will appear at the Millennium Dome on September 25th. Five will play a short live set and then be joined by Roger and Brian for We Will Rock You. It is being filmed by Fuji TV for NHK Japan. (...)
---
Saturday, September 9th, 2000
Brian´s new projects: Tony Iommi, Fish, Steve Hacket
new release of the Red Special by Fender
(sources. Brian May list)

Here are some news about projects Brian already did with artists, or will perhaps do in the future:
BRIAN + TONY IOMMI
Tony Iommi´s new album will be simply called "Iommi" and will be out on October 10th 2000. Brian is reported to have worked on two tracks for this album. The title of one track is "Goodbye Lament".

BRIAN + STEVE HACKETT
Steve Hackett is about to re-release a long lost recording from 1986, a collaboration with Steve Howe entitled "Feedback".
Release date: October 9th 2000. Featuring special guests Brian May, Ian Mosley, Pete Trewavas, Chris Thompson and Bonnie Tyler. "Feedback" contains much material that would have made up the aborted second GTR album.
The tracklist is...
Cassandra
Prize Fighters
Slot Machine
Stadiums of the Damned
Don't Fall
Oh How I Love You
Notre Dame Des Fleurs
The Gulf
So folks, there you have it: "Cassandra" [definitive with Brian] -- "Slot Machine" [an unreleased track feat. Brian!!], "Don't Fall"
[maybe a version of "Don't Fall Away From Me" - another Hackett / Brian May collaboration] and "Oh How I Love You" [there are rumours that this track also feat. Brian].

QUEEN + FISH
Queen are said to be in-line to do some music for a film about Robbie Burns.
The Daily Record had this to say: ROCK supergroup Queen will head a star-studded cast to record the original works of Robert Burns. Clarinda, a movie based on the life of the Bard, will start filming next year and already interest in it is huge.
Before the film has even been cast, the overture has been written and recorded and a soundtrack CD is being put together.
Contracts have been exchanged between the movie makers and stars like Queen and Fish.
Purists might imagine Burns spinning in his grave at the idea - but in fact he'd probably have approved.
Producer Ed Crozier said: "Burns was the first pop star. When he died, 30,000 people went to his funeral. There has never been a funeral in Scotland of that size since."
The album will be a diverse mix of rock and classic artistes performing original Burns tracks and new songs specially written for the movie. One song being penned by Fish and Queen guitarist Brian May is likely to become an anthem which could rocket straight to the top of the charts. The song will be linked to the friendship between Burns and his best friend, lawyer Gavin Hamilton - a role expected to be taken by Robert Carlyle.
Fish said: "I am involved in writing and pulling together some people to work on it." (...) The Record exclusively revealed plans for the film 15 months ago, and earlier this year we told how Johnny Depp was being lined up to play Burns.
Depp, who has a gift for accents, is expected to be more convincing in the role than Mel Gibson was in Braveheart.
(...) Interest in the film is growing daily and a website set up to give information about it has had 800 hits already from all over the world - before it is even supposed to be on-line.
Fish's latest e-mail to his fans contains the following paragraph...
There have been rumours of a Brian May involvement (Hi Motti) in my career. I can only say that I have talked to Brian a few times in recent months and we are looking at an idea of writing together for the "Clarinda" movie due to start shooting in March/April 2001. Nothing is definite yet but our intentions are clear. All I can say is that Brian and I are good friends
and he has expressed a clear desire to work together at some point and that he would love to contribute to a project if only as a "cameo" role. The situation is open and time will tell what happens.

NEW GULD BHM GUITARS FOR 2002
New copies of the Red Special will be released in 2002. Fender will produce the guitars with assistance fromGreg Fryer - an Australian who restored Brian's guitar prior to the 'Another World' tour.
---
Monday, August 28th 2000
Robbie Williams to join Queen?
(source: Daily Express, August 28th 2000)
The following is from Daily Express (an English newspaper) from today, posted on the Brian May list.
My personal opinion: I think that would be REALLY a wonderful thing and that´s the best thing I´ve heard for a long long time!!!
BTW, Robbie Williams is a big Queen fan and I know that he would love to cover "Death on two legs".
But now to the article:
"I want to be the new king of Queen, says Robbie"
Robbie Williams has revealed his secret ambition to join pop group Queen as a replacement for the late Freddie Mercury. The former Take That singer told radio listeners 'Do you know what I would really like to do? To front Queen. I should do, shouldn't I?'
Queen guitarist Brian May is enthusiastic about the plan. "He told me, 'That's a fantastic idea'" said the group's manager Jim Beach. "So if Robbie is serious about it then we'd be glad to talk to him. Brian is a great fan of his". ...Queen recently joined forces with boy band Five to record a chart topping version of 'We Will Rock You'. This was a carefully calculated
move to introduce the band to a much younger generation. Although it is unlikely Robbie would record an album with Queen or tour with them, a collaboration would prove extremely lucrative. Peter Freestone, Mercury's best friend and valet, says he can easily see Robbie working with the band.
"I heard 'Millenium' on the radio the other day and I really liked the sound of his voice. I genuinely thought he'd do well working with Queen", he said. "He's a showman in the Freddie vein".
---
Thursday, August 24 th 2000
Brian on Steve Hacket album
(source: www.genesis-path.com)

Steve Hackett has dug in his archive, and the result will be available on October 9th. This is the unreleased 1986 studio album, including 20 mp3's - and special guest appearances by Brian May, Ian Mosley, Pete Trewavas and Chris Thompson. Check out this space and Hackett's own site www.stevehackett.com for further updates.
---
Monday, July 31st 2000
Brian and Five doing a whole show in Rio??
(source: Arnaldo José Alves Silveira -Brian May list)
"Sunday, July 30th 2000, 16h36min
Britney Spears and 'N Sync are the first international stars cofirmed for the first night of Rock In Rio 3...
... Britney and 'N Sync will be on the pop night of the festival, along with Brazilian stars Fernanda Abreu, Funk'n Lata, Pato Fu and Sandy e Júnior. There is still a third international attraction being negotiated - the group Five and the guitarrist BRIAN MAY would do together a show in tribute to the group QUEEN."
---
Wednesday, July 26th 2000
Brian to work with Five again in the future
(source: www.dotmusic.com)
Guitarist May is to collaborate with the boys on their next album.
Their first single together reached number one this week when Ronan Keating was removed from the top slot for breaking chart rules. His singles sales were disqualified after it was realised his CD also included a CD Rom interview.
Five's Ritchie says: "It's amazing working with Roger [Taylor – Queen's drummer] and Brian. They are both really, really cool guys. Brian is even going to be working on a couple of songs for our third album."
"There's a real good rapport between Five and Queen right now."
---
Wednesday, July 19th 2000
Brian and Roger live at the "Party in the park"
(source: Official International Queen Fan Club)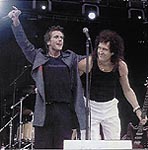 (c) OK magazine
The gig itself was good fun - at least as a spectator. I know the bands themselves had dreadful problems with the sound, their
microphones, monitors etc. Personally I think Queen and Five stole the show - their set was LIVE and they had the place
really rocking...especially with Tie Your Mother Down! The place went wild, which was great, but odd really seeing as the
majority of the audience were probably babes in arms when Queen did that one originally!! Then after they left the stage it
all kind of fizzled as an array of talentless "pop stars" paraded on and off - it was like karaoke in front of 100 thousand
people! (...) It was such a went and dismal day... but backstage was another
matter!.(...) Roger stayed for much of the day, Debbie was there with Tiger Lilly and Rufus. Brian stayed all day as he also went on for the finale and did "A Little Help From My Friends".
Brian's children - Jimmy, Louise and Emily - and Anita were all there and enjoying the day too. All in all it was a good fun day!
---
Wednesday, June 19th 2000
Eric Singer covers a Queen classic
(source: Official Eric Singer website)
Eric recorded "Fat Bottomed Girls" for another Queen tribute album with Tony Frankling on bass (The Firm, Blue Murder). Eric said : "It was great to play with such awesome bassplayer ".
---
Wednesday, June 7th 2000
"Mission Impossible 2" premiere
"We will rock you" by Five, together with Brian and Roger, live-dates and release date
"Furia" soundtrack in the cinemas
(source: Official International Queen Fan Club)

Tuesday 4th July - Mission impossible 2 premieres here in the UK - I feel sure a certain clogged guitar God will be in attendance if
he's in the UK! The film goes on general release on July 7th.
Also on July 7th British TV show Top Of The Pops (BBC ONE about 7pm) will give a special preview of the new Five single We Will Rock You, and they will be joined live in the studio by Brian and Roger.
On July 9th the huge Capitol Radio "Party In The Park" takes place in London's Hyde Park. A multitude of the current top
names will be appearing (including Boyzone, Westlife, Steps, and Savage Garden plus heaps of others) Amongst
that list of notables of the pop world will be FIVE..... and guess who are going to join them live on the day?
Brian and Roger of course!! (...)
Tickets for Party In The Park sold out within hours of going on sale, but I feel sure it will be filmed and recorded by Capital Radio for future broadcast.
July 17th sees the release of the Five single in the UK and Europe. (...)
On August 9th the film 'FURIA' is put on general release in France. We still don't know a release date for the soundtrack
though.
---
Wednesday, April 13th 2000
Furia news
(source: Sébastien /France)
Now it is sure : FURIA WILL BE ON SCREEN IN FRANCE IN JUNE 2000!!!!
---
Saturday, April 1st 2000
"We will rock you" videoclip with Brian and Roger
Furia premiere
Brian´s new work
(source: Official International Queen Fan Club/Italian Queen Fan Club)
Brian and Roger are going to be making a video with FIVE on Sunday April 2nd for the single release of We Will Rock
You. Five are playing Wembley Arena Saturday and Sunday - and it's possible that Brian MIGHT play live with them Saturday and then do the video shoot Sunday, but this isn't confirmed yet. (the single is due for release on June 19th).
Alexandre Aja's movie "FURIA", for which Brian wrote all the original score will be specially shown for the first time this week during the "Festival du film de Paris" on Saturday, April 1st. I think the film is on competition and there will be three projections during this day. There is still no release date for this very underground movie nor for the original music.
Toni Iommi's solo album will be released in June. Brian plays on 2 tracks
"The Stretch" which is, if my mind serves me right, Anita's latest TV work with Brian's soundtrack,
will be broadcasted on SKY ONE in September.
---
Sunday, March 19th 2000
Stone Temple Pilots and The King to cover Queen
(source: Official International Queen Fan Club/The May-keteers Homepage)
The Stone Temple pilots will cover 'Sheer Heart Attack' from the 'News of the World' album. The song will be featured in the 'new' Adam Sandler film whose title is yet unknown.
Meanwhile The King has covered the classic "Crazy Little Thing Called Love" for his new album "Return to Splendour", which is out now (and which really sounds very good).
---
Sunday, March 19th 2000
Brian records a new song
(source: Official International Queen Fan Club)
Brian has recorded the old Pink Floyd track "have A Cigar" with the Foo Fighters. The track will be featured in the Mission Impossible 2 film, released on may 24th. It will also be on the soundtrack album which will be released on may 9th.
---
Wednesday, Februray 16th 2000
New Queen single in Holland
(source: Trancer/QMS)
Holland will release Princes Of The Universe as a CD single on February 28th and it will have two tracks - Princes Of The Universe and Was It All Worth It. It will also have a multi-media section with the Princes Of The Universe video, a special message from Brian, a Queen screensaver and links to the Queen website. Cat #8883860
---
Tuesday, Februray 8th 2000
Rumour denied from offcial source
(source: E-mail from Jacky to Max/Brian May-list)
According to Jacky Smith (Official International Queen Fan Club) the rumour is not true.
Here´s the original quotation of Jacky:
"Funny who rumours start.... Neither Brian or Roger played anything but the new mix of WWRY, Bono met Roger briefly in the bar of his hotel for a drink, none of them even SAW Mel C, and the drummer from Crush got Roger's autograph in the bar of the pub...."
---
Monday, February 7th 2000
Mel C and Bono
(source: RTL2 teletext, Germany)
Maybe, Spice Girl Mel C will be (one of the) leadsinger(s) on the forthcoming Queen album. She was in Dublin and met Brian and Roger in the studios. She is not the only person who is interested in the project. U2 singer Bono was also there. We can be tense what will happen!
---
Sunday, February 6th 2000
Brian and Roger working together with Mel C and Bono!
Brian at Roger playing live at some Guns´n Roses gigs!
(source: Irish Star Newspaper)
Sporty Spice linked up with veteran rockers Queen and Bono last night for an impromptu session in a Dublin recording studio.
Mel C was in the city to film a television special with local girl Emma Ledden, the presenter of BBC's Saturday morning show "Live and Kicking". After a tour of a couple of Dublin's top pubs, the Spice Girl joined Brian May and Roger Taylor
down at Bono's Windmill Studios.
And there is speculation that the Spice Girl will appear on a new album that Queen have begun recording in Dublin.
PLANS
Taylor and May took time out to give and up and coming local band a few pointers. Three piece outfit Crush, who are currently negotiating a contract with Island records, met up with the two veterans at Dave Egan's Bruxelles pub.
Promoter Jock McDonald said: "They all went up to a studio in the top room of the pub and played a few tunes". "Roger gave drummer Keith Walker a few tips. The young fella was astounded to see his heroes in front of him.
Taylor also revealed plans to get together with Axl Rose, of Guns and Roses, for a couple of gigs.
---

Sunday, January 30th 2000

Brian and Roger together live again
Brian working on a new project
(source: WWRY)


Brian and Roger will be special guests at the live appearance of 5ive at the Brit Awards 2000.
The event will take place at London´s Earls Court on March 3rd 2000.

Brian returned home from the USA after he recorded some guitar parts for the new Guns´n Roses album
Brian is currently working on the main theme of a future UK TV serie called "The Stretch" (in which Anita Dobson is starring).
---

Sunday, January 30th 2000

Brian as a guest at the Oxford Union
(source: JenX)

I have had confirmation that Brian will indeed be addressing the Oxford Union on Tuesday 7 March 2000.
He will talk about his life with Queen. The Oxford Union is basically like a students union, but far superior. It is at Oxford University. They hold debates and sometimes the are televised.
---
Thursday, January 13th 2000
"Furia" soundtrack by Brian May - the tracklist!
(source: WWRY fanzine)
The album will be finally out pretty soon. It´s produced by Brian May and Justin Shirley-Smith.
It won´t be a typical Brian May album, it´s really a soundtrack album and more different from the solo work of Brian May so far.
The movie is directed by French director Alexandre Aja, and will come to the cinemas also soon.
Here´s the tracklist for the album:
Opening titles
Solo Flute
Landscape
Tango 1 (Source Music)
Solo Guitar
First Kiss
Storm
Tango 2 (Source Music)
Tango 3 (Source Music)
Phone
Pursuit
Diner
Apparition
Arrest
Father and Son
Aaron
Fire
Gun
Bird In Hand (Source Music)
Killing
Escape
Go On
Dream Of Thee
Bonus Tracks
Bed for End Credits
Alternative Gun
Mr Wind (Source Music)
---
Thursday, January 13th 2000
Brian´s recent favourite songs of all times
(source: Official International Queen Fan Club)
Brian's recent Top Ten are being featured on BBC Radio Two all this week, but for those of you who have missed it or simply just can't get Radio Two, the full run down is as follows:
1: Jealous Guy, John Lennon
2: Tracks Of My Tears - Smoky Robinson & The Miracles
3: I Wanna Hold Your Hand - The Beatles
4: Little Wing - Jimi Hendrix
5: Where Were You - Jeff Beck
6: My Generation - The Who
7: Since You've Been Gone - Rainbow
8: To Know Him Is To Love Him - The Teddy Bears
9: We Will Rock You - (some band called Queen...!)
10: Hey Jude - The Beatles.
---
Tuesday, January 4th 2000
Axl Rose talks about the new Guns´n Roses album with Brian May
(source: Queenzone)
It's a lot of different sounds. There's some other really heavy songs, there's a lot of aggressive songs, but they're all in different styles and different sounds. It is truly a melting pot.
I go back to listening to Queen -- you know, we're still hoping to have Brian May come in and do some tracks, and I got a fax today that he's coming in -- Queen had all kinds of different-style songs on their records, and that's something that I like. 'Cause I do listen to a lot of things, and I really don't like being pigeonholed to that degree, and it's something that
Guns N' Roses seem to share [with Queen] a bit.
With "Appetite," even though it seems to have the same sound, if you really go back, you can pull all the little parts from different influences. That's not really the case by the time we're on "Use Your Illusion." People are kind of set in their ways. ["Chinese Democracy"] is coming from all over the place.
---
Tuesday, December 7th 1999
New Brian recordings in the future
(source: Official International Queen Fan Club)
Brian has said that he WILL be playing on the future Guns N Roses album, and will fly out to the USA in January to work with Axl Rose on this. He wont confirm or deny the rumours that he might play live with him too though, so we have to keep
guessing on that one for now!
Brian has also recently played on his good friend TONY IOMMI's new album. This hasn't got a title yet, nor a release date, but Brian played on two tracks, "Goodbye Lament", also featuring David Grohl, and "Flame Up" featuring Ian Aspbury (The
Cult) on vocals. (sorry, I wasn't sure if that was how you spelt his name!) I'll let you know when I have any news on release.
---
Saturday, December 4th 1999
Brian and Roger as special guests on stage with the "Foo fighters"
(source: Official Foo Fighters Homepage)
During their concert on the 25th of November, The Foo Fighters were joined on stage by the dynamic duo of
Roger Taylor and Brian May from Queen! They joined the Foo's on stage for an amazing rendition of "Now I'm Here",
the classic queen song.
If you remember, Roger Taylor joined the Foo Fighters in London on December 13, 1997 to play Sheer Heart Attack. Anyways, an amazing performance!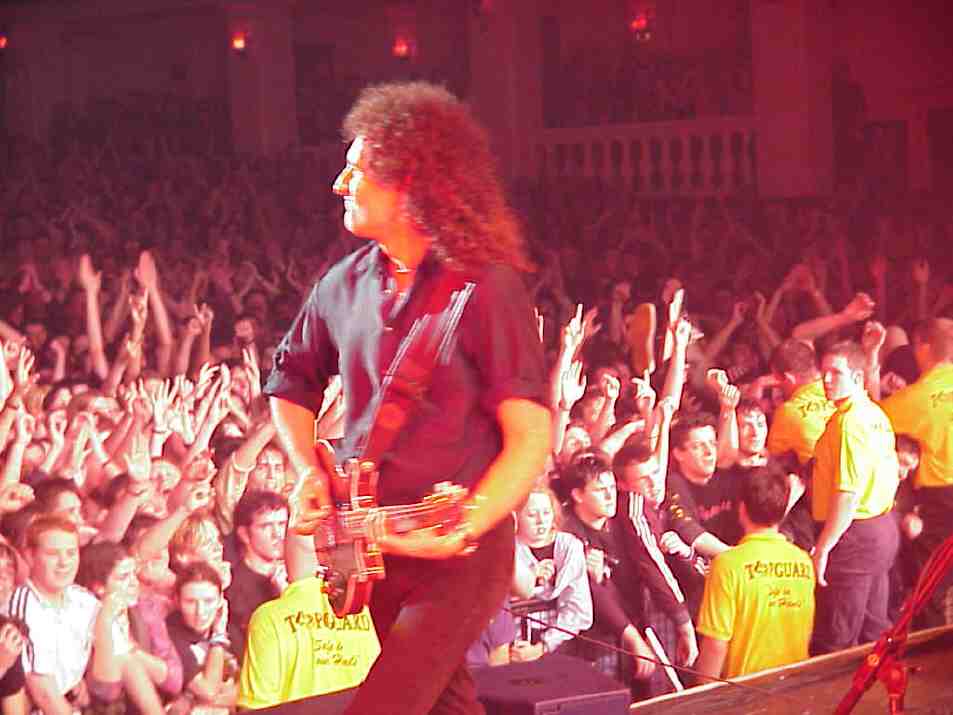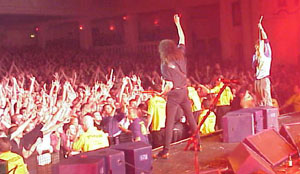 __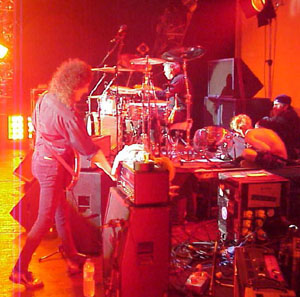 ---
Saturday, November 6th 1999
Queen on TV
(source: Official International Queen Fan Club)
The Channel Four "Queen For A Night" date has been changed from November 27th to December 4th, I just found out today, so change the date in your diary!
---

Tuesday, October 26th 1999

All details on "Under Pressure" single release
(source: German music store)

I was told by a German music store today that "Under Pressure" is planned to be released on December 6th 1999 in Germany (and I think also in whole Europe) on two Maxi CD´s:

CD A:
Under pressure (Edited Queen rah mix)
Under pressure (Spencer mix)
Under pressure (Live from Knebworth mix)


CD B:
Under pressure (Longform rah mix)
Bohemian rhapsody
Thank god it's christmas
Clips from "Making Of Under Pressure"
---
Sunday, October 24th 1999
Queen on UK TV and radio
(source: Official International Queen Fan Club)

Channel Four documentary - it's actually November 27th - new interviews with Elton John, Freddie's Mum and his sister Kashmira and Mary Austin.
BBC Radio Two are also doing one hour Queen Special on November 6th at 7pm, featuring new interviews with Roger and Brian.
---
Sunday, October 17th 1999
Brian live on stage again - hosting "masterclass" in London
(source: National Music Show´99 website)
The National Music Show 1999 - [ November 26:27:28 ] - Wembley Exhibition Centre
How to get to Wembley...
UNDERGROUND
• Bakerloo line to Wembley Central Station. 10 minutes walk from the Wembley Complex or catch buses 83, 92, 182, 204 or 224.
• Metropolitan and Jubilee lines to Wembley Park Station. Five minutes walk to the show or catch buses 83 or 92.
BY ROAD
• From the M1, M4, M25 and M40 take the North Circular Road (A406) and follow signs to
the complex
Whatever type of music you're into, the Live Stage (this year in the Wembley's Grand Hall with seating for over 2,000)
has something for you;
Sunday, November 28th 1999 2:15pm
Brian May
Call the ticket hotline on 01369 708010 now for full ticket and package details (please quote order number: NET)
tickets: £5.00-£8.00
---
Thursday, October 14th 1999
new album - details/single release
(source: Official International Queen Fan Club)
There will be a single released from Greatest Hits Three in early December, and it will be a remix of Under Pressure (not the same one as on the album). I don't know in which territories it is being released, but it's all over Europe as far as I know.
Many of you have asked about the Queen/Elton John track on GH3 - I can tell you that this was the version that they did in Paris for the premiere of the Bejart Ballet, and the video has been compiled using footage from that performance.
The video for Las Palabras De Amor is from Top Of The Pops.
---
Thursday, October 2nd 1999
"Queen+Greatest Hits III" tracklisting + infos
(source: Queen-fip.com)
1.The Show Must Go On (Queen + Elton John)
2.Under Pressure (rah mix) (Queen + David Bowie)
3.Barcelona (Freddie Mercury + Monserrat Caballé)
4.Too Much Love Will Kill You (Queen)
5.Somebody To Love (Queen + George Michael)
6.You Don't Fool Me (Queen)
7.Heaven For Everyone (Queen)
8.Las Palabras De Amor (Queen)
9.Driven By You (Brian May)
10.Living On My Own (Freddie Mercury)
11.Let Me Live (Queen)
12.The Great Pretender (Freddie Mercury)
13.Princes of the Universe (Queen)
14.Another One Bites The Dust (Queen + Wyclef Jean)
15.No One But You (Queen)
16.These Are the Days Of Our Lives (Queen)
Bonus Track : Thank God It's Christmas (Queen)
The Queen + Greatest Hits III will be landing in record stores on November the 8th (USA November 9th).
GREATEST FLIX 3 will also be released on November 8th and the tracks will be exactly the same except Thank God It's Christmas (there is no video for this and it was thought yet another compilation was not appropriate) and the Wyclef Jean video wont be included. There will be new videos for Under Pressure and Show Must Go On.
---
Wednesday, September 22nd 1999
Queen nominated for Rock´n Roll Hall of Fame
(source: Official International Queen Fan Club)
I had some great news today.... Queen are FINALLY being nominated for the Rock & Roll Hall Of Fame in the USA! Ballot papers have been sent out and votes are awaited! I am told you CAN email them with your reasons why Queen should of
course be inducted, the place to send your support is:
http://forums.rockhall.com/forums/get/inductees/6269.html
---
Sunday, September 5th 1999
Robbie Williams about Queen
(source: Robbie Williams site)
Robbie Williams has revealed the following in an internet chat :
Michael says:
You have done some cover songs (mostly as b-sides) in the past. Why do you like doing them (such as "Antmusic" or "Making Plans For Nigel"), and are there other songs that you really want to do?
Robbie says:
It's really weird because those aren't my favourite songs at all. I did "Making Plans for Nigel" out of spite for someone I know called Nigel and "Ant Music" I did because ... I don't know! I wouldn't mind doing "Death on Two Legs" by Queen ...
MSN Live says:
The Queen thing is interesting do you see any similarities many of the emails we received mentioned the similarity people saw between you and Freddie Mercury ?
Robbie says:
Well, I got rid of the handlebar moustache which didn't seem to work. :o) I do a lot of pretending on stage, if I'm not happy sometimes being Robbie, sometimes I just want to be someone else. Usually Mick Jagger, Tina Turner, Neil Tennant... Jason Orange ;o).
---
Wednesday, September 2nd 1999
Guns´n Roses rumour officially denied
(source: http://www.electricbasement.com/news_3.htm)
Despite rampant rumors, it's "highly improbable" that ex-Queen guitarist Brian May will record with Guns N' Roses,
according to May's publicist. "There haven't been any conversations like that," says GN'R manager
Doug Goldstein.
---
Tuesday, August 31th 1999
What´s Brian doing now?
(source: Official International Queen Fan Club/The May-keteers Homepage)
Brian was on holidays in Teneriffe for a few weeks.
There are some rumours that Brian will go on tour with Axl Rose and his new Guns´n´Roses project as a special guest, but personally I think that this is ONLY a rumour and nothing more
The next projects are the releases of "Greatest Hits 3" and "Greatest Flix 3" and the "secret project" (it´s not that secret if my thoughts are right) he´s been doing with Roger.
As far as I know it´s still planned that Brian will play live at the Freddie Mercury party in Reading, UK as special guest.
Finally very shortly we´ll get to know Brian´s soundtrack for "Furia" (different to Brian´s usual style) , a french movie, which will come into the cinemas now and the soundtrack will be released at the same time.
The release of the "Another world tour - Live in London 1998" video won´t see the light of the day until next year.
---
Wednesday, August 11th 1999
Brian live again!
(source: Official International Queen Fan Club)
Today it was confimed from official source that Brian will play live again. He´ll be the special guest at the Freddie Mercury birthday party in the UK in September. It´s also possible that Roger will be there, which would be quite a unique event!
---
Tuesday, August 3rd 1999
Brian has recorded a new song / Solar eclipse news with Brian
(source: Official International Queen Fan Club)
BRIAN MAY has recorded a special version of WeWill Rock You with young boy band "5ive"!! It was recorded last Thursday/Friday at Windmill Studios in Dublin, Ireland with 5ive's producer "Biff" (he's also worked with the Spice Girls amongst others). It is planned to be either the 2nd or 3rd single release from the band, so the
release date will be early autumn this year, or early 2000 on RCA Records.
Brian is in great demand at the moment because of his great love of astronomy, to talk about the impending eclipse. An article will be in the August 8th edition of Night & day, the magazine that comes with the Mail On Sunday, then he will be on BBC
Radio Two's Drive Time program at 5.15pm on August 9th. After that, the will feature on Channel Four's The Bigger Breakfast at 11am on the 11th August, on VH1 on the same day (I'm waiting to find out when!) doing a special "Sun & Moon" Ten Of The Best with Patrick Moore, he has also done an interview with Patrick
(Brian has interviewed him) which will be on VH1 sometime soon too.
---
Friday, July 30th 1999
Brian to play with boyband "Five"
(source: UK press)
LOOK who has joined boy band Five - it's Queen guitarist Brian May ... but for ONE song only. Brian, 52, has agreed to play on their cover version of the Queen hit We Will Rock you, set for release later this year..
The boys, who look set to top the charts on Sunday with If Ya Gettin' Down, will also appear with Brian on TV to promote the single (...)
I was talking with my contact at Hollywood Records the other day, and he confirms that they are definitely working on a late 1999 release of an album. He said that internationally it will be titled Greatest Hits, Volume 3.
I got the impression from the way he said it that it may not be called the same thing here in North America. That would kind of
make sense -- other than the the GH I and II UK set that was released here, our "real" greatest hits releases were Greatest
Hits and Classic Queen. Having a title sequence of "Greatest Hits", "Classic Queen," and "Greatest Hits, Volume 3" wouldn't necessarily sound quite right. I'll ask about that.
As soon as track listing and release date information is available, I'll post it! Personally, I wouldn't be too surprised if we didn't
see an end of November release date at least in Europe to coincide with the anniversary of Freddie's death, and to be a good Christmas seller.
I just spoke with a friend of mine ("someone official") and he had a phone-call with Julie Glover (Brian May management) yesterday.
I was allowed to print the following official news :
Brian and Anita are DEFINATELY not married. They just went together to LA.
This rumour shows how tabloid presses write articles .
Someone at the newspaper had his/her fun stating this rumour, which lead to a vivid discussion within the Brian May and Queen fans. Brian and Anita are also NOT together again, as a lot of people supposed (another rumour). They are still seperated but good friends.
After he has worked hard on the "Furia" soundtrack Brian is away for some time now.
Brian tells TBMFC that baby girl, Emily, age 12, is quite the songstress in her own right! This week, Brian recorded a backing trak for her so that she could sing a ditty in school with her daddy's accompaniment! Proud Papa reports that he used Emily on the Furia soundtrack, while she doesn't sing lyrics as such (oohs, ahhs, and la-la-la's). They did a personal recording of Emily singing the soundtrack finale, Dream of Thee, which Brian sings on the album itself. The Maestro goes on to state that Furia will be released in September and the soundtrack at the same time! The album will be released by EMI France.
Brian is quite proud, as this is the first sound track he has ever written. He wrote it all except for 2 tracks. You Argentines will
be gratified to hear that Brian was impressed with the two other tracks, which included Argentine music, that he thought was quite lovely.
Brian states that he is "in a lull" at the moment and feels somewhat uncomfortable with the inactivity. However, he assures us that he is quite well and happy.
I just heard that Neil Murray told the Brian May fan club that Brian WILL play in Buxton (England) at the Cozy Powell tribute concert. If anyone of you is going please mail me VERY soon. Thanks in advance!
You can get more deatils about the gig from me, if you should be interested. Just send me a mail.
From a reliable source I have been told that that the names of George Michael, Boy George and Axl Rose are discussed as candidates for the lead-singer position. But please don´t forget that at the moment just a song is planned....not an album and not a tour either. Everything will depend on how Brian and Roger will feel in the studio and if John can be resurrected.
Rock legends Queen are planning to reform to make a new album, eight years after the death of singer Freddie Mercury.
Drummer Roger Taylor told UK newspaper The Express he and guitarist Brian May are keen on working together again, and the duo are hoping bassist John Deacon will be able to join them.
"The good news is I spoke to Brian May last week and suggested we book a studio, write a song and see what happens.
"I haven't spoken to John in ages but Brian and I are hopeful he will do it," Taylor said.
There have been reports George Michael has been interested in providing vocals for the trio. He once sung vocals on a new version of the Queen song Somebody To Love.
Taylor said: "The plan for a lead singer is to write the song first and then find the best voice for it. That's how we'll probably go about it. We might do the same on the other songs.
"A lot of singers have expressed an interest in working with Queen. We're not thinking of anyone taking Freddie's place permanently. I think this is just the right time to get together again."
Mercury died from an Aids-related condition in 1991. An album of tracks he had been working on before his death, Made In Heaven, was released in 1995.
Now Taylor is hoping it is the right moment for him and his bandmates to make a new start.
"The three of us went through a difficult period after Freddie died. It took a lot of time to get over it and there were horrible expectations about what we do next.
"Now we're getting on with life. We are more relaxed."
A couple of days ago, a friend of mine who lives in the Los Angeles area was looking in the legal section of a local newspaper at the marriage licenses granted list to see if his brother and his fiance was listed yet, when he came across a license granted to a "B.H. May and Anita Dobson"! He just called to tell me about it today. I wouldn't have thought much about it really, if Jacky hadn't said so recently that Brian was going to Los Angeles. And Jen did post that it looked like they were getting back together. If you think about it, what better way to keep it out of the tabloid press than to go over seas to tie the knot? If LA is like it is here, legally they have to publish a list of all marriage licenses granted, but that's different than marriage announcments, and just listed in the legal section in list format with all sorts of other things. Who'd ever think that someone would read it?
Last night our Brian May joined Roger Taylor on stage as a secret guest at his concert in Wolverhampton. They did 3 songs together as encore: Under pressure, Rock´n roll and Radio ga ga. Roger was on lead vocals and Brian played the "Red Special". Those lucky fans who were there said it was fab.
Brian will now go on holidays to LA, together with his family.
I'm in the process of organising part of the lineup and the song list for the Cozy Powell Tribute at Buxton
Opera House on May 1st. At the moment, the band looks like this:
I'm hoping to approach again some of the more well-known musicians that Cozy worked with, such as
Brian May, Tony Iommi, Richie Blackmore etc, who so far have either said that they're not available or are
waiting to see who else is on the bill.
We'll be playing for about 30/40 minutes, and I believe the tickets are pretty expensive, so I'd understand if
fans didn't think there were enough star names to make it worth while, but we're going to try and make
sure that our section of it is good musically.
I will also probably play in another lineup featuring members of the Brian May Band and associated
spin-offs, and there are various other musicians involved in the evening.
Sorry if I've not been very definite about this before, but it seemed that if I was going to do something on
the night, I'd have to start organising it myself, which has taken a bit of time.
You can remove the usual bits and post this if you wish.
All the best,
Neil