News of the world

On this page you´ll find all Brian May/Queen/related news, updated as often as possible.

Enjoy!!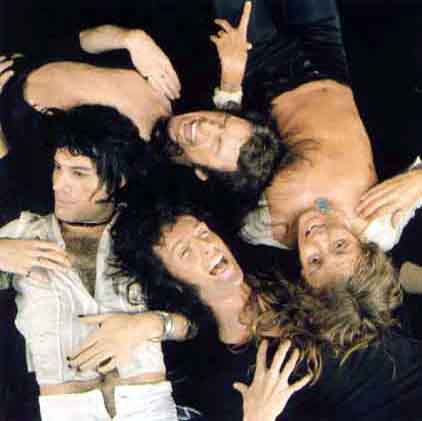 Up-to-date
Brian May and Queen news

Up-to-date
Red Special news

---
Friday, January 23rd, 2004
Dr. Brian May - University of Hertfordshire - a report by Eva-Maria Strobl
(source: briannmayworld.com)
On 9th January 2004 Brian should held a short speech at 8 pm in the Auditorium of the University of Hertfordshire [the same University where Brian did get his
Honorary Doctorate in 2002]. A few days before that some tickets were auctioned on ebay, it was mentioned that this event was sold out [actually it wasn't] and
that Brian will not only held a speech and do a question & answer session but even should do a little acoustic set..
I was confused what would really going on in this University but it didn't really matter if Brian should 'only' held a short speech or he would even do an acoustic set there, I just thought I HAVE to be there.
After quite a long journey (...) I arrived at about 4 pm at my hotel, and then looking round for the right tube/bus connection (it was much harder than I
thouhgt it would be;-)) to the University. At about 6 pm we were at the University of Herts. At this time there were no other Queen-Fans/Brian Mayniacs
around but a few minutes later another one came and more and more.
Someone told us that Brians speech will last about 45 minutes and he will indeed play an acoustic set - there was also a soundcheck, so, it was sure he will play something... At about 7:25 pm Brian rrived with no bodyguards only his chauffeur, we asked Brian for an autograph and, well, we got one, Brian then went inside the Auditorium... Punctually at 8 pm the doors of the Auditorium opened for everyone of us - over 400 people - and a few minutes later Brian entered the stage (under euphoric applause, of course!)... Brian told us, he was happy to be here but also a bit nervous, that on this evening he will talk more about life than about music cos music is his big passion but life comes first... The main theme of his following speech seemed to be a phrase, which he had put on his wall in the early years, THE
ANSWER IS THERE IS NO ANSWER.
After his speech the question&answer session, he was asked which of his songs he would be most proud of, he said We will rock you cos WWRY makes many people happy (sport teams/events, the WWRY Musical, many cover versions and remixes...). About the song Another World, he said that afriend asked him for writing a song for a movie [Sliding Doors] and Brian wrote AW, but when the movie was in cinemas, they didn't use AW, Brian was a bit confused and felt a bit angry about that, Brian said (laughing): 'The movie was good but with my song it would be better.', so, the song was used on Brians own solo album. Someone asked Brian about Tour plans, Brian said, that there are no Tour plans at the moment, as he and Roger are too busy with the WWRY Musical, and if there would be a tour, then one with Roger, cos Roger has a great voice and Brian doesn't like singing live very much and he had after his last solo tour endlessly colds and such things, and he also said that he loves Roger likea brother and Roger loves him like a brother but there's also a lot of hatered between them.
There was a question about You don't fool me asked, Brian told us that Freddie and John did do most on this song and he and Roger worked on this song after reddie's death and that the songs he loves best on the album Made in Heaven are Made in Heaven and Mother Love [the last recorded song with Freddie]...
At about the half of this question&answer session Brian started to play a few chords on his Red Special and explained them and talked about how he and his
father made the Red Special and how the Red Special was restored and what was restored... He also played a part of Brighton Rock, played and even sang Lonnie
Donegans song 'Puttin' on the style' and of course he played WWRY (Brian wanted the audience to stamp their feet to it and we loved to do that). The whole show
lasted over 2 ½ hours and not the expected 45 minutes. Most of the audience left (very happy of course) the Uni after the show but we and some more Brian
Mayniacs waited for Brian and in fact about 45 minutes later Brian came and we could get autographs and even could take some photos with him, he could have
said something like 'F*** off, buy my albums and leave me alone' or so but he didn't, Brian was very kind, during this 'Autograph/Photo session' Brians mobile
phone rang twice (he's very busy;-))...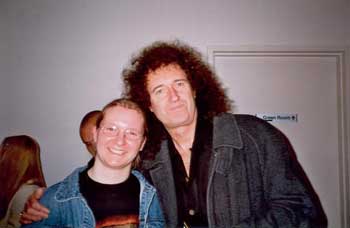 _____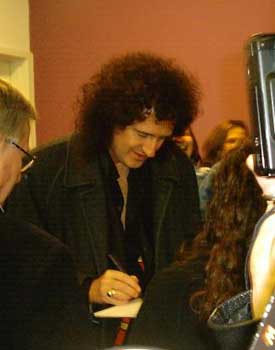 both photos (c) by Eva-Maria Strobl

Brian then went to his car, as we had the same way to go we followed a few meters behind him. When Brian wanted to get
into his car, we said 'Austria loves you and Germany loves you too' [cos we were the only persons at this show who weren't from the UK], Brian laughed and said,
that he will be soon in Cologne at the German Premiere of WWRY and even said good bye in German 'Auf Wiedersehen' and waved his hand till we couldn't see
him anymore.
...A GREAT Evening with Brian May - A GREAT man with a GREAT personality...
---
Monday, December 1st, 2003
Queen live at the "46664 charity concert" in South Africa
(source:brianmayworld.com)
Musicians as the Eurythmics, Peter Gabriel, Beyonce, Bono, The Corrs orAnastacia went on stage for the world´s biggest charity concert since a few years.
Queen played the biggest part of the show and perfomed some highlights of their career ("Bohemian Rhapsody", "We Are The Champions", "We Will Rock You", "Radio Ga Ga", I Want It All", "The Show Must Go On") coupled with brandnew tracks ("The Call", "Invincible Hope").
---
Thursday, May 29th 2003
Brian and Roger live at Pavarotti & Friends
(source: Queenzone/Bismillah)
It's really been a kind of magic last night in Modena, at Pavarotti and Friends 2003.
We could speak for a long time about the incredible Eric Clapton, the the energic Deep Purple, or the most in demand, Bono... But let's speak about Queen!
There were a lot of Queenies in the park, really a great Queen crew. Probably more than half of the audience came just to see Brian and Roger! The banners were mostly about them (and Bono, naturally...).
Queen had the honour to open the show: and so a wonderful "We will rock you" filled the whole park... and Modena itself! Of course no other songs could give the audience so much energy. Also the people not "in love" with Queen were astonished and totally involved in the classic rythmic clapping... And Brian played his Red Special as always.
And then the other songs: Radio Ga Ga has been a perfect performance, worthy of Wembley and many other live versions, thanks also to the audience in the usual -but always shocking- synchrony. Then a touching Too much love will kill you, sung by Brian and Big Luciano in a great duet with a nice linear Italian translation: "Troppo amor t'uccide, tu lo sai" (too much love kills you, you know). Really an incredible moment, a well done musical marry.
But... What is a concert, without We are the champions? And so Brian, after the well known "Do you wanna sing?", was glad to call "his brother Succhero" (Brian said), our italian Zucchero, embarrassed and excited to perform this masterpiece. And the audience could watch a beautiful close-up of Roger playing energically, rocking the park all over the night, as a lad drummer, and singing at his best!
Nothing more to say: Queen have rocked Modena. It's been an unmissable chance for Italian Queen fans, and rock lovers from all over the world.
---
Friday, January 17th 2003
Mandela Tribute Concert cancelled
(source: Queenonline/www.brianmayworld.com)
Unfortunately the Mandeala Tribute concert in South Africa, which should have taken place this February, has now been cancelled.
So we´re still waiting for another date of a "Queen" concert in 2003 - hopefully soon we will all know more about that.
Gail Ann Dorsey, the fabulous bass player who toured with David Bowie during the last years (I have seen her a couple of times last year and she is really brilliant!), should have played together with Brian and Roger in South Africa.
Hopefully she will be on stage with Brian and Roger one time. As soon as there are more informations about possible Queen live shows you can read everything right here.
---
Thursday, December 19th 2002
"Queen" to play live in South Africa next February!
(source: Queenonline)
Queen will join Bono and a galaxy of other stars at a concert in Cape Town, South Africa on 2nd February 2003 in response to an SOS from Nelson Mandela making AIDS an issue of human rights.
Roger Taylor said 'We can think of no other time, place or cause for us to return to the stage'.
---
Sunday, October 27th 2002
Star ceremony - a detailed report and photos by Ellis Davis
(source: Ellis Davis with additions by www.brianmayworld.com)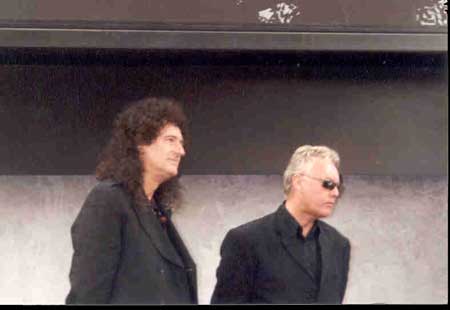 photo (c) by Ellis Davis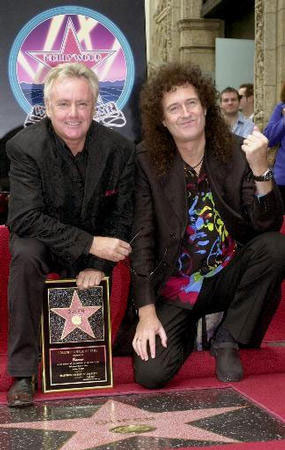 photo (c) by CNN
The Star ceremony was great. We were in the front row and didn't have anyone tall in front, so we had a great view of the guys on the stage.
We couldn't get pics of them unveiling the star, but those pics are available on the web because that is the stuff the press likes to show!
The boys looked pretty happy and they certainly looked great!
After the Star ceremony (which was pretty short - maybe 20 minutes), some lucky fans were invited back to the Ivar club. I consider myself very fortunate to have been invited.
We were in there for maybe 10 minutes or so when we were introduced to Brian .
Brian smiled and he got this warm look in his eyes and he put out his arms for a hug. OMG -was that ever wonderful. I was in his arms and against his chest
and just going "OH MY GOD". Let's just say that Brian is aware of me because I co-own brianmay.com with Jayme and I also host brianmaynews.com
and queenworld.com, and he is certainly aware of Tim's passing. I was so thrilled to get that hug. It meant so much to me, and I think I'm a little
bit in love with Brian now. (My god, he is tall!)
We watched the boys get interviewed, and Roger was finally free and I got
him to sign a picture for me. I didn't talk about much with him - just about the picture he was signing for me. Jacky had never seen that pic before. That pic could be in the next fan club letter because Jacky asked for a copy of it.
I was amazed that I was able to talk at all - to either one of them! I was so thrilled. I have loved Roger for so long. More than half my life! And
Roger is just so gorgeous. Lovely, lovely eyes.
I was so shaky and nervous and excited. I am not drinking these days, but let me tell you that I needed a glass of champagne after meeting Roger and Brian! I just had one. Medicinal purposes. ;)
Right at the end, I met with Anita and spoke to her for a bit. Also met Brian's daughter Emily (briefly).
Then we got something to eat - first thing to eat all day. We were waiting for the Star ceremony from about 9am and it took place at 11:30. And then the after party. That champagne went straight to my head, let me tell you!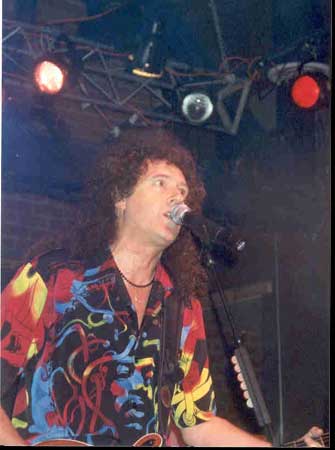 photo (c) by Ellis Davis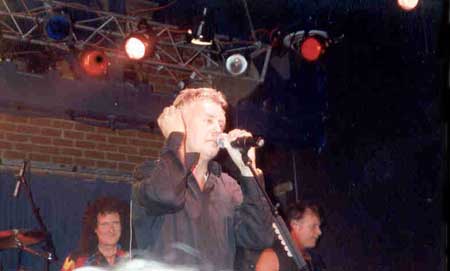 photo (c) by Ellis Davis

Then we went back to the hotel to change for the concert. Doors to the club opened at 5:30. I kind of staked out a spot near the front and I had a good
view. I was about 3 people back from the front. I hope my pics turned out! It was so great to see them on stage. The guest stars were nice to see as well, but frankly - I was just thrilled to see Roger and Brian on stage. They could have sung the alphabet and I'd have been happy.

A special thanks to Ellis Davis for this great report!

setlist:
Spike Intro with Jeff Soto:
Hold The Line
Dragon Attack
You're The Voice
Roger Taylor and Brian May:
Tie Your Mother Down
Under Pressure
Another One Bites The Dust
Sleeping On The Sidewalk
I'm In Love With My Car
Stone Cold Crazy
Crazy Little Thing Called Love
Hammer To Fall
We Will Rock You
We Are The Champions
-Encore-
Rock N Roll (Led Zeppelin cover)
---
Sunday, October 6th 2002
Details for Walk Of Fame ceremony, attended by Brian and Roger, and party
(source: Brian May World)
Brian May and Roger Taylor will attend the ceremony at the famous "Hollywwod Walk of Fame", which is free for the public!
Queen will finally get a star on the Walk Of Fame and both Queen members will be present.
The ceremony and unveiling of the Star itself takes place at approximately 11.30am in front of the Ivar nightclub, 6356 Hollywood Blvd.
The Party after the ceremony will take place at Club Sixteen Fifty (www.sixteen-fifty.com) 1650 Schrader Blvd. Hollywood.
Doors will open at 5.30pm. Higlights will be live music by the Chris Thompson Band and the Spike Edney All Stars (Brian and Roger are supposed to play with them as special guests). The club just holds 500 places so hurry to get your tickets.
These are priced at $40 each. All proceeds to benefit the Star Fund AND The Mercury Phoenix Trust.
You will be able to buy your tickets in person at the box office, 1650 Schrader Blvd. Hollywood, on the following days only:
Monday, October 7th 11-3pm
Tuesday, October 8th 11-3pm
Wednesday , October 9th 11-3pm
---