Concertography

Tour-report 1998
plus photos
Chapter 10 - Linz

13/10/98 LINZ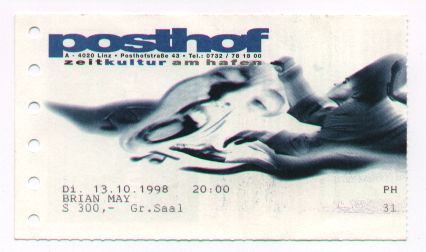 _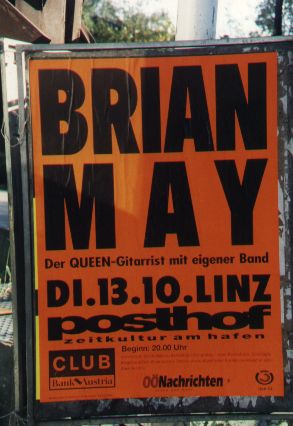 left: the ticket/ right: the concert-poster
At about 8:30am, we left Budapest again and after a short stop in Vienna we went to Linz, where we arrived at about 4:30pm.
There were just 3 other fans waiting, and that was very strange somehow. Even the venue looked quite strange, and it wasn´t until 6:30pm that 5 more fans arrived.
Luckily, we could wait again in a little hall, and there we could also listen to the soundcheck, where to our big surprise "Pretty woman" was played, with the lead vocals of Jamie Moses.
The show started at 9:30pm, and we were again at our ususal places at the front-row. But I have to say, at this point, that the audience in Linz was by far the strangest and the most ignorant and arrogant one. There were 5 people standing in the front-row next to me, who just went to the concert to videotape everything and to make photos during the whole show and the security did nothing!!
There were also some silly bawling teenagers close to us, awful! Even Brian couldn´t concentrate, as they were continue bawling during "Love of my life" Brian said, "It´s appreciated that you join in, but I can´t concentrate if you continue like that."
The rest of the audience was standing - or at the balcony sitting - there with no reactions, very strange. And there were just about 500 fans in the audience in total, at a venue, which looked very artificial.
Brian played the normal set, adding "'39" (Intro) before he continued with "On my way up", but unfortunately he
skipped "Too much love will kill you" again, maybe because of his voice problems, because he sounded more hoarse than ever.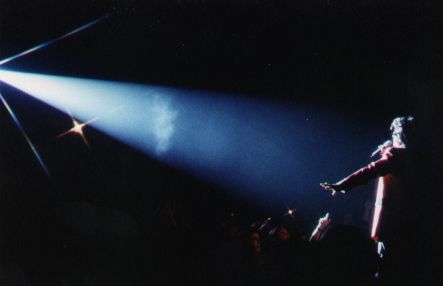 _
_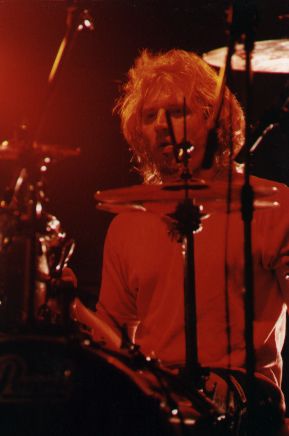 _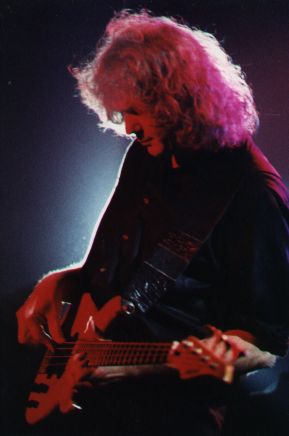 _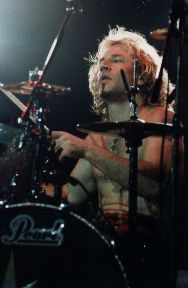 _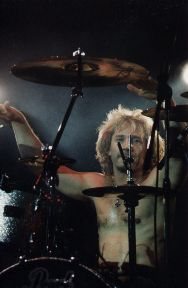 _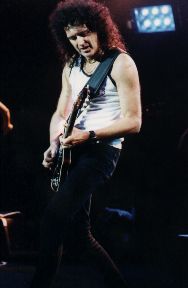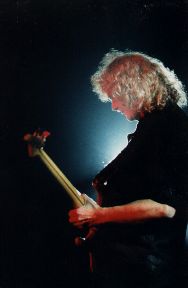 _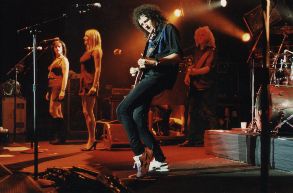 _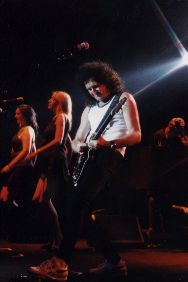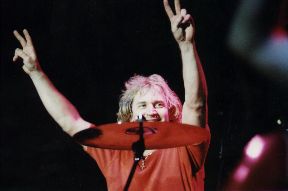 _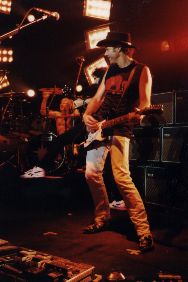 _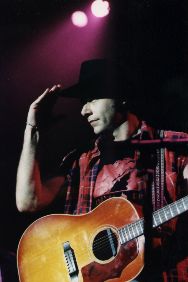 _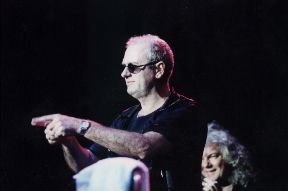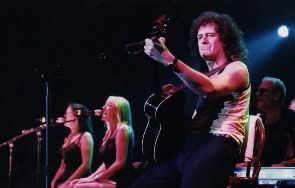 _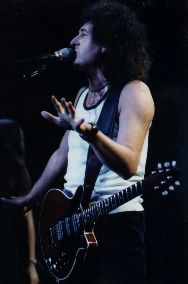 _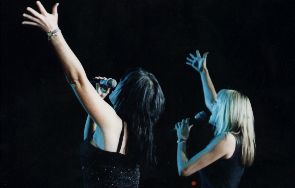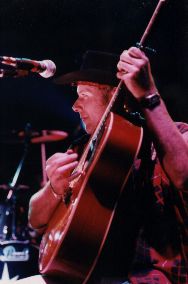 _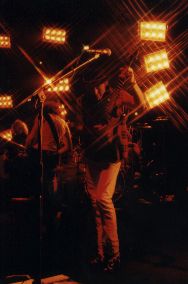 all Linz live-shots are (c) by Emilio Scandroglio
One thing, which I have to mention: After introducing the band, he introduced Spike with "A very old....aaah very young friend of mine", he said "I´d like to embarass people, and tonight I´d like to introduce you to Trip Khalouf, at the mixing desk, you already know him from the Queen days."
That was somehow funny, and there was a light shown on Trip now...
Another thing, which I´d like to mention: As Brian shook hands again with the audience during "Another World" he greeted me with a "Hi Oliver" and shook my hand.
One new thing during the show: Smoke bombs appeared for the 1st time during the drum-solo of Eric, and also for the 1st time in the show Eric blew off the fire of the drumsticks after the solo, which made quite an impression.
Venue: ***
Sound: ****
Audience: *
Total: ***
After the show we had to say good-bye to Livia, because she wanted to drive already that night to London to see the Roger Taylor concert the next day.
---

read the final chapter -chapter 11- (Milan) or go back to the concertography page