Concertography

Tour-report 1998
plus photos
Chapter 11, the final chapter - Milan (Milano)




18/10/98 MILANO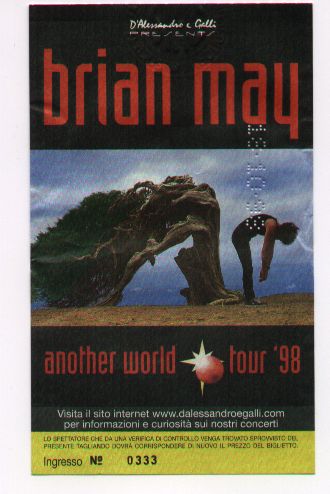 _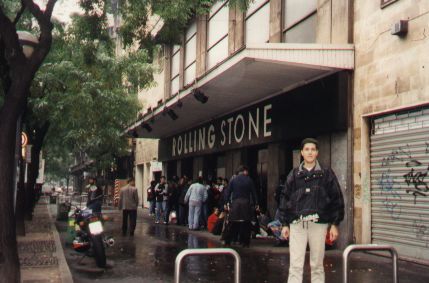 left: the ticket/ right: Oliver in front of the venue
We went to Milan at already 8:30am and arrived at the venue at 11:00 am. I was very surprised that there were already about 40-50 fans waiting at the entrance. At the other concerts I attended during the tour, people started queuing from about 4:00 pm onwards, sometimes later. Anyway, I also decided to queue because I wanted to get to the front-row again.
After endless waiting there was the admission at about 7pm.
The show was completely sold out with a capacity of 2500 people and because of the cancelled gig in Modena many people were searching for a ticket before the conecrt (but in vain).
I managed to get my usual spot at the front-row, but I already realized that this audience was totally different to the ones in Scandinavia, Germany, Austria or Hungary. They were wild and hot and everyone was standing very close to each other.
Brian´s show started at about 9:00pm, and people went crazy as the curtain with the tree appeared. Flashlights everywhere. As Brian appeared on stage there was no stop anymore for the audience. Everyone was pushing very heavily and squeezing, arms and ellbows everywhere and T-shirts were simply thrown away.
Anyway, I think you have to be used to that, to survive in the front-row. After "Since you´ve been gone", I went a bit more back, where the atmosphere was still great but where I could enjoy the concert.
Although the doctor didn´t like it, Brian WANTED to play in Milan, and he performed a great show together with the very best audience I have ever been in. It was fascinating, and all fans should really experience a show in Italy in the future.
The set-list was the same as in Linz, with a few differences: Spikes keyboard solo and "Business" were skipped, and "'39" (Intro) was played after "Driven by you."
As Brian presented the band and it was time for Jamie, the audience joined in a very good improvised guitar extravaganza for about 2 mins. It was fun!
As it was time for "Resurrection" the Red Special somehow didn´t seem to produce any sound anymore. That´s why Brian went off stage and Eric directly started his great drum-solo. Afterwards the band went on stage again, and they played just the end of "Resurrection."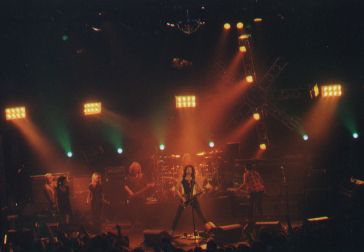 (c) by Fumihiro Nakano
The audience was unbelievable. You could really see that the whole band enjoyed this show a lot and Brian said during the set that they should consider an Italy tour next time.
It was a fab show, and in my opinion the best one, together with the one in Hamburg, where the set-list was just a little longer.

Venue: ***
Sound: ****
Atmosphere: *****
Total: *****
Brian and the band left the venue without signing autographs at about 11:30pm.
Unfortunately this was my last concert of Brian. Anyway the whole tour I did was worth everything. So many new experiences and great impressions.
Thanks to the following people, with whom I had a great time on tour:
Fumihiro, Alex, Emilio, Davide, Alessandro, Jorgen, Tracy, Carin, Endre, amongst others
Many thanks to Jamie Moses, Eric Singer, Neil Murray, Spike Edney, Susie Nicholas and Zoe Webb.
I am sure that you have also recognized us, the May-keteers, before, during and after the concerts.
I would have loved to talk a bit with you all, but somehow it didn´t happen this time.
You all were great on stage!!
Thanks also to Julie Glover for organizing everything so well. I am sure that it is very stressing having such a high responsibility.
The biggest thank has to go to Brian, of course.
Thanks for magnificent 4 weeks and such a great time I´ve had. Every show was somehow different and it was always fun to see you.
You were incredibly nice to me, and you have the great gift to make everybody feel important!

© 1998 Oliver Tamminga
-no reprint without permission-
---
back to the concertography page