Concertography

Cozy Powell tribute concert
Buxton, May 1st 1999
"A night to remember"

Was it all worth it?
-13 hours journey, fortune of money-
Yes, it was a worthwhile experience!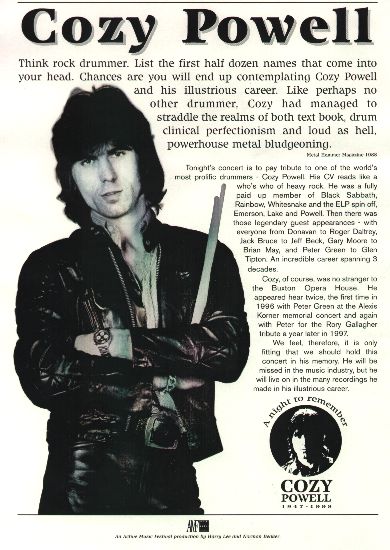 Six days before the actual event took place, it was announced that Brian May would be on the guest-list for the Cozy Powell tribute concert. Now I had a problem, because I had already booked a flight for the Queen convention on May 5th 1999.
But...it was Brian, and those of you who know me personally are aware that he means a lot to me.
I made the impossible possible again, organized a way to go to Buxton, booked hotels, organized my ticket, etc...and of course I couldn´t use my original flight because it was a non-refundable ticket...
It took me 1 1/2 full days to re-organize everything and I would have never put that effort and money in it if it wouldn´t have been for Brian.
May 1st, 1999. I got up at 4.30am (3.30 am UK time) and together with a friend we went to Buxton by car.It took us 13 hours and finally we arrived at the hotel at about 6:30pm UK time. Buxton is a really wonderful small village, surrounded by pure nature and nothing else. And the small village of Buxton was lying in this nature. I couldn´t believe that the concert should take place in this tiny town.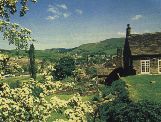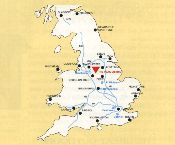 The opera house, the venue, looked wonderful (about 250 years old). Before the show there was a raffle, where signed drumsticks from famous musicians as Phil Collins or Ringo Starr could be won.
I had a wonderful seat in the tiny venue (capacity about 900 people), in the middle of the 4th row.

__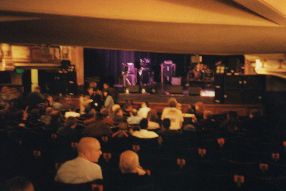 I was still very exhausted from the long trip but it was all gone as the show started at about 7:40pm.
I didn´t know most of the artists, but they were ALL very good and talented and I enjoyed the show very much.
The music style ranged from blues to pop and from rock to hardrock.
Performing artists were: Brian May, Spike Edney, Neil Murray, Tony Martin, Mike Casswell, Johnny Marter, Darren Wharton, John Idan, Chris Thompson, Martin Chambers, Bobby Rondinelli, Clayton Moss, Denny Ball, Frank Aiello, Andy Scott, Susie Webb, Zoe Nicholas, Tony Ashton, Chris Farlowe, Pete French, Russel Gilbrook, Andy Scott, Norman Beaker Band and The Bailey Bros.
Every artist gave his or her very best for Cozy, with songs, which have been either performed with Cozy, which were written for him, or which fitted very well.
Absolutely wonderful was the re-formation of Black Sabbath (just Tony Iommi was missing) with Tony Martin on vocals and Neil Murray on bass and additionally the very talented Bobby Rondinelli on drums.
They played songs like "Cyring in the rain" or "Long live rock´n´roll".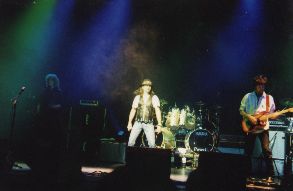 During the whole show Cozy´s original drumkit (with his name on it) was in the middle of the stage...and seeing THIS drumkit at the show was very touching alone.
Unfortunately the tribute wasn´t sould out, which was a pity...there were just around 450 people attending the show, but I even saw two ladies from Japan one row in front of me!
Then it was time for the SAS band with Spike Edney, Susie Webb, Zoe Nicholas, Neil Murray, Clayton Moss and Chris Thompson on vocals. Unfortunately Eric Singer wasn´t there so they had to pick a different drummer.
The SAS band performed some great songs but as Spike intoduced that someone from Queen was here tonight the whole place erupted and now everybody was standing and I was also rushing towards the stage.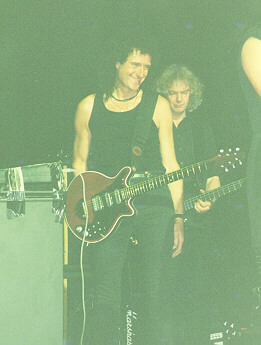 (c) by Rebecca Makin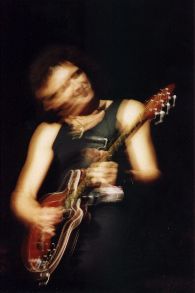 _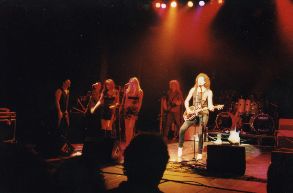 _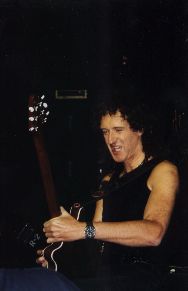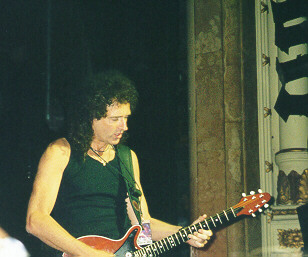 __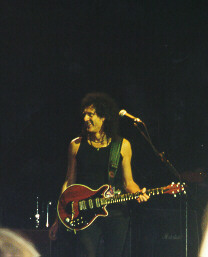 __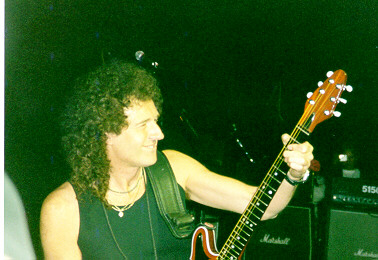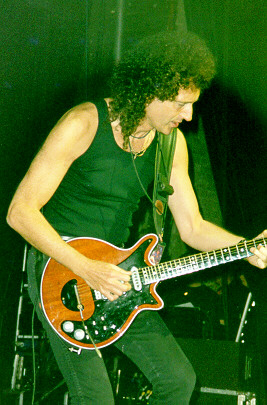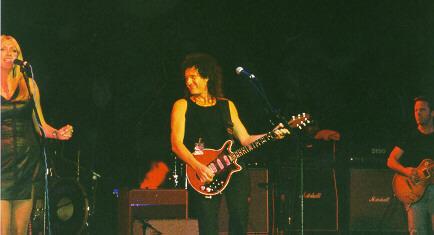 __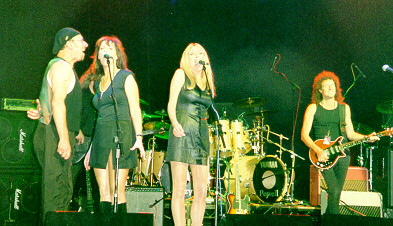 the six photos above are (c) by Rebecca Makin
I freaked out as Brian started his set with "Since you´ve been gone" as atribute to Cozy. It was so wonderful to see him and the nearly complete Brian May Band again for the first time after my "little" European tour back in 1998. It was worth everything!
In that moment the long journey and the money were forgotten....Brian live on stage is ALWAYS an event, which can´t be missed (and for me personally it means a lot)!
As Brian played "Tie your mother down" the whole opera house was shaking, and Brian also played both wonderful versions (the new slow one and the old fast one) of "Hammer to fall".
The concert ended at around midnight with all artists (including Brian May) performing "All the young dudes", "With a little help from my friends" and "You´re the voice".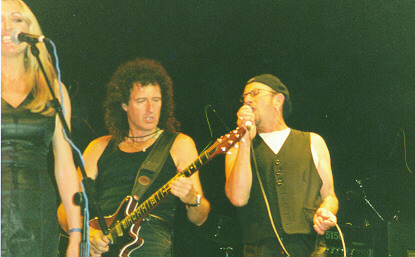 __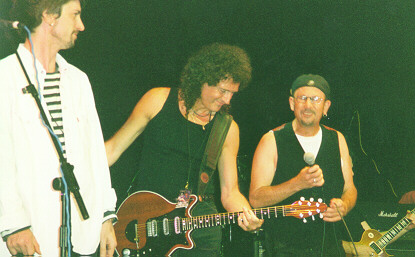 both photos are (c) by Rebecca Makin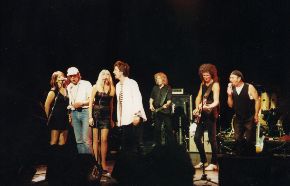 __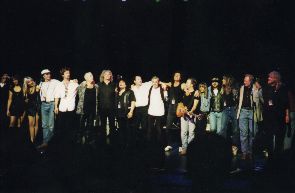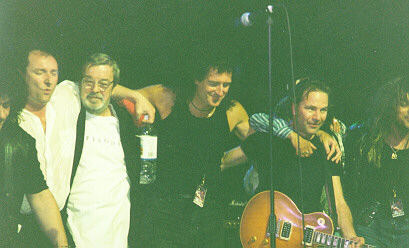 this photo is (c) by Rebecca Makin
After the show I waited at the stage door, the backstage entrance, and I was happy to meet the Brian May Band again (for the 1st time since the tour). I was greeted very friendly by Susie and had a little chat with her.
I also got the chance to talk with Neil, thanked him for organizing that event. I asked him if Brian would continue his tour in the summer, but it´s unfortunately very unlikely.
And finally I met Brian again, gave him a set of the best photos of the "Another world" tour
(which are all featured on The May-keteers Homepage) as a present. He recognized me and was very friendly as always.
He was very happy about the photos and he told me some nice words.
Brian gave autographs to everyone, who wanted to have one, and he also posed for photos with everyone who asked.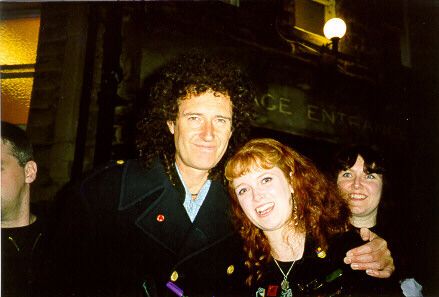 Rebecca and Brian
He is always so nice to everybody, always impressive again!
What a great night!

this report and all unmarked photos are (c) by Oliver Tamminga,