Concertography

Warsaw 1998
Very special thanks to Angelika from Poland for the report: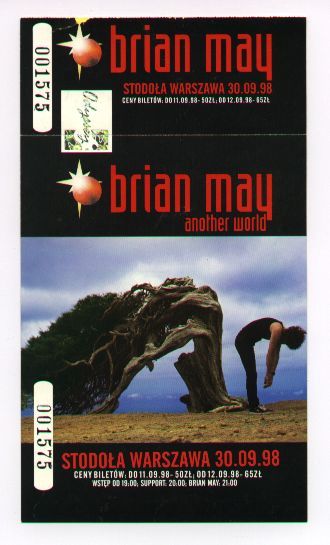 __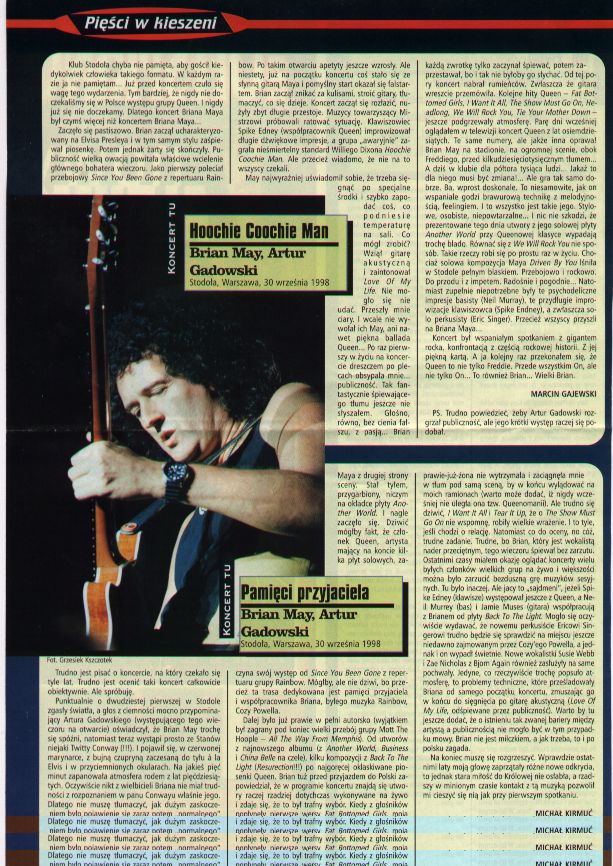 the ticket a (good) concert review

It's September 30th- we are in the front of the "Stodola Club" in Warsaw. It is very cold but the fact that the concert is on its way warms really warms us up...fans who will see and hear Brian playing live for the very first time.
Just before we are let in, we begin the known countdown: 10,9,8,7,6,5,4,3,2,1 and finally we are let inside. At first, to our great surprise, we hear a polonaise by F.Chopin (our national composer) - how nice...After that we see a guy dressed like Elvis singing "Only Make Believe" charmingly. Everybody recognizes this amazing disguise and Brian's show. Fans are calling his name.
Brian says: "Thank you,thank you very much. Mr.Brian May will be here in a short minute. We'd like to entertain you for couple of hours . I´m very glad to be here in a beautiful country in Warsaw. And now I´ll play a song which I wrote last night :-) I was laying in my bath in Warsaw and I came up with an idea. :-) This little song is called C'mon Baby so let's C'mon Baby".
Light are off and the real Brian appears on the stage performing "Space". Then he greets everybody speaking Polish : " Welcome Warsaw!!! We will play Rock'Roll". After that, the first sounds of "Since You've Been Gone" can be heard. Brian says: "Thank you. Good evening folks" and in Polish : " Good Evening" It seems it's a very long time, finally we meet". And again in Polish: "Finally- I am with you". The crowd is going crazy. Everyone is surprised at his very good Polish language. According to my opinion he said it in a special way, he knew hot to accent these three words in the the only meaning for us. He says: O.K. I'm very very happy to be here, thank you for coming". Unfortunately, at this moment there is something wrong with Brian's guitar and the band is forced to change their repertoire and improvise. Brian says "I must see what is wrong with my guitar.Please excuse me only for one minute". The cowd shows a great deal of patience and understanding, waiting uncomplainingly. Brian adds: "That song will be played for you, for the reason it is dedicated to the late Great Cozy Powell. I've got kind a problem with my guitar so I have to tell you stories. Two weeks ago I was sitting down with President Clinton. He says: "Brian", I say yeah Bill, "next time you play in Poland, particularly in Warsaw, could you dedicate this song for me?" - I can dedicate this song - It's called It's a hard Business". Then he tries to play but alas again nothing is ok. He announces Spike Edney who plays a keyboard solo but a minute later Brian adds his guitar playing to the sounds of "Business". After the song Brian says: " I just ...I'd like to say " and in Polish: "thank you very much for your patience...I'd be here in a short minute - All right" Let Spike play some Chopin. Spike plays Chopin.
After that we hear a Jamie Moses blues song "Hoochie Koochie Man". Brian comes back on the stage saying" I've got a very bad situation. There is no way to swap my guitar so let me sing a song for you, ok.? "While they are busy mending my guitar this is a little trip - into Another World, ok.?". Everybody begins to sing, showing moments of emotion. This song is so optimistic that it creates the atmosphere of warmth and feelings. Brian thanks saying: " This is a very interesting guitar. It is interesting because it's my job". We all ask him to play "Love Of My Life". He agrees asking us: " do you wanna sing with me?" and we sing all together. A lot of us wipe tears of emotions. During his song a funny episode took place. It comes to my mind again and again. In the middle part of the song fans begin shouting: Brian, Brian! It is a lot of fuss...Then Brian puts his finger on his lips meaning "si...lence". We are affected with his words and keep repeating : "si...lence, si...lence". It was real fun...Brian laughed a lot, too.
After the song is over he says: " I tell you I'm very happy to be here in Poland. It is an honor. It is something incredible". Next we hear "Driven By You" everybody claps their hands and sings. After that he announces : "On My Way Up", "China Belle". "Thank you, be careful, there are very attainable in China. It's soon gonna be a new Polish record.It's a kind of...kind of secret. It's been years since we've been together so lets play some old songs which I remember. Do you feel like singing with me?". He plays a bunch of old hits : "Fat Bottomed Girls", "I Want It All", "Headlong", "Tear It Up".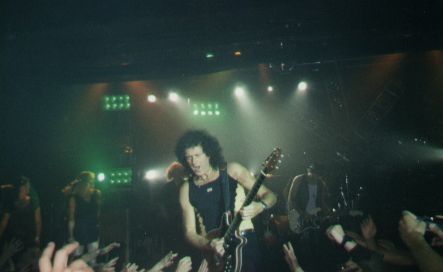 __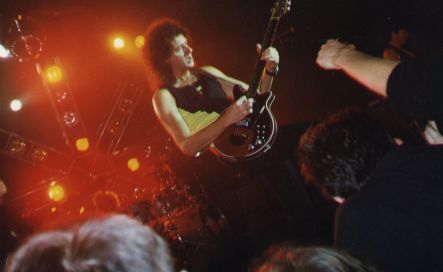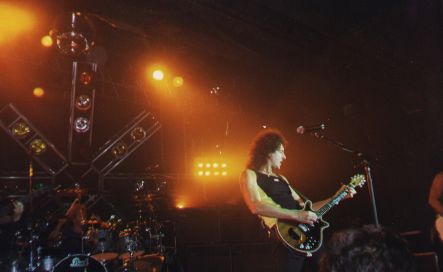 Finally we can hear the very wanted "The Show Must Go On". Everybody shivered singing it, like a hymn for Freddie not agreeing that he´s gone. In the way how Brian sings the song, his affections and emotions are clear to us. Brian: "I would like to introduce you with a great pleasure - to a fantactic bass player Mr.Neil Murray - solo". And here it comes - I was waiting for it very much "Last Horizon" - lovely. Next is a slow version of "Hammer to Fall" and the fast one. Now his solo and "Brighton Rock" with Eric Singer on drums, "Resurrection", "We Will Rock You", "Tie Your Mother Down". We ask for "No - One But You". Brian : " This is something unusual about Queen songs which Queen never did. It's called " No - One But You". We sing together. Brian says: "you sing well. It's from my last album, this is a little number "All The Way From Warsaw" all right" a little trip" do you want it up". Finally at the end we sing Brian Polish " 100 years" and he promises he comes back again. It was a beautiful end of the concert.
Every time I remember his show I just can't stop laughing...( Elvis ...) He astonished and surprised me completely (besides, all of us). It was hard to believe I saw Brian himself on the stage. It was a good idea and his moments - he is a real showman...Now when I come back with my thoughts to the concert I have one in mind. Surely, I don't know Brian personally but I think he is a very sensitive person. And maybe this is the reason why he was so sad and maybe even angry because of the temporary not working guitar. An unexpected situation happened, which we couldn´t influence. So it would have been even funny if we felt angry because of situation. I think, on the contrary, the whole situation changed a lot. I dare to say, it was better because the fun was more emotionally and the atmosphere was really hot. I think it was too hot and everybody felt it. I hope Brian noticed it. Then he smiled very often and he felt relaxed. He joked and spoke a lot of Polish to us...We felt very close. We were hungry for his visit and the personal contact at the concert. That is way this evening was very important for us. By the way, it is incredible that the presence of one person can make a human being happy (even for a very short moment) and many people together can create genius atmosphere where I felt so well. He made it...
The concert was very impressive.
---
back to the concertography page