Red Special
VOX - "Brian May Special" Amp

Vox and Brian May Team Up to Create "Brian May Special" Amp
January 16, 2003 - a press release

Queen's Brian May is acknowledged for having one of the most recognizable tones in the history of modern guitar. He is also well known for his wall of VOX AC30 combos. However, when recording, May often relied on a one-of-a-kind, piecemeal amplifier system assembled in the early 1970's by Queen bassist John Deacon. The amplification part of the system is a 9-Volt powered contraption, dubbed the "Deacy" (after Deacon), and started out as an unlikely bit of salvaged solid-state circuitry. When paired with May's own handcrafted "Treble Booster" pedal, the combination became one of the most distinctive sounds in rock music.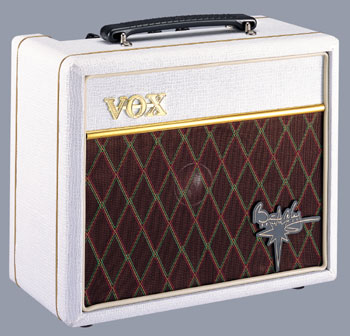 In honor of May's longtime association with VOX Amplification, the company is producing the VOX Brian May Special - an updated reproduction of the amp (plus Treble Booster) used on many of Queen's monumental multi-platinum recordings, with a few modern enhancements that enable it to be used as a standard amplifier, a recording amplifier with emulated output, or as a signal booster used in-line to overdrive another amplifier's input.
Designed primarily to sound identical to the original homemade "Deacy System" (May's Treble Booster/Deacy amp combination), the Brian May Special sports a custom-designed, 6.5" full-range speaker and provides 10 Watts of solid state power with the genuine sound and feel of the original device. Attention to detail has been preserved even down to the two specially designed "battery simulation circuits" that give the new amplifier the unique tonal characteristics of both of May's original DC-powered devices.
For expanded control and operation, the Brian May Special features Controls for Gain, Tone, and Volume, as well as a Gain switch (High and Low) offering two distinct gain variations to suit the user's particular playing style and setup.
The new amp also provides a Booster Output, which allows the user to overdrive another amplifier (replicating the way in which May uses his Treble Booster to overdrive the AC30s in his live setup). Furthermore, the Emulated Recording/Headphone jack allows for silent practice and/or recording when connected directly to a recording device. The Brian May Special's Extension Speaker jack may also be used to power another cabinet.
VOX's new Brian May Special comes in a compact enclosure (13" W x 10.75" H x 6.7" D) weighing 12.35 lbs. The unit will be available in the U.S. in March 2003 with an MSRP of $199.99.
For more information, visit their web site at www.voxamps.co.uk.

Attention:
www.brianmayworld.com will try to review the "Brian May special amp" for you. Check this site regularly for the latest information.