Concertography

Tokyo, November, 10th 1998
Very special thanks to Fumihiro Nakano for the report: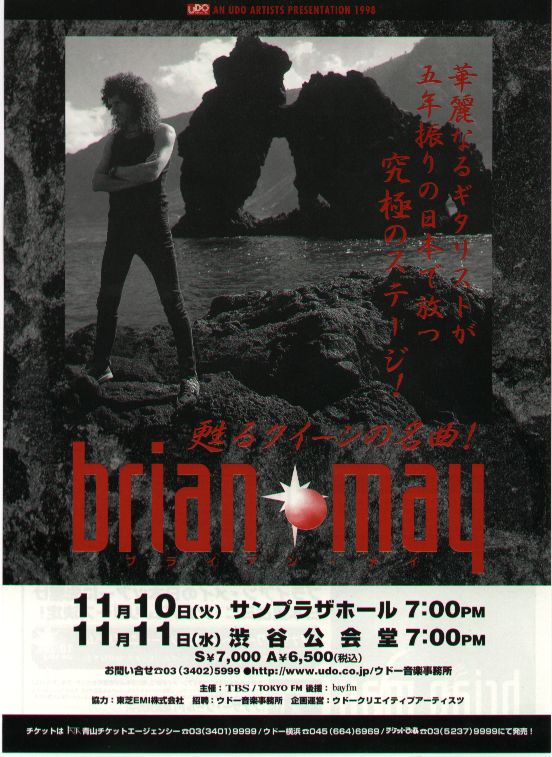 __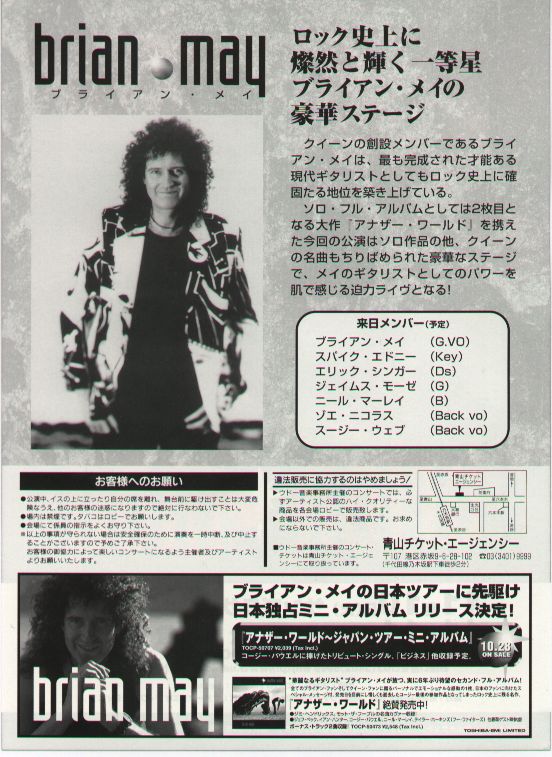 the concert flyer (front and back) for the two Tokyo concerts
'Nakano Sun Plaza Hall' in Tokyo has a capacity of 2,200 people and it was almost sold out. The show started at 19:15. There was no support band. I met some of my old friends who came from the neighborhood.
At 19:15 the lights went out and the curtain which looks like the tree from the cover of 'Another Wold' album came
down. Then Dance With The Devil was played on tape.
After we were told about the special guest T.Conway in japanese language, the show started with Brian dressed as Twitty Conway.
He began to sing the song called It's Only Make Believe which was now available on his latest mini-album 'Red Special' (Sorry, it's japan only !). Of course, almost nobody of the audience didn't realize that it was Brian himself. After the song Brian said that the next song
was called C'mon Babe. The band started to play Slow Down (short instrumental). Brian changed back to himself while the lights
started to flash, so we didn't know the change. The man said 'Ladies and Gentlemen, from London England, Mr.Brian May !'.
What happened ? Brian appeared suddenly at the right side of the stage, but he didn't use the stairs like at the european concerts.
He performed the song Space with his guitar. The song was over, and he said to us 'Konnichiwa ! Tokyo !' in japanese language! Welcome to Japan, Brian !
After he played Since You've Been Gone as a tribute to Cozy Powell, he said 'Nihon ni mata korete yokattadesu' in japanese
again. The QUEEN medley was great. The audience became too hot. In their acoustic set, Brian said 'Isshoni utatte kudasai',
before he played Love Of My Life. The whole audience sang this song with Brian, like with Freddie. Now we felt like we really were with Freddie in Heaven.
He played Too Much Love, which I heard for the first time during my tour at Brian's concerts.
Eric Singer's drum solo was great, but he didn't use the fire-sticks.
He played We Will Rock You, Tie Your Mother Down was next and coming with special guest who named Nuno. Yes ! Nuno
Bettencourt from EXTREME ! In the middle of this song, Brian swaped his Red Special with Nuno's guitar, and Nuno played the
part of guitar solo using the Red Special for Tie Your Mother Down !!! What a great surprise !!! But almost nobody recognized
Nuno, because he didn't have his long hair anymore. Nuno appeared with short hair.
The encore was Another World and All The Way From Memphis.
As a resume, the show was great, but we still think that they should have played Teo Toriatte. We were looking forward to sing
this great song with Brian in japanese ! We hope that they´ll play 'Teo Toriatte' during the next days. Yes, we have one more chance to go to the show in Tokyo !
The show ended at 21:25 , then Why Don't We Try Again played on tape... I thought I'd like to go to drink beers !!!
---
back to the concertography page