Concertography

St. Petersburg
Behind the curtain
Very special thanks to Alex Smirnov and Sergei Zhuznlin for the great report. Please check out Alex´ Brian May page for much more information about the concerts in Russia and the concerts in Berlin, Hamburg, Cologne, Stuttgart and Munich. Alex also has one of the best Queen-sites !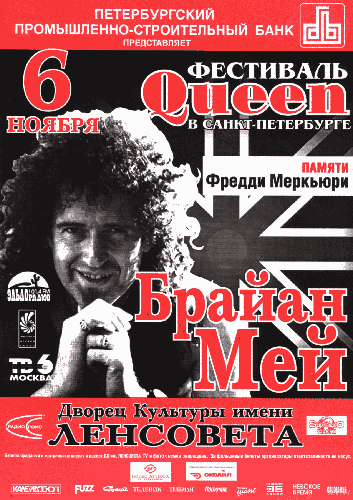 the concert flyer
ARRIVAL
Our expedition departed to St.-Peterburg on 4th of November late at night, right after a
short appearance live on Echo of Moscow FM station, where with the help of
Moskovit-Concert many fans had a chance to win the tickets to the Moscow concert.
Completely accidentally (!) two good friends of came along with us to St-Petersburg,
which made our journey much more fun.
Having arrived to St-Petersburg early in the morning, we went to the office of the White
Nights local promoters. There Alex and myself got our passes for the show in St.Petersburg
("press-TV"), and Brian´s schedule.
At 16:30 we were at the Pulkovo airport, where journalists and fans were waiting for Brian.
Because of the weather conditions (it was snowing) the plane was delayed for more than an
hour, but at last around seven o'clock Brian stepped on Russian land. When Brian and the
crew passed the custom, one drunk passenger caught attention of security (remark from Oliver:
was it Spike?? Just kidding...), so that it was possible for us to sneak through and to
capture everything on video (certainly it´s strictly forbidden to film or even take pictures there).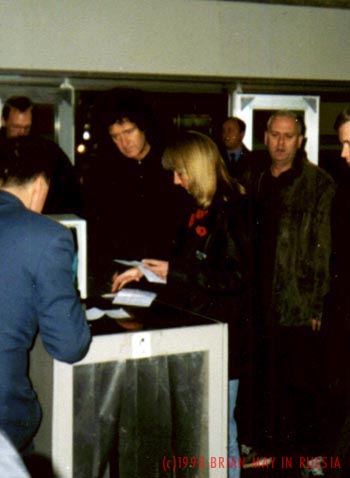 Brian was surrounded by journalists, and in this moment Alex greeted him and Julie. She
recognised Alex and reminded Brian where they met earlier. As Brian drove away in a
limousine, we greeted the band and took photos of them.
The press-conference was held in the hotel, Brian and all his musicians were present (without
Susie and Zoe). With the exception of a few stupid questions the press-conference was
very interesting and informative (not only for us, but also for Brian, I guess. Cos he finally
met the guy who discovered the secret of Just William : me!) After the press-conference May
and his band gave some autographs. When I gave him Jealousy (Soviet
blue-flexi single) for a signature, Brian was really surprised: Wow, this is quite a rarity!
Even I don t have a copy of that. So we promised to present him all
Soviet/Russian rarities in Moscow.
Later on we met Susie and Zoe in the hotel bar, talked a little with them and took autographs.
That night Brian and co. had a supper in TinkOff restaurant, which lasted till 2am. At the
same time we had a good time in local pub Corsar

BACKSTAGE: St.-Petersburg, Hall Of Culture of LENSOVET
The neext day I was very surprised by the fact that in the morning (actually in the afternoon)
there was not a soul near hotel (except us: four Muscovites certainly!). Somewhere around
half past one Brian and Julie showed up. Brian saw us, so he lowered dark glass of a limo,
waved to us and smiled saying something like: Hi, guys and drove away to examine the
city.
We´ve tried to follow him, but lost the trace. Instead of trying to find Brian in
downtown St. Petersburg, we visited Petropavlovskaia Fortress and met there the petersburg singer
and composer Korneluk. Alex joked, having told, that Korneluk certainly has to meet
Brian, because their hair style was nearly the same.
Around 6pm we approached the Hall. As we were told by the promoters, we could go
inside through any entrance. What entrance should we select? Certainly the service entrance!
Being at the backstage area we became witnesses of Brian´s soundcheck: The band played a few
times Since You've Been Gone and Brian some solos. After that we patiently
waited for him to finish talking with the promoters, and so we also had a chance to have a conversation
with Mr. May. We talked with him and presented him some photos which Alex took at the German gigs.
In response he signed some of our items and took a picture with me.
Later Julie appeared, she called Brian to the dressing room to take some promo pictures .
While I was away trying to find one promoter Alex talked with Julie concerning Brian´s
interview specially for our Russian fanzine Our Fairy Queen . She agreed, but told, that it
could be done in Moscow only.
At half past seven the concert began. Jack Daniels (the support band) played, but we were still
hanging around in the bar at the backstage area with Eric, Susie and Zoe. When we heard that
support band was already playing onstage, we went behind the scene where we saw Brian,
who stood alone and listened to the rock covers performed by Jack Daniels. So I approached
and started a conversation (again)
At the same time Alex was talking with Jamie just behind us (Brian and me). Minutes later
Spike showed up.
When Brian left us (he went to the dressing room to transform into T.E. Conway), we made
our way from the backstage area to the hall, where the second part of support was about to
begin Queen super-film (as it was billed in the adverts)...
CONCERT: St-Petersburg, Hall Of Culture of LENSOVET
Before Brian´s performance Queen videos - Bohemian Rhapsody and We Are The
Champions - were shown. There could have been more but right after the beginning of We Are
The Champions everything (I mean the showing of videos) was shut down It s difficult to
say, whether it was made specially or it was simply a technical overlay.
The concert was marked by several events: Brian spoke Russian; during Fat-Botts he
asked one of the security guys, who stood in front of the stage, to move away. At The Show
Must Go On one enthusiastic fan managed to climb on stage, but Steve (May´s technician)
quickly dragged him off. Brian tortured his low string to death in the end of Last Horizon .
But the most scary thing happened during the fire part of the drum-solo, when the burning drum
stick slipped through Eric s fingers and fell down. Thankfully one of the technicians quickly
took it up. Also Brian tried to return one crazy girl, who was withdrawn by security and
forced everybody to rise from the sitting places during We Will Rock You . It was the
breathtaking show indeed!
Despite the fact that Hall Of Culture of Lensovet s capacity is about 2200, there were
some vacant seats on the balconies (but maybe all those people rushed down to be closer
to the stage). One of the security guards told us, that some people tried to get to the concert
through a roof! And one promoter said that in the lobby he lost his pass. He thought that
somebody stole it from his neck

---
back to the concertography page