Concertography

Chicago, Rockstock festival 1998
report by Erin Christian:
On September 9th, 1998, I got into my car and began the most exciting adventure of my young life, up to that point. I had quite a journey ahead of me, since I was about to drive to Chicago. But before I went there, I was "On My Way Up" to Tennessee to meet up with a friend, not Twit E.Conway, but someone else..;-), who would accompany me for the rest of the trip. After a night in Tenn, we were off to CHICAGO!! At this time, I still couldn't really believe what I was going there for. My DREAM was going to come true, and it just didn't seem real. I was going to Chicago to see BRIAN MAY perform and actually get the chance to MEET him. No..I told myself, this can't possibly be true.. After driving about 16 hours total, we arrived at our friend's house in Indiana.
On the morning of September 12th, we left for Rockstock! It was group of five, Tim, Ellis, Brian, Jen, and me. Wendy and Sephanie would arrive later. As we drove to the "World Music Theatre", I felt as if I was dreaming. The gates were going to open at 11:00am, if I remember correctly, and we were there in plenty of time. After the gates opened, we received a pat down, and our bags were checked, we ran around in a panic until we found Stage 2, the "Cheetah stage" where Brian would be playing later that day at 4:30pm. Already, there were fans at the front gate, and I scurried to secure a spot front and center, where I would stay for the next 5 hours. It was such a hot day! I was so thirsty, but I didn't want to leave my spot to go get something to drink. Eventually a band came on, and three more followed, before we finally saw our beloved Brian. Oh..the bands before him were just terrible, and the crowd was SO rowdy...moshing and body surfing behind us. I was miserable and was getting pushed tighter and tighter against the gate. The security guards kept asking if we were ok. We weren't..we were hot and scared, but we didn't want to leave our front row spots..*LOL* So, the Queen fans in the crowd, all detectable with their t-shirts, just huddled together and tried to protect each other from the crazy teenagers behind us. So...totally dehydrated, my legs covered in someone's spilt cup of Pepsi, the time had almost arrived for Brian.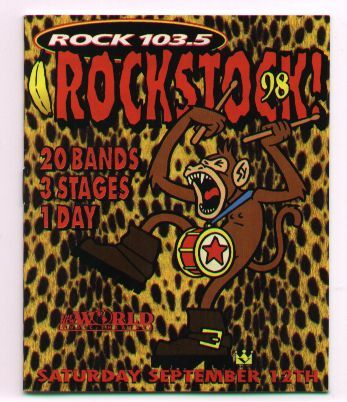 We cheered hard as the last band, Monster Magnet, left the stage. And then..after a few minutes....the most incredible thing happened. BRIAN MAY'S equipment was being brought onto the stage!!!!!! It was finally sinking in that I would see Brian LIVE!!! We watched in amazement as Eric's drumset was brought out with the "Another World" star, and we really went crazy when we saw the VOX amplifiers come out! Then......Brian's guitars made their appearance! I had never been so excited in my entire life, and I completely forgot about the fact that I was starving and had to go the bathroom...;-) A few minutes after that, we spotted a van drive behind the stage. Brian was in this van... All of a sudden, I heard someone scream, "I see him!!!!" I was freaking out..going "WHERE?? WHERE!!??" Then..I saw him, too.. I looked through a small hole in the bottom of the stage and saw Brian just standing there! This LEGEND was just yards in front of me! My heart almost jumped out of my chest, when I first laid eyes on the man. I yelled.."BRIAN!!!!!!!!!" Then...the most incredible thing happened...he looked through that hole in the stage, directly at me and gave me a thumbs up!!! I swear, I nearly collapsed!:-) That was the single most amazing thing that had ever happened to me. For a while, I lost sight of him, and we continued to watch the stage being set up. Spike came out and was actually practicing before the show began. We were yelling at him, but I don't think he heard, because we were outside.. Jen and I were trying our best to start Brian chants before the show, and we were hoarse before the show even started..*LOL* Finally...show time!!:-) The set list was a blur to me. All I could think of was, my IDOL was standing just a stone's throw away from me playing my very favorite songs of all time... It was a completely surreal experience. I was just mesmerized..in total awe. There stood the man that had admired for SO LONG, the man in all those videos I love so much, the man that played guitar on the most incredible songs ever written. There was Brian May..a living legend!! All of this was racing through my mind, as I screamed myself silly trying to get Brian to look our way. I sang and clapped as hard as I could. And towards the end of the show, I pulled out a banner that I had made for Brian. (I had to sneak this in, as they weren't allowed.) Luckily, the security guards didn't take it away, and Brian did notice it. I know the band must have been so hot and uncomfortable. The sun was right in poor Brian's eyes the entire time, but still he put on a WONDERFUL show, and went a bit over his short 40 minute time allowance. Most of the crowd was great, too. There were a lot more Queen fans there than I expected, and I was surprised to hear some singing along to the Queen medley! I was very sad to see the show coming to a close, but I couldn't be too down, for the best was yet to come. I would MEET Brian the following day.......................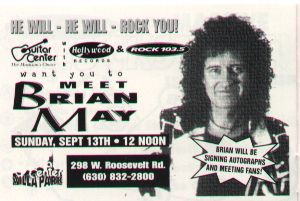 advertisement for the signing session
---

back to the concertography page