Concertography

Reading, UK, September 4th 1999
Freddie Mercury fan-club party with special guest
Brian May




report 1 by Rebecca Makin (incl. photos)
It was superb, a really great night all round. Even in critical musician mode, I still enjoyed the set of The Bohemians, and the fact that Brian went and told them how good they were adds to that. I know he's a great guy, but half that band aren't Queen fans, so it's not like they wouldn't notice if he was insincere. That's my thought anyway!
Anyway, onwards!
The Cross reformed came on probably about 9 pm, with Johnny Marter on drums, Clayton Moss and Jamie Moses on guitars, Spike on keyboards, and Peter Noone on bass. Blinding set right from the start, with them hammering into Tutti
Frutti like there was no tomorrow. Nice bit of vocals from Mr Moses on Rocky Mountain Way, and then they dragged Mark Shaw out. As always, the ultimate showman, and this time he actually had a stage big enough for him to pose
on, unlike the postage stamp they were stuck with at the Mean Fiddler gig in July! There was a bit of a tenuous Queen link with him doing Rock 'n Roll a la Roger, and then he moved into Then Jehrico's Big Area (of course! guy's gotta sing one of his own songs!) they then moved into a nice version of Angels, not my favourite song, but a good rendition all the same. And finally we got some Cross with Top Of The World Ma. Superb! I glanced round at that point and saw the entire hall practically shaking the foundations!
Spike then announced that they were going to do a bit of composers singing their own songs, leading to a rather puzzled (and sozzled, as usual) Clayton being dragged to the centre to sing. He does do a superb guitar solo though, pissed or not. Shame he had his Superman t-shirt on - too many connections with the convention he turned up at, as any other women in the bar that
night will tell you! I digress Spike then sang Baby It's Alright from behind the keyboards, and then the lovely Mr Noone decided to sing for us all! Bloody brilliant rendition of Sister Blue. Despite Spike's usual protests about their lack of practice and it being years since they'd played the stuff, the only problem I saw or heard was Jamie trying to figure out when to go "ooh" in one of the songs -hardly an earth shattering crime there!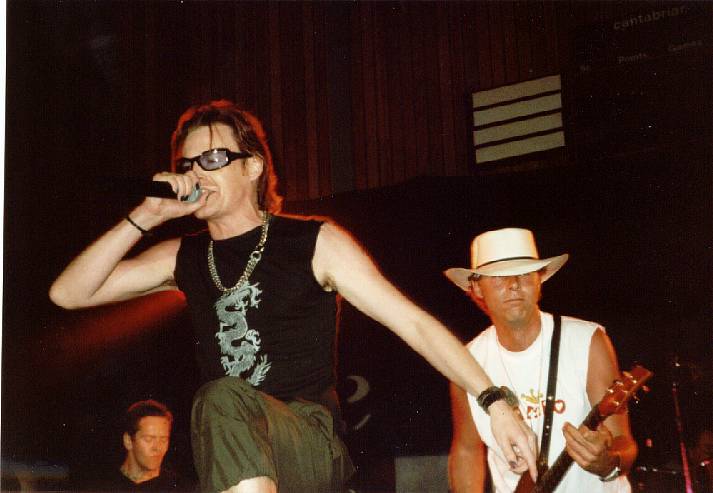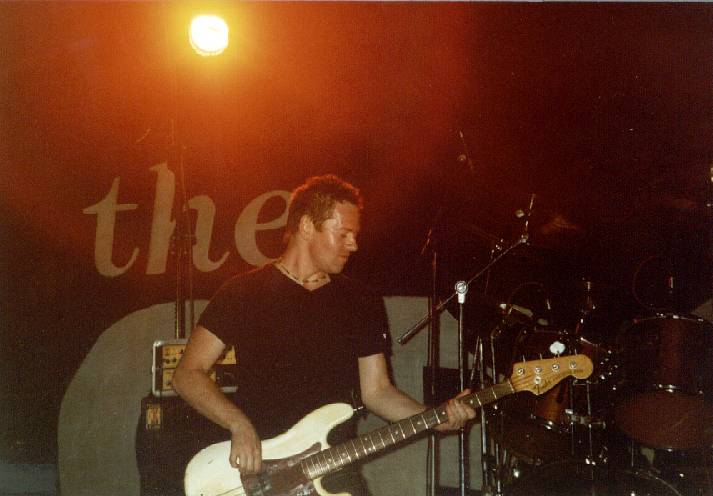 __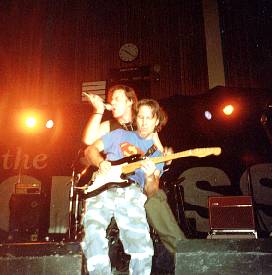 Jamie did a great version of Foxy Lady, then back to the Queen stuff with Dirty Mind, Man On Fire and Now I'm Here. Bit of confusion then when Mark thought he was going off stage and said his goodbyes, only to be yelled at by Spike that he was doing the next song! The traditional rendition of All The Young Dudes followed, fab as ever!
Jacky then got dragged out on stage and was exceedingly brief about the whole thing, saying she knew who we were waiting for so she wouldn't stop!

And finally Brian appeared! Storming version of Since You Been Gone followed the loudest standing ovation I ever heard, gigs included! God knows where we got the lung power from, but everyone just seemed to be on such a high, the atmosphere was incredible. He then announced that he was going to do us something a bit softer, and after a bit of pratting about, and Spike and Jamie looking worried, he grinned and said he was sure it went something like that! He then played Last Horizon. then he went on about how he'd started doing old songs in new ways, and that this was his favourite of the lot, and played the slow/fast Hammer To Fall. And then said goodnight and buggered off stage, much to our horror! But, bliss, the lights stayed down, and he came back!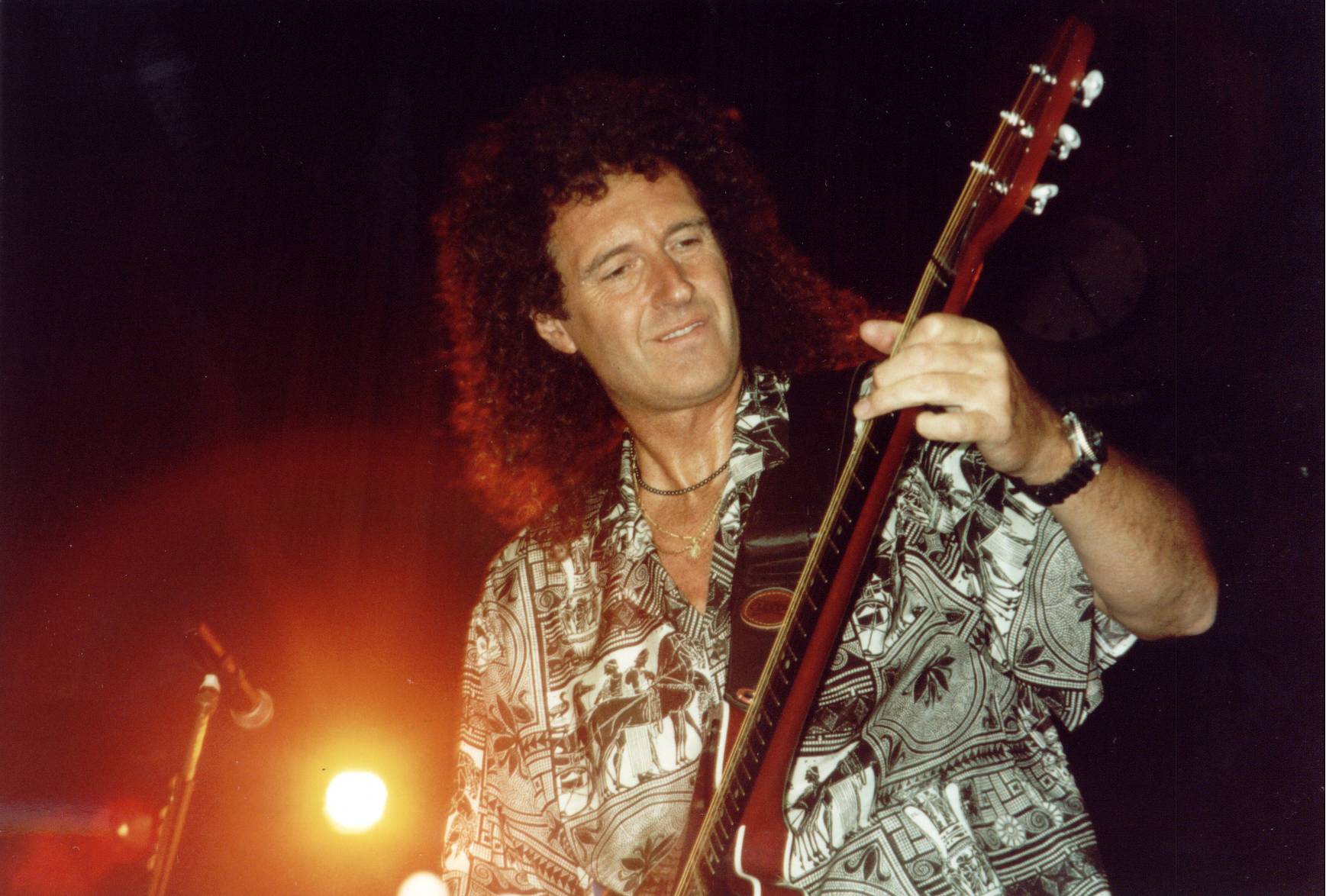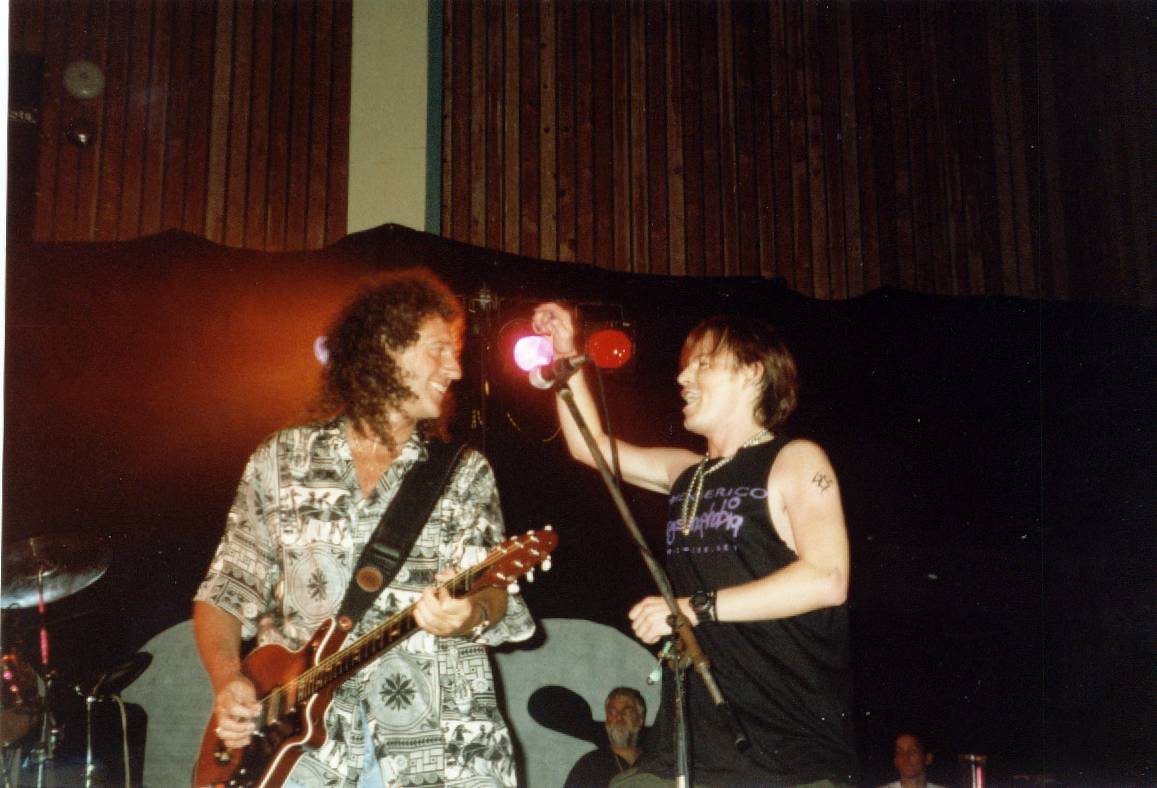 __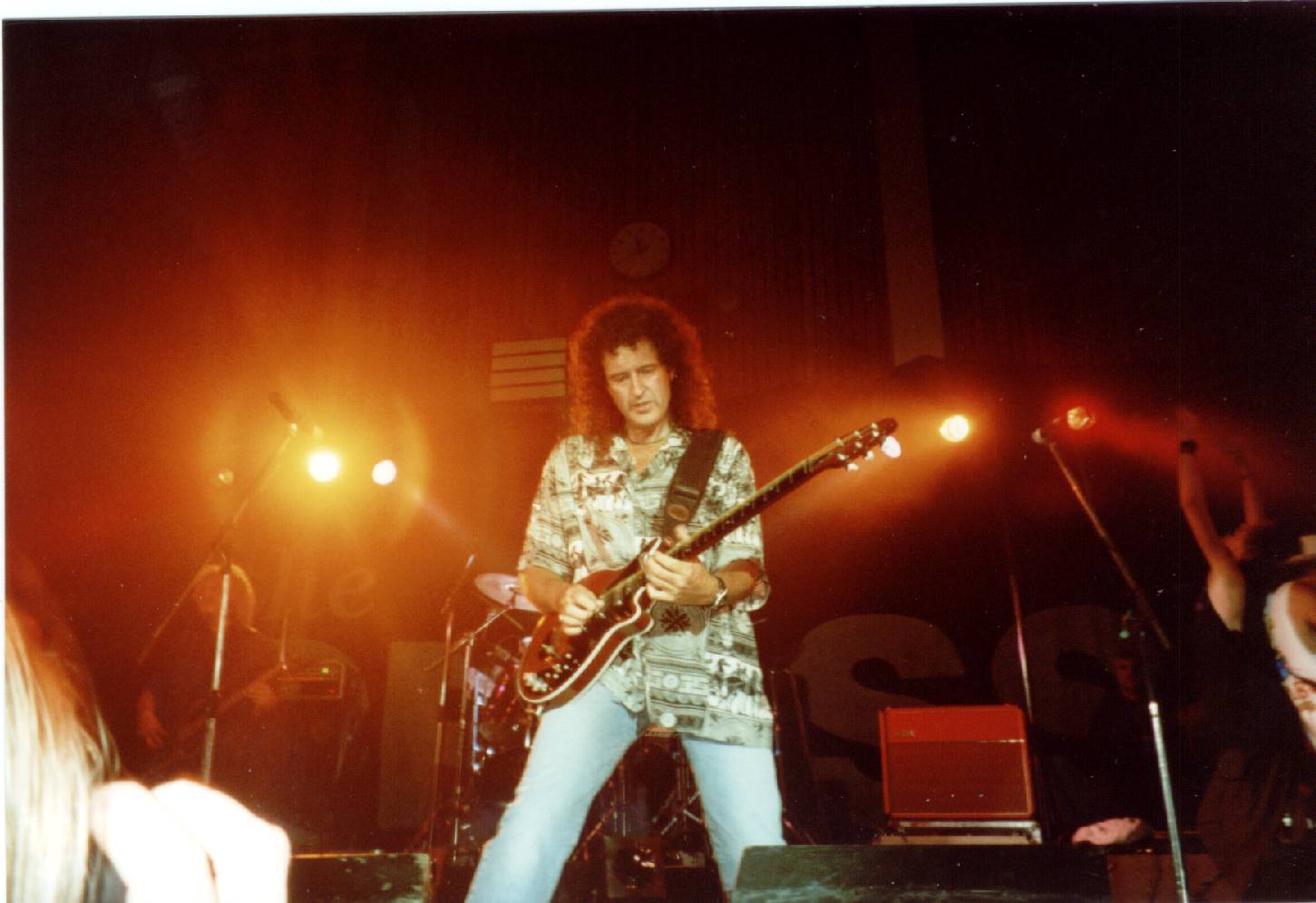 __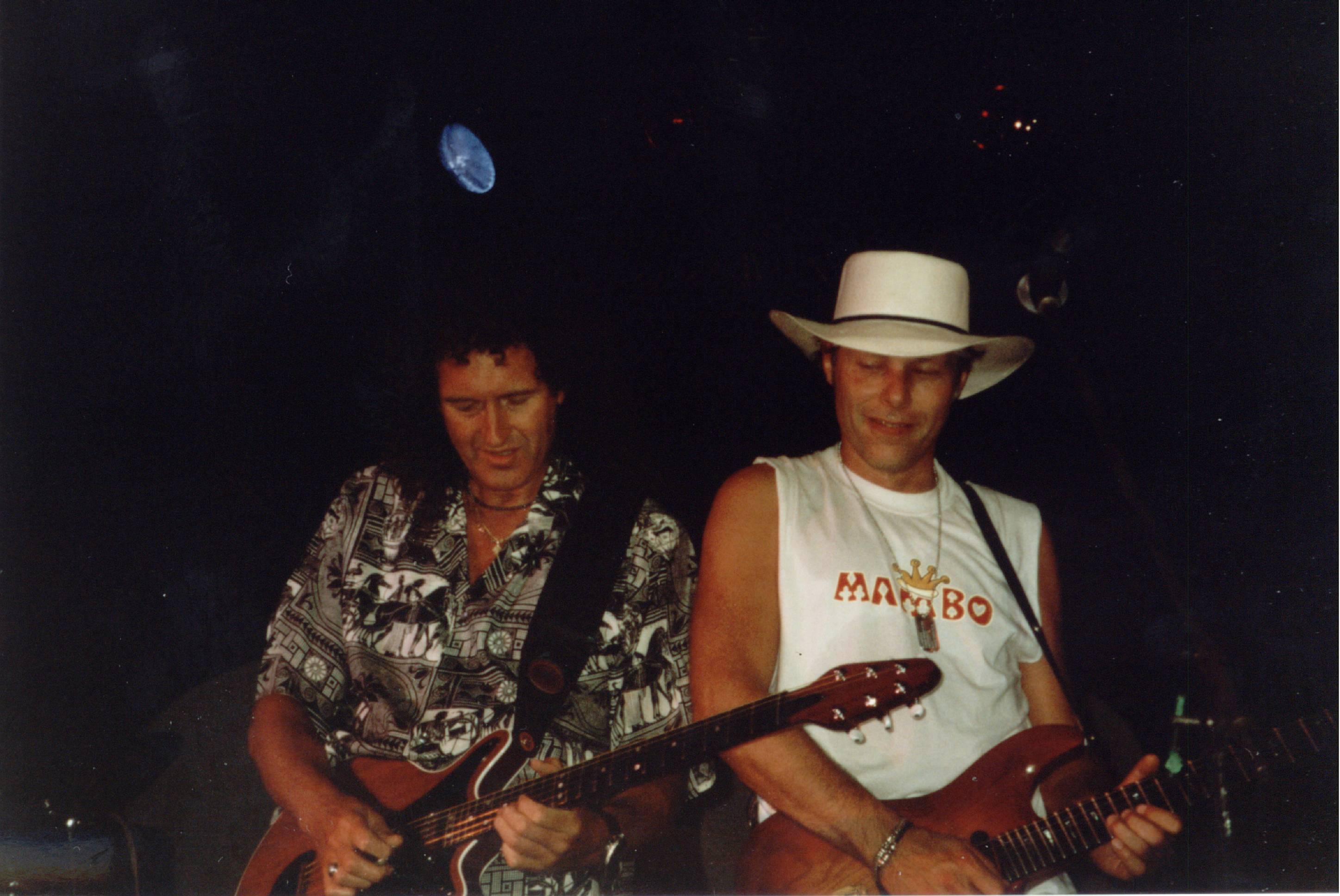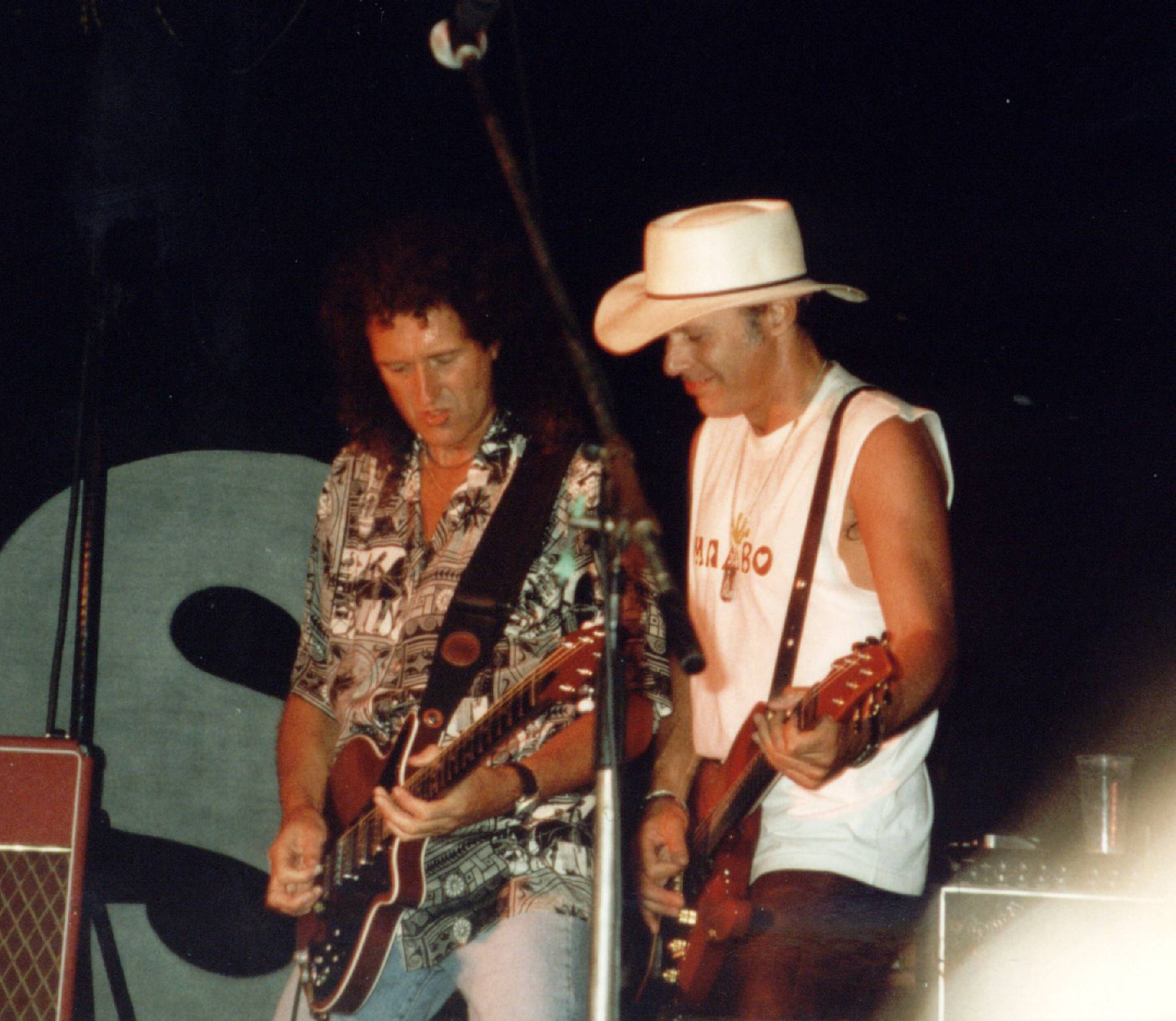 __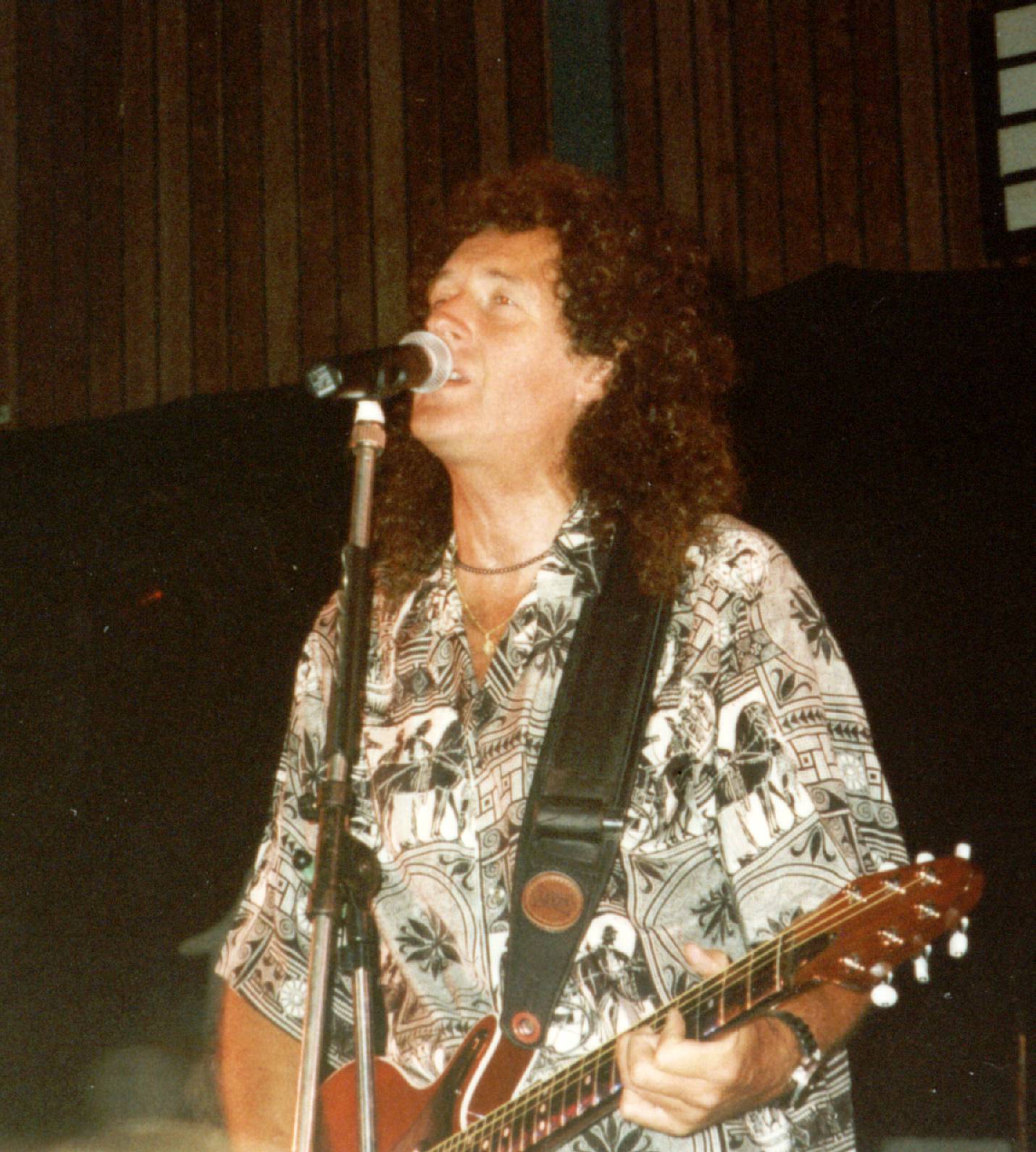 __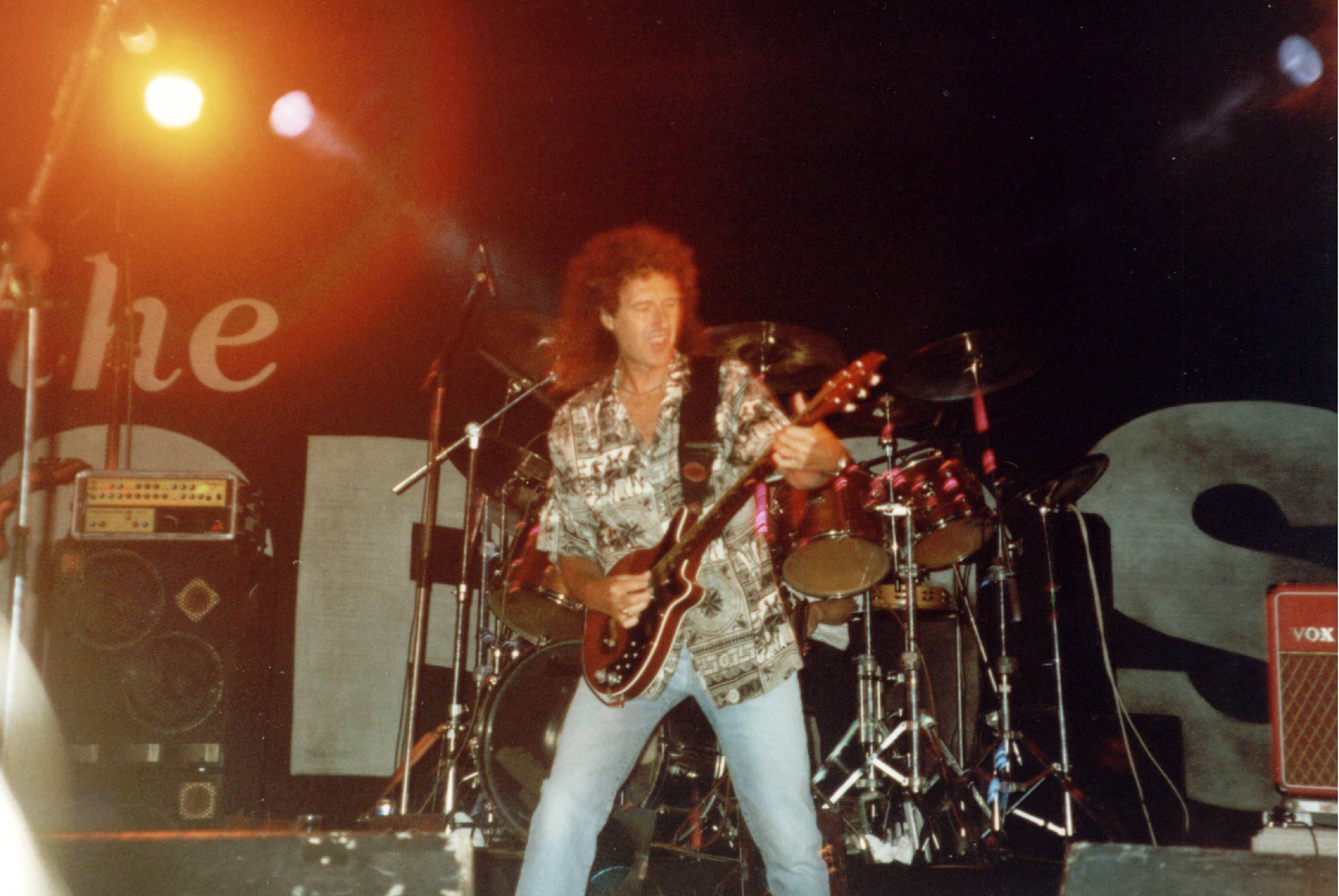 __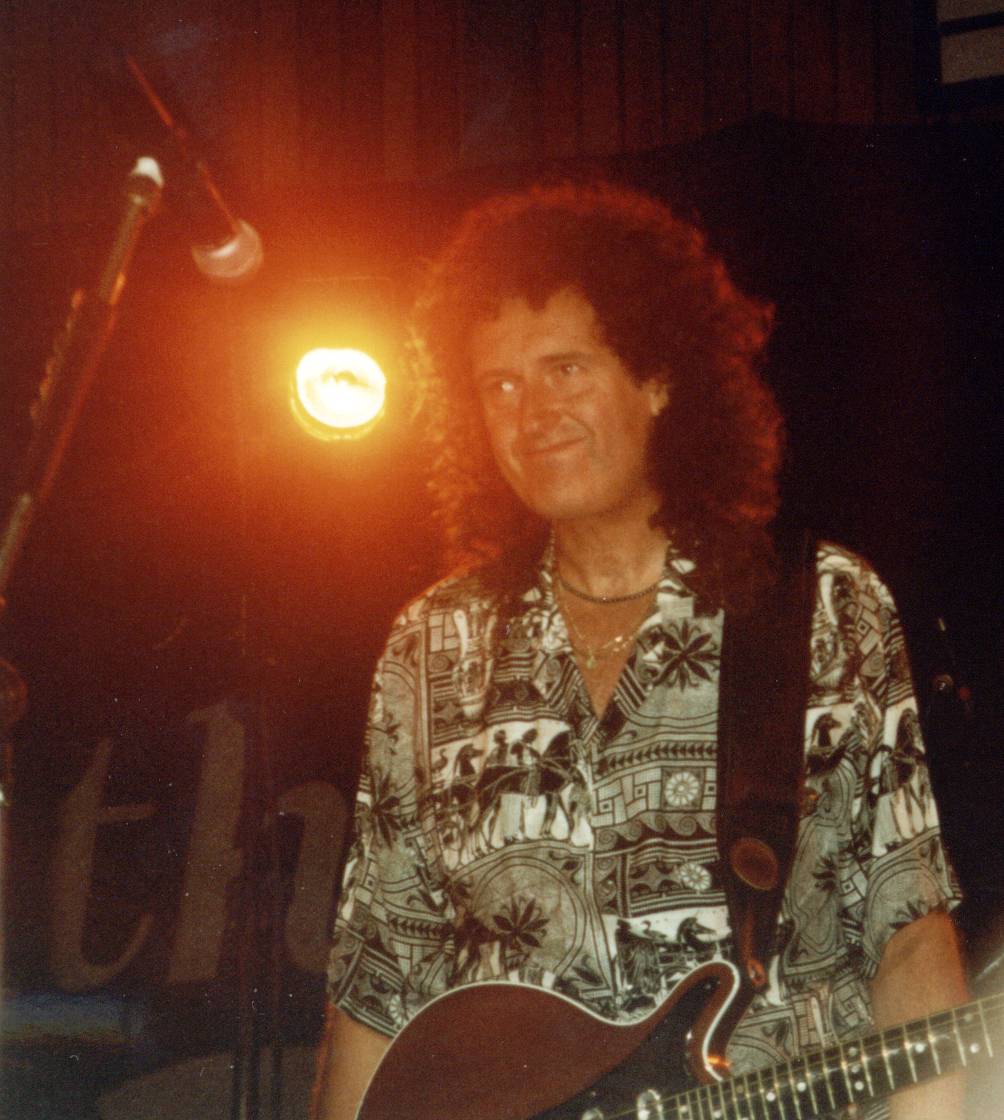 He announced that he'd brought this special guest and he was really excited about it, and then introduced some guy from America that no one round me had ever heard of (Jeff Soto)! Anyway, he could sing like a dream, and did Dragon Attack, much to my utter bliss - I'd been playing it on repeat for the last week, having had a sudden urge to listen to it again, so to hear Brian playing it - wow! Very amusing to see him and Jamie standing together to sing the "slow down", "low down" bits (you know what I mean!) - we found out later that Jamie's had the words scribbled on the back in really big letters! then the ever predictable Tie Your Mother Down, played with it's usual gusto, and finally he announced that he was going to do something completely different that none of us would have guessed. Too right - he played In The Lap Of The Gods. I'd be willing to bet he hasn't played that since Knebworth in 1986, so a real privelege! And then he went away.
I really have never been in a crowd as high as that one - when the lights went up, people were looking at each other and screaming, or sitting looking stunned in chairs round the edge of the room. Fabulous, fabulous night, well worth the astronomical amount of cash it took to get me there, not to mention feeling like death right now!
Set List
Tutti Frutti - All
Rocky Mt. Way - Jamie Moses
Rock'n Roll - Mark Shaw
Angels - Mark
Top of the World Ma - Mark
Ain't Put Nothin Down - Clayton Moss
Baby It's Alright - Spike Edney
Sister Blue - Peter Noone
Foxy Lady - Jamie
Dirty Mind - Spike
Man On Fire - Mark
Now I'm Here - Mark
All The Young Dudes - Mark
Since You've Been Gone - Brian May
Last Horizon - Brian
Hammer to Fall (slow/fast version) - Brian
Encore:
Dragon Attack - Jeff Soto/Brian
Tie Your Mother Down - Brian
In The Lap Of The Gods - Brian

all photos and the report (c) 1999 by Rebecca Makin


report 2 by Tessa Lothingland
One hot and sweaty late Summer´s day, the die-hard Queen fans gathered once again for a day of partying and remembering our dear Freddie´s birthday. We arrived at Reading Leisure Centre in the early afternoon and queued for an hour or so, under the scorching sun, before being issued with our illuminos pink "fashion statement" security bracelets. We meeted and greeted "old friends", checked out the handful of Queen-market stalls and spent the afternoon catching up on the gossio since our "Seaside Rendezvous" at the convention in May.
"Oh- the night comes down" and as it got later, the concert became closer and the crowds gathered at the front of the stage..
First up were the excellent "Bohemians"., who put on a very believiable show (their "Freddie" is about as close a look-a-like as they get!!) But the fans were really waiting for the headliners...
At about 9:30pm, to rapturous applause "Uncle Spikey" took the stage, along with "The Cross"...well actually as Mr Edney himself pointed out "it´s only 1/2 The Cross really, as we´re short 2 people (Rog and Josh), so it´s "The Stick" I suppose..." (ha, ha!!) Spike was on keyboard, Jamie Moses and Clayton Moss took care of lead guitars, Peter Noone played bass and Jonny Marter drummed for us, and they opened with a great version of "Tutti frutti".
Following that, Jamie led the vocals on a very welcome and superbly performed version of the old Joe Walsh classic "Rocky Mountain Way" (one of MY favourites, and a fave with old SAS fans, too!!) What a brilliant start!
Spike introduced our guest singer then "You might want to stand back a bit, this might get a bit dangerous! Please put your hands together and welcome the chaos that is...Mark Shaw", before the lad himself sprang into an adrenalin-pumping version of Led Zep´s "Rock´n´roll", much to the crowd´s delight. As all us Jerico fans know, the following song "Big Area" was a great crowd pleasure, too!
The next song must surely be the most classic new song of this decade and Mark´s choice, saying "I´m gonna sing a song by a guy I like and I can´t help admitting I love him, his name´s Robbie Williams (it´s not THAT kind of lovin´- but I do feel it)...this is "Angels". Just when I was beginning to think the noise level of the participation couldn´t get any louder, they burst into
"Top Of The World Ma" before Mark ran off stage (WITH the microphone!!) Thankfully though, it was soon retrieved by Streaky.
Andy whilst on the subjects of roadies..."Ladies and gentlemen...BEVO!" (Surely the most well-loved roadie of all time!!). For those who are unaware, little Vevo is in fact a celebrity, as in a recent "Hello" magazine, they had Phil Collins´wedding photos. One of which featured Mr Collins himself, the new Mrs Collins, the cake and...Bevo!! (good on him!!)
"On with the show"! Microphones were now lowered for the more "averagely sized" Clayton Moss and his baby - "Ain´t Put Nothin´Down". I think Spike spoke for all of us, confessing to never knowing what it as all about! Still, who cares? We love it! Spike sang us "Baby it´s aalright" and Peter treated us to his "song about friendship" - "Sister Blue".
Poor Jamie, feeling a little left out now, said "I don´t get a minute to myself - do I?" Still, the compensation was a heavy, powerful version of "Foxy Lady" - easily another highlight in anyone´s books! Dirty minded Spike followed with his title track, followed closely by the irrepressable, unstoppable Mark Shaw and "Man On Fire" (It´s a shame that Roger didn´t turn up, but Mark put his heart and soul into it and his performance was very well received and appreciated). Finally to end the "Cross" section of the gig, they performed their now perfected rendition of "All The Young Dudes".
Eventually the moement we´d all been waiting for, "Please welcome on bass guitar, a very good friend of ours, Neil Murray and...you know who it is..." as our beloved "clogged-one" took the stage. The extatic crowds surged forward and greeted him with the warmes welcome as "Since You´ve Been Gone" was blasted out, which has proved a rousing opener for our Mr May. "This is like old times now...I´m gonna do something for you a little gentle, okay? We´ll make our way into it, alright?"succeeded by the beautiful "Last Horizon". "Recently as some of you probably know I´ve tried to do some of the old stuff in a different way and this became my favourite on the last tour that I did", Brian told us, in his gentle story-teller tones and softly sang the slow "Hammer To Fall", then the more famous rip-roaring fast version. Truely brilliant.
As Brian and the boys left the stage, the audience began their chants of "Bri-an, Bri-an" (sorry, Neil- I know you hate that!!) but it did the trick and sure enough, out hero returned for an encore, saying "Err...one other little surprise for you, we have an old friend who´s flown in specially from LA for the night and you may have seen him on tour with Yngwie Malmsteen. He´s a fantastic singer, ladies and gentlemen, to join us on this particular number, Mr Jeff (Scott) Soto". We´d all spotted him earlier sharing Mr Moses´mic and wondered who he was and as he took centre stage, he was greated by many wolf-whistles(!).
(He reminded me of a cross between Lionel Ritchie and Ricky Martin...but maybe that´s just me!?!). He started up saying "Let´s bring back some memories here" and shot into a rocky, beaty, energetic, compelling version of "Dragon Attack". This guy can sing!!! Thanks for bringing him along, Brian""" There´s no doubt about it, this was THE highlight of the evening, with this incredible singer out of nowhere, and Brian on guitar. I really hope they work together again in the future. The audience were dancing and singing as if their lives depended on it, and Brian seemed comfortable to be at "his" side of the stage once again, like old times. The applause was tremendous.
Undeniably a hard act to follow, but what better to do it with then "Tie Your Mother Down". (It doesn´t get much better than this!!!) Ultimately, to conclude a perfect evening, the "curly haired one" prepared us for our final surprise saying, "This is where I jump off the precipice", then launched into "In The Lap Of The Gods", bringing back many sweet memories. Of course, the audience had a ball, waving and swaying to "Wo wo, la la la wo..." The perfect end to a perfect evening.
Undoubtly, this was one of the greatest gigs the fanclub has thrown yet, with so many great musicians on one stage and a pretty worthy party for our Mr Mercury.
* HAPPY BIRTHDAY FREDDIE *
A few "thank you´s" -
Thank you most of all to Brian, for never letting us down and making the effort to come and put on such a fantastic and memorable show. We love you, Brian - stay fab.
Thank you to Jeff Soto for an incredible performance and hope you had a safe flight back (and hope you can come back again really soon!)
Thanx to Spike, Jamie, Neil, Mark, Clayton, Peter, Jonny (and Bevo!) for a great show, and to my lovely Queen-friends, for being just that, to Gavin for continuous his impressions throughout the day, my mum,...Oliver for his fab homepage...(!!)...and all -
(c) 1999 by Tessa Lothingland
---
back to the concertography page