Queen Heaven
The Multimedia Show In Munich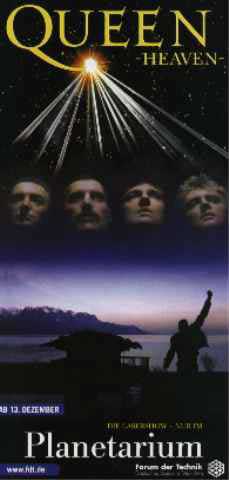 (c) Forum der Technik
A new exciting Queen lasershow is performed world-exclusively in Munich since December 12th, 2001.
The lasershow lasts for about 70 minutes and features apart from the number 1 songs also some less known songs of the band.
You really are surrounded by the music of Queen., in perfect sound quality, and the images of Queen as well.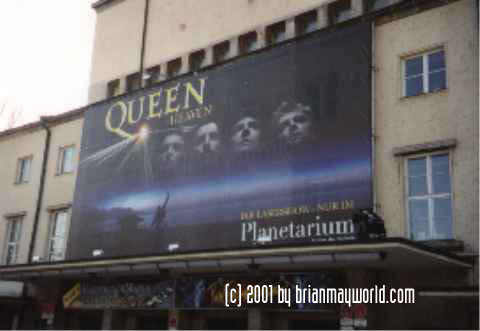 The Planetarium in München

The Music- and Lasershows of the Planetarium in Munich are famous throughout the world because they are unique.
You will get to see a combination between music, laser-, panorama- and videosequences.
Music, video and picture archives of Queen are being used for this multimedia show.
The exclusive show will be presented on the 20 meter high dome in 360°.
Brian May was the the star-guest of the press premiere and the VIP premiere on December 12th, 2001 in Munich.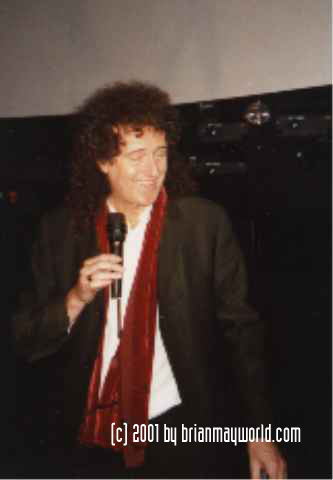 Brian´s speech for the press after the lasershow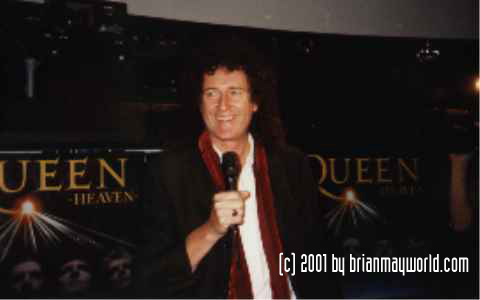 Brian´s speech for the press after the lasershow

Other famous Queen faces like Hannes Rossacher (DoRo) were also seen at the premiere.
Afterwards a Queen party was celebrated - with drinks and dinner for free!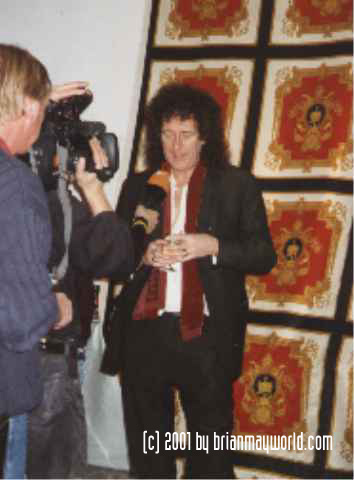 TV interview at the party

Here are the songs, which are featured:
-Flash
-Made In Heaven
-Mother Love
-A Winter´s Tale
-I Want To Break Free
-Radio Ga Ga
A Kind Of Magic
-Who Wants to Live Forever
-It´s A Beautiful Day / Track 13
-Under Pressure
-Heavy Medley (Rock Mix):
I Want It All
Headlong
Tear It Up
The Show Must Go On
-We Will Rock You
-We Are The Champions
-Bohemian Rhapsody (Dolby Digital dts-sound)
Concept:
Brian May, Dieter Schwab, Markus Steblei
Soundmix:
Brian May, Justin Shirley-Smith, Markus Steblei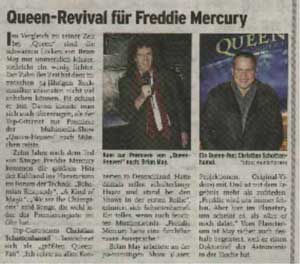 (c) AZ, München 14.12.01

Click here to see a Real Video stream of the "ARD-Tagesthemen" (Germany) of the opening night with Brian May as star-guest.
Click here to read a press article (Süddeutsche Zeitung, Germany) with a Brian May interview