Concertography

Moscow 1998
Behind the curtain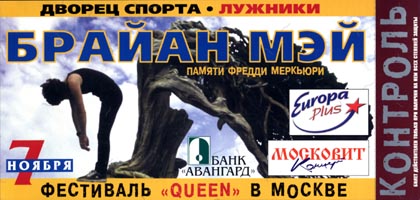 __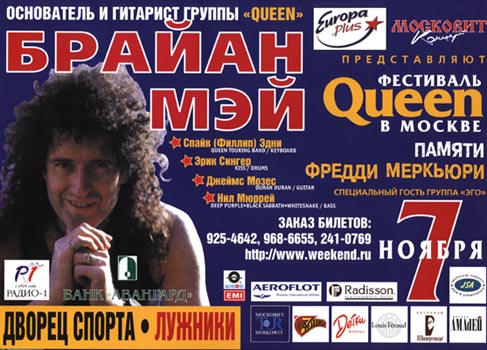 left: the ticket/ right: the concert flyer
ARRIVAL
The concert in St-Petersburg ended just half an hour before Brian's train to Moscow, so he
caught a train within minutes. At the station we saw the band, but not him. Anyway, we
were to ride in the same train...!!!
But this time we didn t want to be annoying, so while riding this night train we only
watched their supper in the vagon-restorant. Brian´s technicians were having fun by
speaking walky-talky´s from one compartment to other.
In Moscow, even though it was very early (7:45), journalists and fans were already waiting
for the celebrity and his crew. At the station, before Brian jumped into the Mercedes Alexei
Bobrikov asked him to perform something in Russian at the concert, Brian asked him to
sing something... Alexei sang Kalinka , which May replied with "??".
Our next meeting with Brian took place in Radisson-Slavjanskaia Hotel around 3pm , where the
press-conference was held.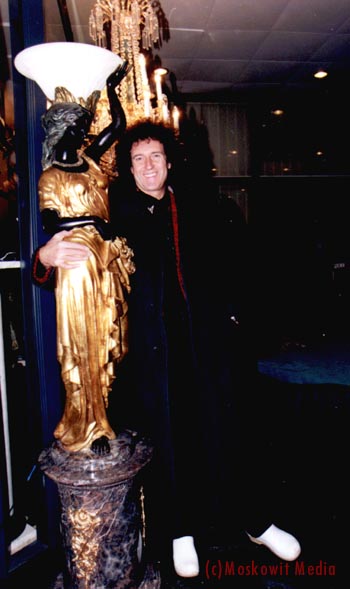 _---------------------_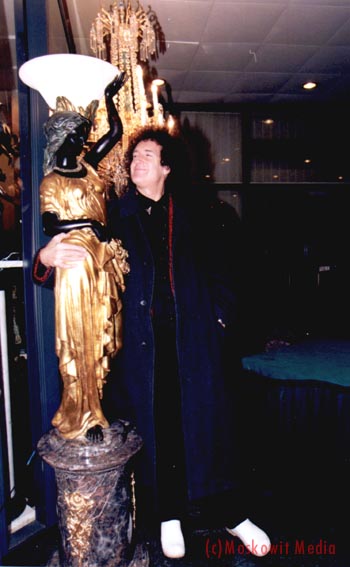 It is necessary to say, that the Moscow press-conference was rather boring in comparison with
the one in St-Petersburg. Maybe it was because there were so many people (about 70 journalists)
and too many trivial questions.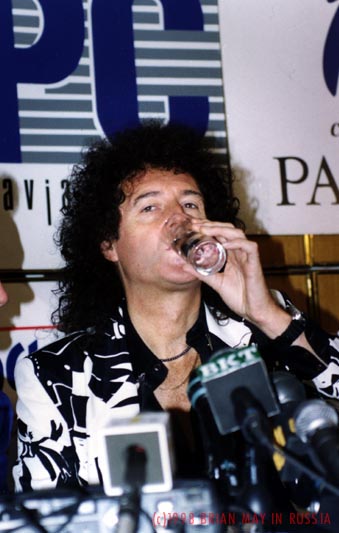 After the press-conference we became the witnesses of several exclusive Brian May interviews
together with Sergei (7 days journal, Time TV program and Europa Plus radio
station.) Unfortunately, Brian was in a hurry and had no time to be interviewed by us, but
anyway we had time to present him some rare Soviet/Russian LPs, including the very rare
vinyl compilation Bohemian Rhapsody .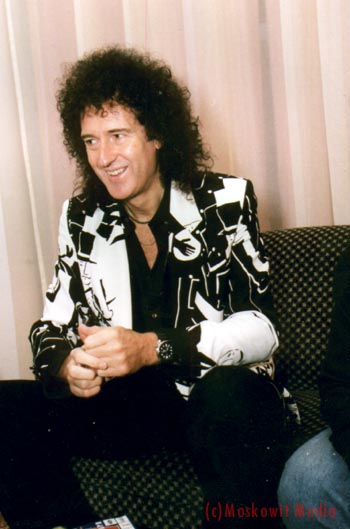 CONCERT: Moscow, LUZHNIKI Sports Hall

We didn´t get behind the scene before the show, but we lost nothing as Brian was very late
(more then an hour). The band passed to the backstage area directly through the foyer, but it
didn´t catch people´s attention.
The show started with the band White Day , they performed Queen music on Russian folk
instruments. In a fact, they were chosen for support, because Jim Beach liked them a lot
when he was in Moscow with Chris Rea. This time everything was OK with Queen videos
and fans could enjoy several Queen hits in it´s original form.
The scene in Moscow was so large, that the tree curtain closed only 2/3 of it. The whole concert
was shown on two huge screens. Brian s performance was almost perfect and the show
really went well. Possibly it was one of the finest shows on this tour. The venue was huge
(with capacity of 8500), promoters said that all tickets were sold out, there was an
impressive crowd indeed!
As the night before he spoke Russian (he has no accent!). During the opening for Driven By You
Brian sang: Woow, way down in old Moscow town . Hammer To Fall was preceded by Brian´s
introduction. He said: I have to tell you something I wrote this song which we gonna
play now, very long time ago in the days when we all distrusted and feared each other. And
I never dreamed. I never dreamed that a miracle could happen that I could come to Russia
. During Brighton Rock Solo he performed a piece from Kalinka ! Instead of Another World
(which he sang the night before) he performed No-One But You , but for some reason he
took the guitar in his hands and strung the strings in the most inappropriate moment.
The concert ended with All The Way From MOSCOW , Brian yelled during it: It s been a
great evening, thank you Moscow! We´ll be coming back soon, see you in the summer!

VIP MEETING: Moscow, LUZHNIKI Sports Hall
Right after the concert there was a very private meeting of Brian with the Moscow promoters,
needless to say that we were present there!!! Brian was in most perfect mood and was very
affable and sociable. One of the promoters officially presented all present people to
May. We stood at some distance from all others, and when that guy tried to introduce us,
Brian said: Oh! I already know them! Hi guys! . We talked, he thanked us for the LPs.
Once again we took autographs and took a picture with Brian. Sergei presented him the
blue-flexi Jealousy/Don't Stop Me Now single, which he saved for this moment, and was
hugged by happy Brian. By the way, now we know who wrote Hangman , answering Sergei´s
questions Brian said that he was responsible for the riffs and Freddie wrote the lyrics.
Silver Salamon exists! It was Tim´s song. Later on at the backstage area we met Jamie who was
happy to see us again, by that time he was relaxing and drinking Miller , and Spike.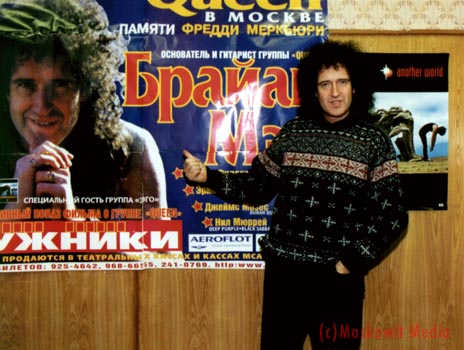 An impressive crowd of fans were waiting for Brian behind the gates, but they had no
chance to meet him (only the band) as Brian hurried to the Rythm´n Blues pub to drink
vodka. The Brian May Band (minus Brian and Neil) even played a little jam there!
The next day Brian had a little excursion of Moscow, he also took a walk on Red Square!
The musicians of group (except Susie and Zoe) have recorded interviews on MTV, and also
went around the city, Spike had even made a little journey in our underground.
In the evening they had a flight to Japan. At the Sheremetevo airport Brian was met by the
crowd of the fans, he stopped and began signing autographs. At the same time I was talking
with Julie, who told about her and Brian´s impressions of the trip in Moscow. Brian and
Julie had badges with small Lenin´s in the middle We said our good-bye´s to Brian, who
smiled at Sergei´s remark "I ain t never saying good-bye" and promised to come back.
The fans cried: BRIAN, BRIAN, BRIAN , he waved and flew away from Russia. Let's
hope not forever

Very special thanks to Alex Smirnov, a true friend, and Sergei Zhuznlin for the great report. Please check out Alex´ Brian May page for much more information about the concerts in Russia and the concerts in Berlin, Hamburg, Cologne, Stuttgart and Munich. Alex also has one of the best Queen-sites!
---
back to the concertography page