Concertography

Brian May live
at the Montreux Jazz Festival 2001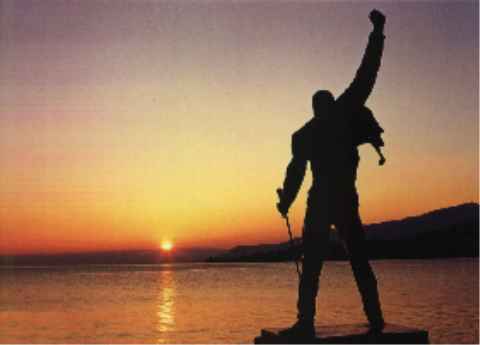 Montreux 2001 - with Freddie´s statue at a new place
Brian May was announced to be a special guest of the 35th Montreux Jazz Festival on Saturday, July 7th 2001.
The festival lasts for around two weeks and offers many free concerts outside and additionally indoor-concerts of famous artists.
That´s why it was no question for me to travel to Montreux.to see Brian finally live again - the first time for me since 1999 at the Cozy Powell Tribute in Buxton.
I travelled together with my dear friends Katrin and Markus.
Before the concert I had the chance to talk to Brian shortly. Brian was in company with his family and he looked very well.
After having met him we went directly to the Auditorium Stravinski, which is situated in the Congress and Convention Centre of Montreux.
The capacity of the Auditorium Stravinski is about 3000 people.
We arrived there at around 15:30h (3:30 pm) and met the rest of the www.brianmayworld.gang: my dear friends Andrea, Philipp, Christian and Nico - and cheers to Miguel from Portugal and thanks for the fun!
We were the first people who queued up in front of the entrance. The doors opened at 19:30h (7:30pm) and I was the first one of the audience to enter the hall.
Nearly all of us managed to get a place in the 1st row - good memories of the tour in 1998 came back to me.
There were many Brian May/Queen T-shirts in the audience.
The concert started at 20:30h (8:30pm) and Bill Whyman´s Rhythm Kings (with Albert Lee on guitar) perfomed a set for around one hour.
Page and Plant (ex Led Zeppelin) were the next artists who perfomed and they did a short set for around 35 minutes.
Finally the highlight of the evening was announced: The Original Sun Record Artitst (many of them between 55 and 75 years old), accompanied by The House Rockers. Brian May wasn´t listed officially that day - that´s why many fans asked me if he would really perfom that night.
But of course he did! He entered the stage as special guest at 23:40h (11:40pm) and looked great.
And no clogs this time! He wore the same shoes, which he wore back in 1998.
The day before (Friday, July 6th) Brian was already live on stage - as surprise guest at the
"Rock´n blues night" with Gary Moore, Larry Carlton and the Burr Johnson Trio, where he played along to the last song of the concert.
At this night he should be the star of the evening. The audience didn´t want to stop cheering as Brian went on stage.
Brian played the Greg Fryer replica during the whole night.
He started his set with a cover song called "I Don't Want Nobody (Teasin Round With Me)".
It was a great song and Brian´s voice was better than ever. I never heard him singing so well!
This song will be also on a Sun Records Tribute CD, which will be released shortly. www.brianmayworld.com will keep you updated of course.
At the end of this song Brian announced some special guests on backing vocals : The May-family with Anita, Jimmy and Emily!
It was such a surprise to see them live on stage, too.
Brian´s next song was a song, which he played live just very few times on the South American Back To The Light Tour in 1992.
That night he played it live for the first time in nine years: "Let me out" - which was written way back for the Star Fleet EP.
It was so great to listen to it and the audience was also fascinated!
After that Brian introduced the next song with a comment like "I was formerly in a band and this song is my excuse for tonight but I simply have to play it".
The first riffs of "Tie your mother down" started and the Auditorium Stravinski was erupting. Everybody was jumping up and down and/or clapping their hands.
No-one really expected that Brian would play a Queen song that night, so everybody was thrilled as he played that classic song!
After that song Brian and his family said good-bye and left the stage at midnight.
Other guest singers went on stage now to perfom for around two more hours.
Many Queen fans were already leaving the hall, which was a mistake, as Brian rejoined the Sun Record Artists at around 2:10h in the morning for the last song of the night :
"Whole Lotta Shakin' Goin' On".
Brian was really in a great mood and very happy to add his Red Special bits to the song.
After the concert, at around 3h in the morning I had the chance to meet Brian again, where he also said "thanks for the noise".
Some other fans took notice of this and rushed towards us, so Brian willingly signed autographs for them and was also posing for photos.
As we didn´t want to get to sleep already the www.brianmayworld.com gang had some last drinks at a bar in Montreux and happily fell into bed at round 4.30am.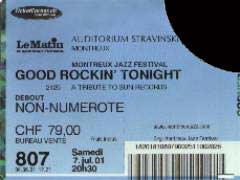 ___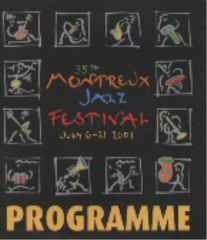 the report is (c) by Oliver Tamminga