Furia

CD review
CD review by Oliver Tamminga: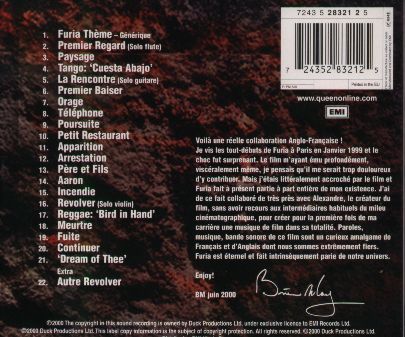 I was looking forward for this album for a long long time already and was very happy as it was finally released.
Unfortunately at the original release date it was just available in France (now it´s available in the UK, too) and quite difficult to obtain. Anyway - I managed to get a copy and after having listened to the CD a couple of times here´s my review: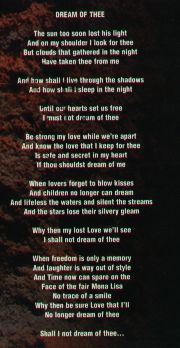 My very first impression was that this album is really very different to Brian´s other albums. That´s mainly because it´s a soundtrack. The whole album (around 45 minutes long) is very atmospheric, very strong, and when you listen to it you are really put directly into this dark melancholic atmosphere.
The "Furia theme" is the main musical score on this album and you can listen to it in many different formats and it appears again and again: With a full orchestra, just a solo flute, just a solo guitarre or even interpreted by Brian´s daughter Emily!
I have to say that Emily really sings like a young angel. She´s got a fabulous voice and her interpretation is awesome.
Besides this main musical score there are some other scores added, which fit very well together with the main theme and give the whole soundtrack a very intense atmosphere. You should really listen to it from the beginning to the end. It´s not like a "normal" album, where you can listen to the songs seperately.
Nevertheless I have some favourite tracks of this album. They are the "Furia theme" (the mentioned main theme, where the Red Special meets the full orchestra and really makes you shiver), "Poursuite" (a techno-like track!), "Apparition" (where Emily appears on vocal and is simply stunning), and "Fuite" & "Continuer", which are both very similar again to the "Furia theme" and "Apparation" (very intensive and emotional).
In my opinion the different formats of this one main musical score is not a bad thing :Most famous movies have soundtracks which are based on one main musical score and I think "Titanic" is the most famous example for that.
The "Furia theme" is quite catchy and once you have listened to it you can´t forget it anymore. It´s very melancholic! The whole atmosphere reminded me of the "Matrix" soundtrack (which is not surprising because both movies have the same topic and because of that the same atmosphere is presented through the soundtrack).
Between the various tracks you hear snippets of the original dialogues from the two main actors of the film (those snippets are translated in the booklet into English), and when you pay attention to the meaning of the words they even intensify the whole melancholic, strong and dark atmosphere of the whole album.
Brian wrote, arranged and produced the whole album, which really shows what musical genius Brian is. There are just two songs written by other artists, which is a tango track and a reggae track. These two tracks are really different to the rest but I like them nevertheless.
My absolute highlight of the album, besides the tracks mentioned above, is "Dream of thee" - the only song with vocals by Brian. It´s a lovely haunting and very sad ballad, which shows Brian´s poetic skills again and can be compared a little with "Another world" (muscial wise) or "White queen" (lyrical wise - very poetic!). A very emotional song, which can make you shiver if you´re open for atmosphere: Brian´s voice, his acoustic guitar and the orchestra!
I have to say that "Furia" is even better than I expected. It really shows how talented Brian May is and how many skills he has.
I directly fall in love with "Furia".It´s a shame that just so few people will have the chance to listen to this album, because it´s released in France only.
Hopefully Brian will concentrate on his solo-career soon again instead of collaborations with other artists as "Five" or "Foo Fighters" for example, but that´s just my personal opinion.