Concertography

Düsseldorf 1993
The beginning of everything - already history




This concert gave me the chance to see a Queen band-member as person for the first time, and this day was also the beginning to become a huge Brian May fan. I´ll try to recapture those magical moments here in my report: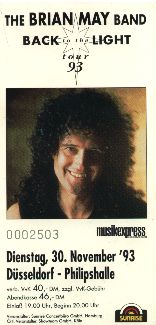 I was looking forward to that concert for months, for that very special day:
The November, 30th 1993 was the day when I would see Brian May for the very first time....and not anywhere but in my wonderful hometown Düsseldorf!
I vividly imagine how I arrived at the venue at about 4:00pm. It was a very cold day and I think we had about -10C!
There were already some people waiting at the main entrance.
Together with a friend of mine I got to the backstage entrance. Some hours later, maybe at about 6:30pm Brian May finallly arrived in a car together with Julie Glover. That moment alone, having seen him now for the first time ever, made me very happy!
So we went to the main entrance again and at about 7:00pm I guess the doors were opened....and everybody was pushing and rushing inside....but we had to wait inside a little hall before we could finally enter the venue itself.
I made it to the 5th or 6th row, right in the middle, and after a horrible support band, Robbie Valentine, which I remember vividly because they were so bad, the concert finally started. There were about 3000 fans inside the hall.
"The Dark" was played as an intro and then I could see HIM as a shadow right at the beginning of "Back to the light". I was overwhelmed and directly afterwards "Tie your mother down" was played and the audience went wild.
There were many "Brian, Brian" shoutings from the fans and Brian said "Guten Abend Düsseldorf, geht´s euch gut? Alles klar?" Brian talked quite a few times in German (without accent!) and I was really surprised!
"Love token" was played with very nice solo performances of the beauty department (Cathy Porter and Shelley Preston), who had the ability to look great AND to sing great!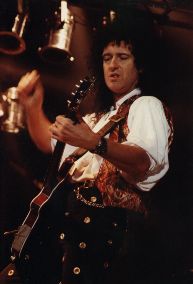 __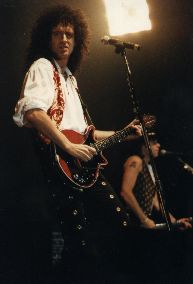 After "Headlong" it was time for Brian´s tribute to Freddie: "Love of my life" and everybody sang with him. It was touching!
After a very nice intro of "39" Brian played "Let your heart rule your head".
Afterwards it was time for Spike Edney´s solo.
"Too much love will kill you" followed and it was so wonderful to listen to. Then the audience went wild again during "Since you´ve been gone" and "Now i´m here".
Now it was time for Brian´s very famous guitar solo....and listening to it for the first time ever live was grea. Brian even included elements of "Keep yourself alive", "Chinese Torture" and "Who wants to live forever" in it!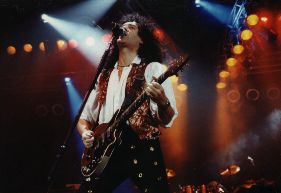 __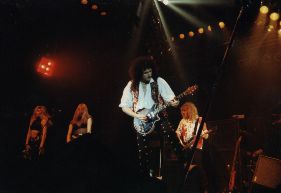 Then it was time for perhaps the most maginificent moment : Brian played "Resurrection" and in the middle-part the drummer, which I didn´t know at that time, played the best drum-solo I ever heard.
The name of the drummer was Cozy Powell, and ,as I got to know shortly afterwards, he was already a legend at that time.
I have never seen such a unique drumming style before!
Yes, I saw the drumming legend Cozy Powell live....sadly enough it should have been the only time in my life.
But Cozy: You were the best and I am happy that I was lucky enough having seen you this one time!
It was time for the band intoduction now and after a short solo of Jamie Moses Brian played the best live song ever "Last horion" and during that song Brian came very close to the front and everybody wanted to touch the "Red Special".
Yes, I was not dreaming it was THE guitar and THE guitarist so close in front of me!
The last song before the encores was "We will rock you" and oh....how wonderful was it to hear that anthem here. There was the normal version and the fast version directly afterwards.
After a short break it was time for the encores and wooooo hoooooo Brian wore a Düsselorf T-shirt now!!!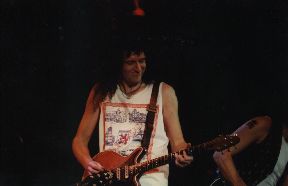 I was on cloud seven!
For the first time ever in Europe Brian was playing "Teo Toriatte" live and that was such a surprise for everyone. In the middle of the song Brian forgot the lyrics, but it didn´t matter at all because the audience knew all the words.
Final song of the night was "Hammer to fall" and for the last time the audience went wild again!
What a night, what a concert! Directly after the show I bought a tour T-shirt and a programme as a memory of the best concert I have seen until that moment....and maybe because it was the first time that I ever saw Brian May, together with
Cozy Powell, it will stay to be my finest concert I ever visited in my life - history!
---
back to the concertography page