14th Official International Queen Convention
Prestatyn 1999
"Dragon Attack"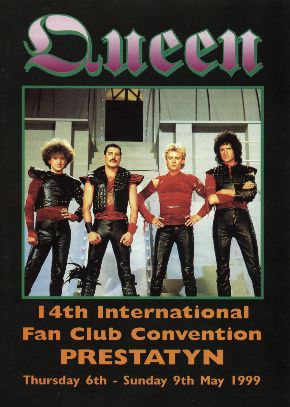 It was time again for the annual Queen convention, that´s why I made my way to London on May 6th to meet my friends Tracy (Canada), Joergen (Norway), Vox (Padania), Tim (USA), Ellis (USA) and Wendy (USA).
Together with a rented van we drove to Prestatyn.
For those of you who have never been to a convention before: It means 4 days of Queen only: Queen TV, live Queen cover band charity auction, disco, Question of Queen Quiz, mastermind, sport activities, rare videos, welcoming messages from Brian and Roger, fancy dress competition, meeting friends, drinking and having fun!
We finally arrived at around 5pm, and my friend Sara (Italy) was already waiting for us. At the entrance we were given our fashionable orange securitiy bracelets and we had to wear them from now on during the whole convention, together with our convention passes.
__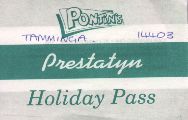 __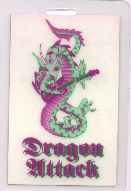 __

After checking in, it was time for the funny searching game "Where is my chalet this year?".
The chalet didn´t look too bad this time. It was very close to the main facilities and the ballroom, which had great advantages finding it again late nights after some drinks (I remember some years, where it was different...).
First job was to buy the metre cards for the electricity in our chalet (TV, hot water, etc.) and something to eat.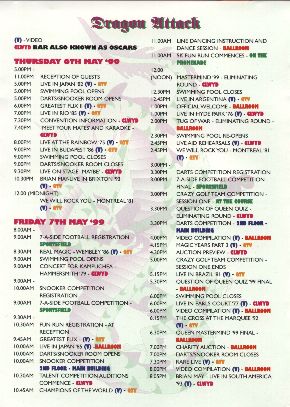 __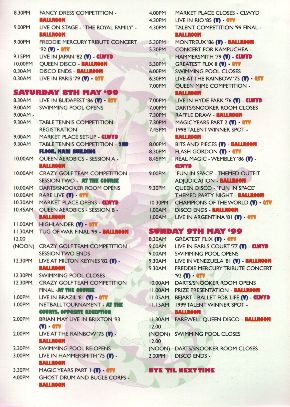 the convention programme
The official programme started with karaoke in the Clywd bar. The official convention T-shirts were also on sale now and they looked pretty good this year (they were also sold out pretty soon this year).
The first highlight was the appearance of MayBe?, the Brian May cover band, at 9.30pm.
They were really good and I have been looking forward to seeing them for a long time. So finally I could see them live. Talented youngsters, mostly around 17 years old, but they gave their best to the songs of Brian May and Queen and they also got a very good (and well deserved) reception from the audience.
After the show the disco started but we were invited into the chalet of Joergen, who brought some Norwegian specialties with him. We also tried Canadian beer and some of us tried Haggis (a form of meat).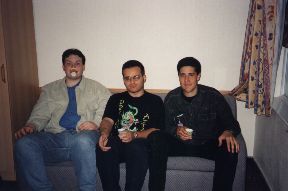 Farookh, Vox, Oliver
Anyway we had fun at the first night of the convention.
As it was time to get to our chalet we realised that there were ANTS everywhere in (!) our chalet....not so much fun.
We were given an anti ants spray but that also didn´t help too much....they were everywhere.
Some where even in my bed and I can think of better moments than sleeping together with ants in my bed .
Anyway "too much spray will kill you" and "fight from the inside" was the main activity late night in our chalet.
We woke up the next day and after breakfast we got our goodie bags, but there was nothing sensational in it:
A sticker, a pen, a convention pin, a Queen rock and something for the key. Anyway, it was nice.
The talent competition auditions started at around 10:30am and there were some really talented people taking part, inclusive the Scotish guys Farookh, Alan and Big JD performing "Somebody to love".
After lunch it was time for the official welcome with Jacky and the video messages of Brian and Roger.
Nothing too new but Roger is hoping to go on European tour this summer and Brian is still working on the "Furia" soundtrack and there are no plans for continiuning his tour.
At 3:30pm it was time for the "Question of Queen quiz" and we had a VERY good team together with my new friend Tessa from Exeter (a very nice person). But the questions were very tough again and in the end we scored 28 out of 40 points which was a third place (the two best teams which should come into the final later on had 34 and 30 points).
Well you can´t always win (our team won back in ´97) but let´s try it again next year. It´s fun anyway!
The evening main activities started at 5:30 pm with the final of the Question of Queen Quiz and at 6:30pm the final of the mastermind.
Now it was time for the charity auction, always one of the main highlights of the convention.
Here are ALL the results in the right order:
01) Poster for the Jazz Tour ´79, Japan, from Brian´s own collection, signed by BM,RT,JD...250 pounds
02) Surrender picture disc, framed, signed on the sleeve by RT...110 pounds
03) Why don´t we try again picture disc, signed on the sleeve by BM...120 pounds
04) Roger´s worn shirt from the Wolverhampton gig and signed EF tourprogramme...230 pounds
05) Another world artwork, promo print, framed, signed by BM...220 pounds
06) b/w photo of Freddie, signed by Zandra Rhodes...160 pounds
07) used RT drumsticks, signed...250 pounds
08) The eye, graphic, signed by BM, RT, JD...150 pounds
09) black trousers from BM, dated 1976, signed...190 pounds
10) Innuendo promo cube, signed by BM, RT, JD...190 pounds
11) RT photo, signed with "Who is this man?"...200 pounds
12) Let me live picture disc, framed, signed by BM, RT, JD on the sleeve and additionally by RT on the disc...230 pounds
13) trousers from JD from the "Radio ga ga" video, and signed photo...250 pounds
14) Bo Rhap, purple vinyl, framed, signed by BM, RT, JD...330 pounds
15) Queen rocks, vinyl album signed by BM, RT, JD, CD, sticker and video...170 pounds
16) Electric fire vinyl album, CD, Cyberbarn video...130 pounds
17) photo, signed by BM, and sixpence, framed...230 pounds
18) Queen rocks photo, framed, signed by BM, RT, JD...250 pounds
19) drawing of Brian (huge), signed...110 pounds
20) Freddie´s original letter to the fanclub magazine, x-mas 1990, framed with 4 photos...2850 pounds
21) signed Freddie photo...380 pounds
22) Made in heaven, BPI gold award...1850 pounds
Afterwards the fancy dress competition started, also always fun to watch.
Then the Queen cover band "The royal family" started to play. I have seen around 8-9 Queen cover bands so far and I thought nothing could impress me anymore but they are by far the best of all cover-bands in my opinion.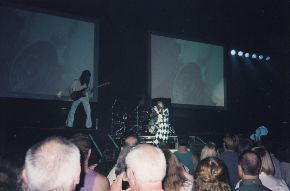 The Royal family started with the ´77 set
They started the set with the ´77 costumes and with the songs of that era and during their full show they changed their costumes a couple of times (through all eras) and finished with the ´86 costumes.
They had the rare ability to look like the band-members of Queen, to play like them, to sound like them and to make a great show! Absolutely great! I hope I can see them soon again!!
Oh, by the way here is the list of the Queen cocktails they sold this year at the bar: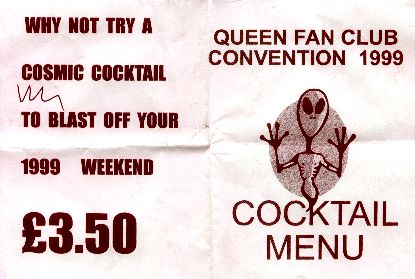 __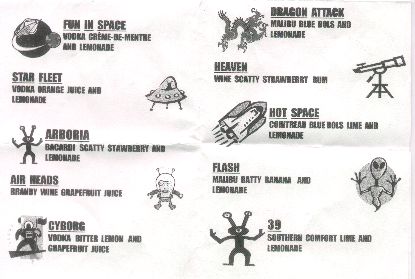 The night ended with the Queen disco which is always fun, because at which other event can you just dance to Queen tracks only?
Even the old generation had fun on the dancefloor, which is a great thing: The Queen convention spins through the generation: You can find youngsters from 3 years old and see also people around 80, all are having fun and enjoying themselves, which is wonderful!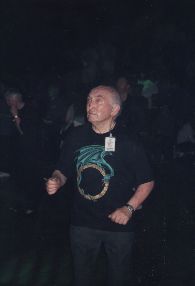 Old men lay down? No way!
I think I finally went to bed at around 3 am.
Oh, with nearly no sleep I had to stand up early on Saturday morning because I had a stall at the market place. Oh well, I managed it and set everything up. I had some nice chats with people at the market-place and many fans were making bargains at the different stalls.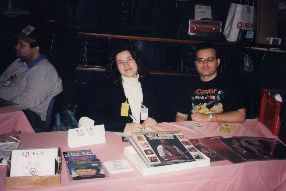 My friends Sara and Vox at my stall
In the afternoon it was time for the talent competition final. Unfortunately the scotish guys didn´t win with their great version of "Somebody to love". The winner was a magican, who presented some nice things.
Then it was time for Pete, Brian´s guitar technican, who brought some of Brian´s guitars to the convention and everybody could ask him questions or pose with the guitars. It was very interesting.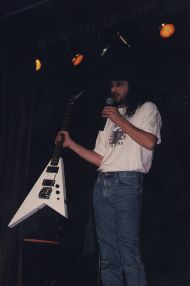 __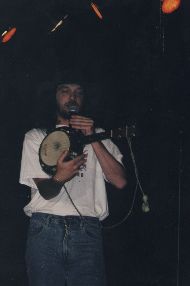 __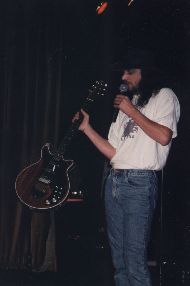 Pete with the flying V guitar from the "Princes of the universe" video (which was in the raffle later on), Brian´s first ever instrument (a ukulele), and one of the Greg Fryer copies of the red special
Some facts: There are three things, which Brian wants to complete soon: The "Furia" soundtrack, a live CD of the Another World tour (all shows have been recorded) and the live video of the Another World tour.
There are unfortunately no plans for future live dates this year.
At 7pm it was tim for the annual Queen mime competion, and in my opinion especially sweet was a young Roger Taylor lookalike.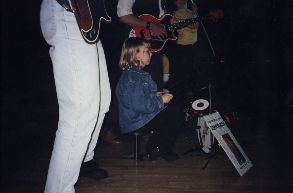 a young RT lookalike
Uh, now it was getting interesting: The raffle draw took place and this year Brian´s original flying V guitar of the "Princes of the universe" video (see picture above) could be won. The proceeds of all raffle tickets went to the BBMDA (you can find more information on this very good charity on my homepage, too).
I bought 10 tickets and some friends of mine even bought 50 tickets, which is incredible.
But we were all the losers in the end and had no more fun as someone else (he´s not worthy, he´s not worthy) won the guitar. Just kidding, folks!
Then the actual party night with this year´s topic "Fun in space" started and many fans had GREAT costumes and you could see how hard they worked on it. It was a pleasure to see.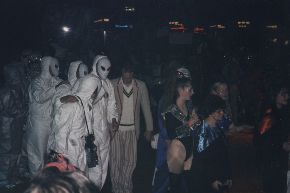 some aliens
But the real fun started with the long disco night. We were all having lots and lots of fun, drank something, laughed and danced (I danced of course especially to all the great Brian tracks. I think I may mention "Resurrection", where some people thought I might be slightly mad).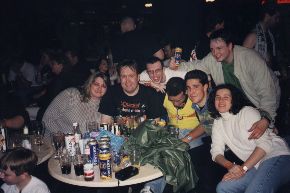 __
Fun in the ballroom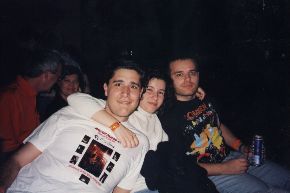 _-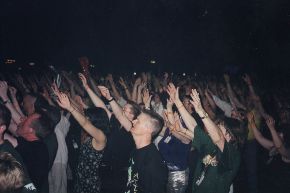 left photo: Oliver, Sara, Vox - right photo: Radio Ga Ga (what else?)
And this year the extended version of "Breakthru" was played again...and those folks of you, who attended the convention, know that this is the most fun song at the convention ALWAYS, because all people start to form a train and together you run everywhere...up the stairs, down the stairs, into the ballroom, out of the ballroom, into the game centre, out of the game centre, into the coldness oustide, back inside the ballroom again. It´s sooo much fun always and one of the best things of the whole convention in my opinion!!
I guess the disco ended at around 2 or 3am (sorry, I don´t remember the exact time anymore) and then the party went on in the chalet of my Padanian friend Vox, where we had Spaghetti al forno and could drink some more (if we wanted...).
Ale played some Brian tracks on the guitar and also our Scotish friend Farookh. Later on even the John Deacon fanclub joined (you were funny, as always guys...there can be only John!).
I think I got to sleep at around 4:30am, didn´t care about the ants this time....
Sunday was unfortunately already the last day of the convention. So we had to pack our suitacses and say good-bye to our old friends and new found friends.
It was a great convention again this year, if also a bit different to the years before, in my opinion.
If anyone, who I met at the convention, would like to contact me please just mail me.
Until next year!!!
Thanks for much fun at the convention to:
Tracy, Joergen, Vox, Sara, Tim, Ellis, Tessa, Andy, Rami, Bernd and the scottish guys!

the report and all the photos are (c) by Oliver Tamminga