15th Official International Queen Convention
Prestatyn 2000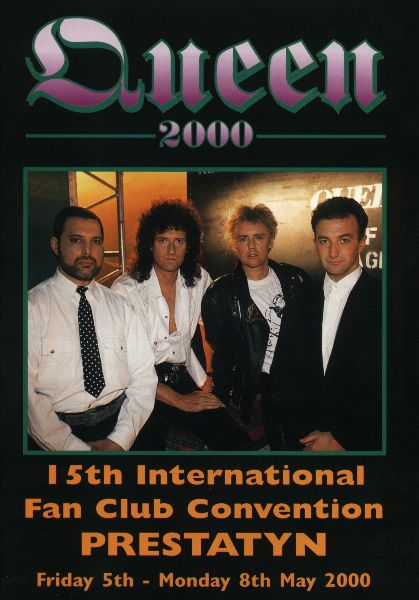 Together with my friends Anne (USA), Yael (Israel), Martin (Germany) plus Julie (USA) we arrived in Prestatyn at around 5pm on Friday 5th May 2000.
To my big surprise nearly everything was allright in our chalet this year with the only exception that we didn´t get any blankets for our beds. But we managed to solve that problem later on nevertheless.

l-r: Anne, Yael, Oliver, Martin
After dinner (marvelous cooking abilities by Anne) we went to the Lunar´s Bar where we had some fun watching Karaoke.
It was great to meet many friends including Tessa (UK), Rami (Germany) or JenX (UK).
After the karaoke it was time for the first Queen disco party of the year 2000.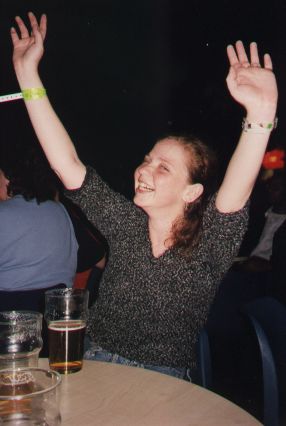 Yael, having fun
The disco ended at around 1am (If I´m right) and afterwards we went to our chalet, together with Niko (Germany) and had lots of fun until around 4am.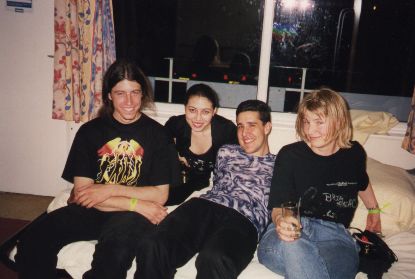 l-r: Niko, Anne, Oliver, Julie
The next morning we went up at around 9am. It was wonderful weather with beautiful sunshine so Martin and I decided to go to the beach, which is very close to the Convention Grounds. Unfortunately we didn´t have so much time as we wanted because we had to be back at 11:30 am for the market-place set-up, where we had a stall.

Spike, Pete and Jamie at the question and answer session
Unfortunately many events were colliding with the Market Place, that´s why we decided to return to our chalet already at around 3pm. I missed some of the events including the auction nevertheless but returned to the ballroom at 7pm where there was Brian´s question and answer session, which was very interesting. Some highlights:
Do you intend to write a book about guitars?
"Yes possibly but that´s not my main priority right now"
If time travel would be possible - which time would you travel to?
"18th/19th century"
Are you working on a new album?
"No - other projects have priorities. I don´t do anything anymore somebody asks me to and I´m feeling very happy because of that . Things coming out are the "Furia soundtrack" and the track "Have a cigar" with the Foo Fighters"
Which achievments are you most proud of?
"I guess mostly about things which happened on the road"
Is there a studio version of Hangman?
"No"
Where´s your musical future?
"In projects"
Afterwards it was time to dress up for the themed Queen disco party. I looked ridiculous but had lots of fun nevertheless.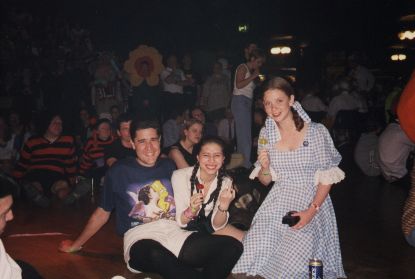 Oliver, Anne and Yael before the disco partly
Before the themed disco party finally started it was time for the SAS Band, who played a great set. Performing artists were for example Jamie Moses, "Superman" (ahem...) Clayton Moss, Spike Edney, Peter Noone and Mark Shaw.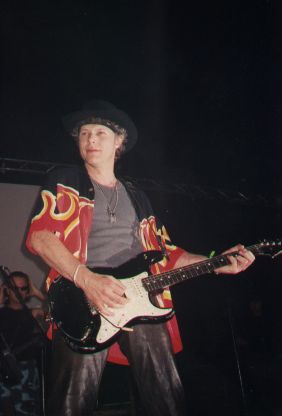 __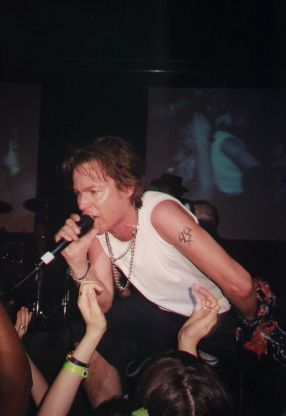 __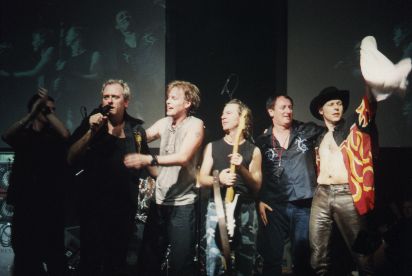 some concert shots of the SAS Band
Especially Mark Shaw impressed me a lot. He had lots of power and energy and resembles David Bowie a little in my opinion.
Highlights of the gig were Cross songs like "Top of the world ma", "Foxy lady" or Queen classics like "Tie your mother down" or "Hammer to fall".
The disco finally started at around midnight and went until about 2am. It was much to early to sleep so we decided to party on in our chalet with some friends until 5 am.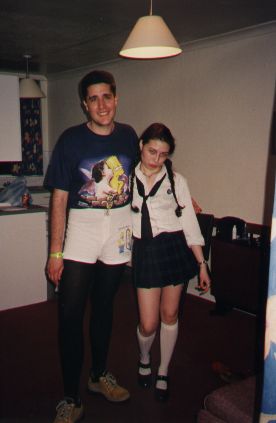 at the end of a long day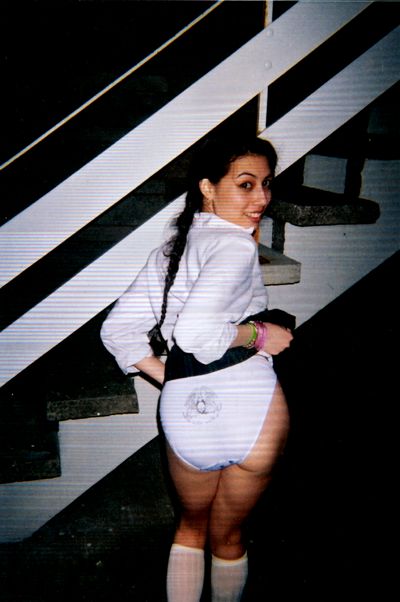 Anne de Courtenay modeling her new line of Queenie-butt Underwear:
This one features the crest with the inscription, 'Make the rockin' world go round.
The next morning was beautiful weather again, which was lovely. We had a quiet morning and after a delicious lunch by Anne we went into the ballroom where to our big surprise a couple of unreleased Queen songs were played, which was of course a big highlight of the Convention. It was so emotional for me listening to Freddie´s wonderful voice again on brandnew and never before heard songs. The songs ranged from 1974-1991 and Greg Brooks (the archivist) told us that the long promised Freddie Mercury Box should be possibly out this Christmas and will contain at least 4 CD´s, which is marvelous.
Also a DVD issue is planned.
The Queen box with outtakes and unreleased material will be released afterwards.
Another (personal) highlight for me and my friends was going to the beach as the weather was still wonderful and we enjoyed it so much!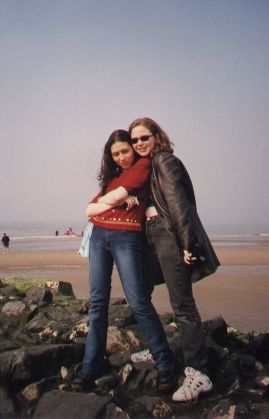 two beautiful girls at the beach
We arrived back in time for the talent competition, where some very good fans entertained us with their interpretations.
Winner was Torsten Marschall from Germany (congratulations!!), who fascinated us with a brilliant performance of Freddie´s "In my defence".

"Killer Queen"
Highlights of the evening were the Queen cover band "Killer Queen" with a superb performance and finally the last Queen disco night - FINALLY with "Resurrection" (what is a convention without this song at the disco party?).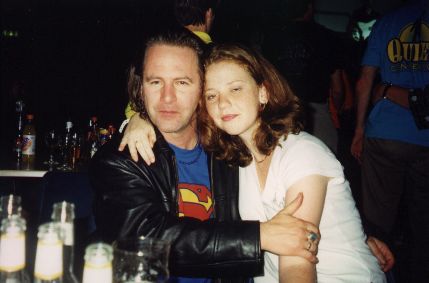 "Superman" and Yael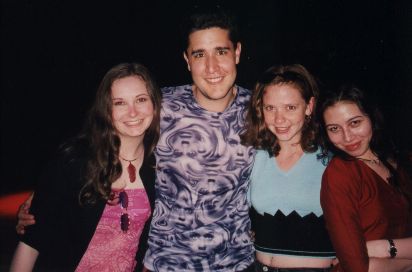 Oliver together with "his" beautiful girls Tessa, Yael and Anne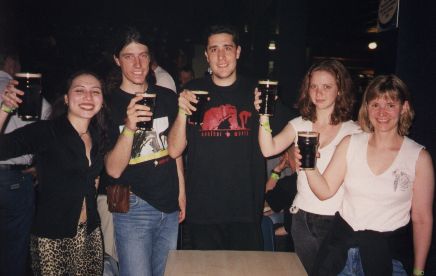 BHM - "Wish you were here"
Afterwards we were invited to a private after-party in the chalet of our friends Tim and Ellis, where we stayed until around 5am and had lots of fun.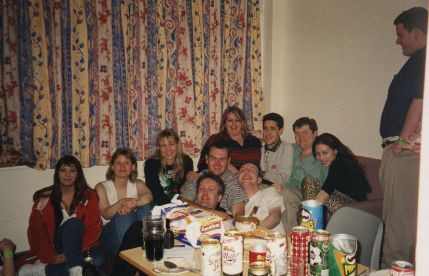 fun at our private after-party

...ckeck your hair, looking good - yeah
And we salute you all you groovy dudes, yeah we salute you : You´re so fucking cool!
Anne, Yael, Niko and me decided to stay awake for a little longer and after even more fun we finally went to bed at around 6:30 am - but just for one hour when we already had to wake up and had to leave a little later, what a shame!
This year was by far the best Convention for me, mostly because of my beautiful friends Anne, Yael and Martin, without whom the Convention wouldn´t have been the same. Many many wonderful personal experiences ...!
Until next year!

It was fun meeting so many of you and having so much fun and such a good time with you.
Thanks to (in alphabetical order): Anne, Bernd, Ellis, Joergen, Julie, Martin, Niko, Rami, Tessa, Tim, Tracy, Yael and more!

the report and all photos (except the ones mentioned below) are (c) by Oliver Tamminga
underwear photo: (c) by Anne de Courtenay
Spike, Pete, Jamie photo/ "Superman photo"/ "Nation of haircuts" photo: (c) by Yael Kahana