Brian and you


Here you are the star!

Send me your story how you met Brian May and please also let me know where and when you met him.
If you want you can also include one photo of Brian and you.

The best reports (pleasse not too long) will be placed below.

Cheers,
Oliver Tamminga
Webmaster


a report by Jeff Copeland (USA):
I have been a Queen/Brian May fan for over 25 years and, although I did see them in concert years ago, I never thought I would meet one of them. We
heard one day in 1991 that Brian was doing some radio station interviews in another state so we climbed in the car and off we went.
I have a copy of Brians guitar from the early 80's made by Guild so I called the paint dept. there to see what should be used to sign the guitar with
in case I was lucky enough to get an autograph. The radio station was located right near the Guild guitar factory and nobody there even knew Brian was in
town. I drove from another state just for a chance to meet him. When we got there, who should we meet first? The only other guy there with a guitar....Just
like mine...It seems the guy was sent over with this guitar by a guy working in the paint dept. at Guild !!!! You're welcome dude....I have NO idea how
those guys found out!!!! Anyway, Brian finally arrived from another station and promptly disappeared inside to go on the air.
While he was inside, I got to talking to his driver and next thing you know, we're sitting in Brian's limo and my 3 year old
daughter munches on ALL of Brian's HUGE bowl of peanut M and M's.
Well, Brian finally came out and we ALL got to meet him and ask questions because there were only about 10 of us there. Brian signed my guitar and my
shirt. It was such a thrill to be speaking to the one guitar player who has inspired me more than any other. The one thing I recall most clearly is that,
while so many of todays artists start to believe all the hype and become unapproachable jerks, Brian is one of the sweetest people I've met. It almost seemed
like he was being careful not to offend any of us by not giving each of us his attention.
OFFEND US??? yeah right....If he didn't say a single word to me and ran over my cat on the way by...I'd still be like...."I love that guy!!!!"
OFFEND US??? We're not worthy of being offended by the likes of such a great musician.
Here's to Brian...The nicest, most intelligent, sincerest musician I've ever met...and not a bad guitar player either!!!
Rock til you drop....


a report by Vladimir Gustov (Russia):
My name is Vladimir Gustov.
I`m wellknown Russian guitarist, songwriter and sound producer.
Since 1975, Queen and mostly Brian May were my heros. Because of them, I decided to be a professional musician. For more than 25 years it was my dream to meet legendary Queen guitarist and talk to him about his music, composing and guitar playing.
A few years ago, in Russia, St.Petersburg, during Brian tour `Another World`, my dream came true. I was able to talk to Brian May for more than 2 hours at his apartment in Astoria Hotel . It was an intervew for St.Petersburg TV6. In front of cameras we talk a lot about Queen , his new album, about his live show and his family. He wondered about my music knowledge, because he thought I was a journalist. So I told him that I am a musician and the biggest fan of him.
It was a really happiest day in my life.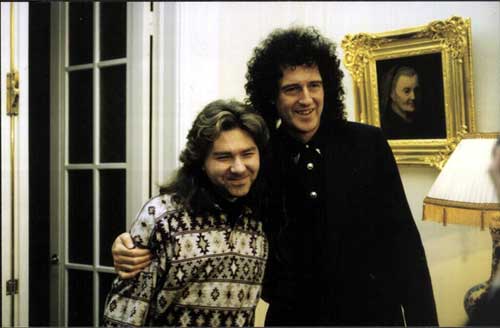 I`ve gave him a CD with my music and he invited me to the next night show.
I came ealier to the show, and was happy to see the check sound. Brian noticed me and came to shake my hand and to say a few kind words. He showed me his guitars (I immidiately recognised The Red Special), and his amazing pedal board.
The show was really fantastic, and I`m shure, that Brian May is the Greatest Guitarist Ever.
So, that`s all. Sorry for gramma mistakes, `cos I `m not very good in writing letters (much better in writing music).
Welcome to my website at http://www.vladimirgustov.narod.ru
God Save The Queen and Brian May!!!


a report by Carol Driscoll (UK):
I have been a Brian fan for a long time.
The moment when I should meet him came when I took my son to the Queen Symphony at the Royal Festival Hall. We had seats very near the front and when Brian and Roger appeared on the stage with Freddie's mum we were very close to them.
At the end of the show my son saw Brian and Roger disappear to the left of the stage, so he said come on Mum lets follow them. We managed to get within a few yards of them as they were talking to some press people in a small room at the side of the stage. However we couldn't get any closer but we were told that if we waited in the auditorium they would come out. We went back to the hall once again and waited patiently and then all of a sudden Roger appeared holding
Freddie's Mum. This time I thought I am not going to lose my nerve so I approached Roger and had a chat to him and he signed my ticket and
programme and then I spoke to Jer, Freddie's mum, They were both so kind to me and I did manage to make Roger laugh. He was wonderful and such a
great guy. Freddie's mum looked so tiny and I was so proud to have met her. Unfortunately I missed Brian but my son said let's go the place
where they are having the after show party. We knew where this was as we had seen the room being prepared before the concert. We managed to
stand right next to the entrance of the party but the person on the door refused to let us go in as we didn't have a after show party pass, and
even my chatting to the person didn't work. It was very frustrating as we could see Brian and Anita just inside the door. However we didn't
move and then we realised that the only place they could come out of was the door where we were standing so we stayed rooted to the ground. Then
as if by magic Anita came out of the door and I was able to speak to her and get her autograph, she too was really kind to me. While I was
talking to her Brian came out and then there he was right in front of me, It was a wonderful moment and he was fantastic, I had a little chat
to him and he signed my programme for me. Then I asked him if he would do me a favour, he said he would if he could and I introduced my son to
him. For me it is one of the most special moments in my life, I shall never forget it, the symphony was wonderful and the whole evening was
magical.
I saw Brian again at the Centenary Concert for the Mountain Gorillas a couple of weeks later, this time I took my husband, we had tickets for
the After Show Party as I thought my husband might be able to meet Brian but unfortunately Brian didn't mingle with the guests but I did get his
autograph on my programme which was great. A steward took my programme to him and he signed it for me. I did have a chat to Joe Strummer that
evening, he was such a lovely guy and I was so sad when I heard that he had passed away just before Christmas. At the Centenary Concert he was
wonderful when he played the Clash songs. Hope this is of interest to fellow Brian fans. I haven't any photos of the events unfortunately, wish I did have.


a report by Joy Orr (USA):
I met Brian the first time in Chicago at the Night at the Opera Tour. The band allowed me to photograph them, I was the only photographer in the orchestra pit at the Auditorium.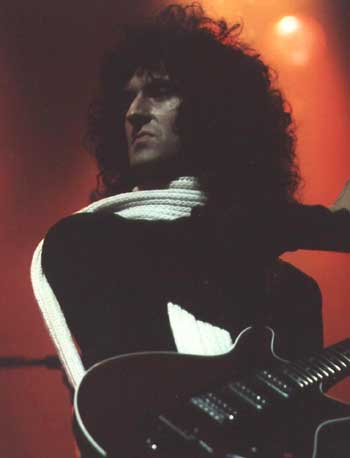 ______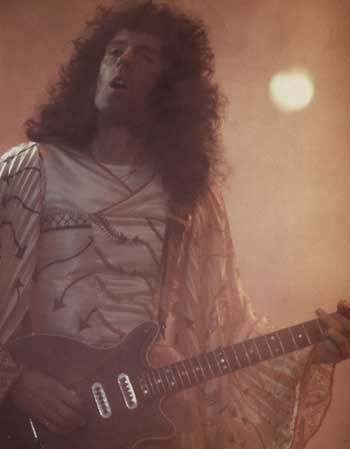 both photos are (c) by Joy Orr
He told me about his guitar, and how the sound was set up onstage so that when he stepped on a pedal, it would repeat previous riffs and give the impression of multiple guitarists. I am attaching two photos. There are many more. I remember Freddie telling me I was talented and I should go for it, but I didn't. I still have the photos and memories though..


a report by Yuri Linzew (Australia):
I met Brian after the Queen concert in Melbourne Australia in 1985.
I spoke with him for around 10 minutes outside his hotel. I don't remember anything he said, i just have a very strong memory of his character.
As a professional musician myself, i've met more international bands and rock stars than i can be bothered mentioning
and i can tell you some of them are absolute ratbags. It was such a pleasure and privelage to meet who i consider to be the greatest guitarist /
songwriter of all time and find that he was the most sincere, kind and polite person out of all the stars i had and have ever met. He is a true gentleman.
God bless you Brian.


a report by Ellis Davis (USA):
I met Brian May in Chicago when he played Rockstock there in 1998. He had a scheduled appearance to sign autographs at Guitar World, and I lined up to meet him with a bunch of my Queeniac friends.
Brian was extremely gracious, probably staying longer than he should have. For my few moments with him, I gave him a www.brianmay.com t-shirt, and also asked him to sign one. When he said he got one yesterday (it was a t-shirt that was signed by many of the Queen/May fans in the audience), I just managed to squeal "oh my god, you got it!". We had actually given
the t-shirt to a photographer who took it backstage for us. We never knew if he'd get it or not. Still, I regret blowing my cool by squealing like a 12 year old girl at a Backstreet Boys concert. But there you have it - that's my meeting with Brian May. I wish I could meet him again so I can act like a moderately intelligent and mature human being. I'd love to tell
him that I met my husband thanks to Queen. I think he'd like that! :)


a report by Teri Vrakas (USA):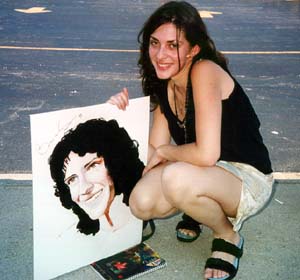 __
Brian May: In The Lap of A Rock God
Hello all of you thirsty Brian May fans, adorers, obsessors, in-lovers, underwear slingers, Rhapsody singers, and curious onlookers! I, Teri Danai Vrakas of Chicago Illinois, had the intoxicating experience in the August of 1998 to MEET Mr. Brian f@@@ing May, and, it was nothing short of breathtaking. It was by total conicidence that I even found out he was
going to be at this autograph signing thing in Oakbrook, and it just so happened that same month I had painted this picture of him because out of all of rock history there are so few bands/men who have endeavored such a purely creative and uncompromising flavor as that of Queen and Brian May (and well he's pretty good looking). It was so wild - like AT LEAST three or four hundred people showed up, and the good people of Guitar Center herded everyone there through like cattle, and were graciously eliteist and rude, but Brian was nice enough to -and probably happy enough to see that so many people think he rocks -sign more that the restricted one item for me and the neat-o freinds that I met that hot Sunday morning! He was REALLY nice, and was patient and took pictures with everyone and it was really neat to see that somebody that I admire so much was REAL. He signed my painting... more inspiring, still, was the fact that everyone there glowed with the same
beautiful light of love, humanity and peacefulness in a dizzy gross suburb that music - WONDERFUL music - can inspire. The only sad thing was that I had to go home at the end, and, well, I really wanted to ask him if I could touch his hair, but I was too embarrassed. : ) ha-ha... to be an accurate report, I must add that I appreciate that so many hot older men like Queen.
It's just great. I only hope that as the years go by my art can pay the same testament to their creative, ageless allure that is like a magnet to lovers and dreamers everywhere that live to bathe in its savory lusciousness. Over and OUT. TDV