Concertography

Tour-report 1998
plus photos
Chapter 3 - Berlin




02/10/98 BERLIN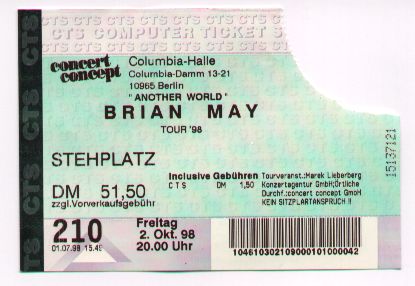 __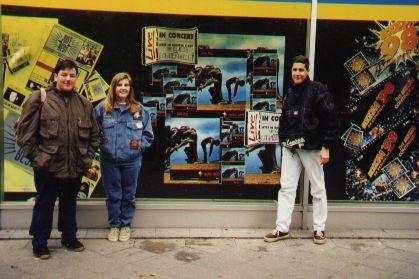 left: the ticket/ right : l-r: Alex, Erin, Oliver (in front of advertisement in a record-store)
Berlin was the first concert that my friend Alex (Russia) attended. There were also Livia (Austria) and Erin (USA) joining us.
We arrived at Columbiahalle, the venue, at around 3:30pm. There were 5 fans waiting at the entrance.
At 5:45pm Brian arrived together with Julie, in a black car. The weather was very cold, just 2 C and we waited at the main entrance freezing cold!
Alex and Livia met Brian backstage, unfortunately they could just talk to him for just over 5 minutes.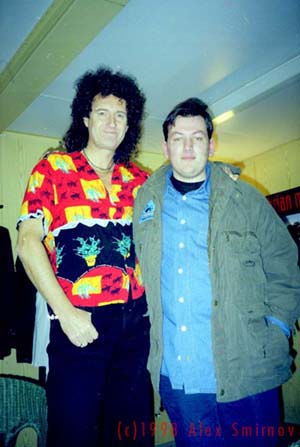 Brian and Alex backstage
Livia showed him her May-keteers tour T-shirt and told him that I made it for her and that we were a bunch of people following him on tour. As Brian heard my name he just said "Oh, Oliver Tamminga. I know him". They continued talking about me in a positive way for a moment, and I was very happy as Livia told me that later on.
Anyway, the doors opened at 7:15pm and I managed to get into the front row (same spot as usual).
It was Erin´s very first full concert and she was very excited. Unfortunately the 2nd stage, which was close to us (where Brian always played many of his solos), was quite high, so that smaller people had a problem with seeing.
After a (very arrogant!) support band, Brian started to play. The concert venue was very simple, an old building, but the atmosphere was really good!
The set-list was the same as in Oslo with two surprises, which I´ll mention later on.
Brian had problems with the Red Special after "Last horizon". It didn´t work anymore. After the acoustic set the guitar still didn´t work and Brian couldn´t play "Hammer to fall". Brian became furious - angrier than I have ever seen him. He threw his towel at the guitar technican and said to the audience "Ladies and gentlemen, we´re gonna disappear for a couple of minutes while we sort this out. And I love you dearly. You excuse us for a couple of minutes, ok?" and went furiously off stage with the rest of the band.
There was a break for about 5 mins and the audience entertained themselves by singing songs like
"Bo Rhap" (and Neil played parts of the "rock" part on his bass backstage!) and "We will rock you".
After 5 mins Brian and the band came back onstage, and the Red Special was working again. They played "Hammer to fall" and the crowd cheered frenetically.
For the first time Brian shook hands with the fans in the 1st row during "Another world" (he then did this at each subsequent concert) and at that time he recognised me in the audience and smiled friendly.
Brian added two additional encores after "Another world" and "All the way from Memphis", maybe because the atmosphere was so good and he appreciated that the audience didn´t get upset over the technical problems:
For the very first time in Germany he sang "No-one but you" live, which was an absolute highlight, and he also played "Slow down", which was equally great!
Venue: **
Sound: ***
Atmosphere: ****
Total: ****
I managed to get the set-list after the show!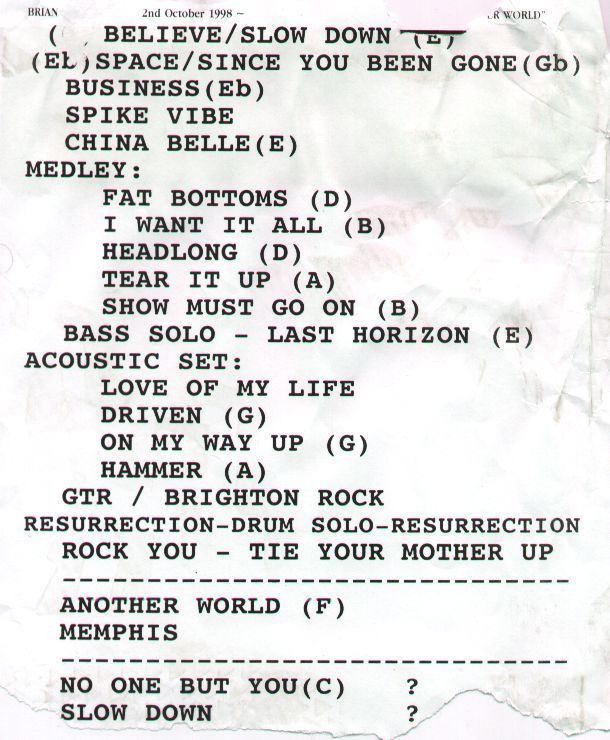 the setlist
We went home by taxi, telling the taxi-driver that we were at a Brian May gig. He said,"Who?" When we said "The guitarist of Queen" he remembered him, and said that just today he copied a tape of the Freddie Mercury Tribute and played it whilst taking us to the hotel. It was funny!
---

read chapter 4 (Hamburg) or go back to the concertography page